Graham Reid | | <1 min read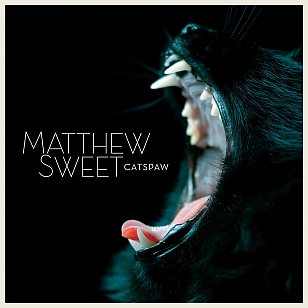 Elsewhere is an unashamed fan of
power pop
and its best practitioners like Dwight Twilley and
Matthew Sweet
, both of whom have albums in our Essential Elsewhere pages
here
and
here
).
For a guy who delivered what we called " a thrilling trifecta of smart power pop-cum-indie rock in the early Nineties with his albums Girlfriend (91), Altered Beast (93) and 100% Fun (95)" and could work alongside searing guitar like Neil Young as much as jangle-pop/rock, he should have been huge.
But for some he only came into view on his series of covers albums with Susanna Hoffs.
So trying to "sell" Sweet – who has a darkly acerbic take on power pop and rock – to anyone other than loyalists is a fool's errand these days.
He's portly, unfashionably in his mid Fifties, Catspaw is something like his 15thalbum, he's a critical darling and had the likes of Richard Lloyd, Robert Quine, Lloyd Cole, Carole Kaye, Fred Maher, Van Dyke Parks and other luminaries on his albums . . . but more recently has had to rely on Kickstarter.
He seems to address his situation of doubt on Best of Me here.
So all we are doing here is signaling to his loyalists – and there are quite a few – that the great Matthew Sweet has a new album out, and it is very good indeed.
.
You can check out Catspaw at Spotify here