Graham Reid | | 2 min read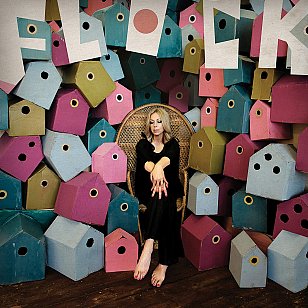 From time to time Elsewhere will single out a recent release we recommend on vinyl, like this one which comes with a download code but no lyric sheet unfortunately . . .
.
Britain's Jane Weaver has appeared a few times at Elsewhere, once for the recommended Modern Kosmology of 2017 about which we said, "Across this album, which seems to stand outside of time, Weaver has pulled some fascinating and seemingly disparate threads together to create something her own".
And we pointed to her again for the '18 reissue of her '14 The Silver Globe (her debut for Fire Records).
Then we clocked her two years ago for Loops in the Secret Society: "Astral-dance soundscapes and ethereal songs for deep immersion".
Frankly she lost us with the more recent Fenella which was a soundtrack to a film few would have seen: "Weaver has always gone her own way and here continues to be selective about her audience".
An inventive artist on the cusps of electronica, motorik beats, folk-rock and psychedelic trance, for Flock she adds pop and glam rock (the Glitter Band dancefloor thump'n'buzz of Stages of Phases, the catchy swirling Solarised) to her already considerably armory.
Elsewhere, on the stripped-down The Revolution of Super Visions, there is Stevie Wonder/Prince-influenced lite-funk in a three-way with her Kate Bush vocals and Bowie-like dance which is politically pointed (at you Mr Trump and others): "Do you look at yourself and find nothing?"
Her astral electro-pop remains intact in other places (Modern Reputation sounds like it has peeled off from one of the better early albums by Phillip Glass) and the immediate standout – after perhaps the targeted Revolution of Super Visions -- is the dreamy and crackling post-Bush airy pop of Sunset Dreams.
We dismiss without comment something in her over-reaching PR which mentions her "complicated diet of bygone Lebanese torch songs, 1980s Russian aerobics records and Australian punk" other than to say there's scant evidence of any here (and we've heard such music).
There's also something odd about her discovery of "pop" given she's closing in on 50 and started in rock bands before embarking on her more experimental music.
In places you sense that in this new iteration of pop/rock artist she doesn't quite know how to reconcile her artiness and the pop end, so resorts to electro-sounds as a default.
On the credit of the ledger there's enough of that electro-ambient experimental music here (Lux, the ambient dreamscape of the title track) to lead the curious back to previous albums.
But as it stands Flock – whether she's singing vocalese like a high flute or glamming down like Debbie Harry, and seducing with cool funk on the sassy Pyramid Schemes which nods to Nile Rodgers -- Weaver has reverted to those long-distant pop roots and that's what makes this her most approachable album yet for newcomers.
That said, those previous albums – maybe not Fenella – are really worth discovering if the more edgy end of this attracts.
.

Limited edition vinyl and CD can be ordered through Southbound Records in Auckland.
Jane Weaver's Flock album can be found at Spotify here