Graham Reid | | 1 min read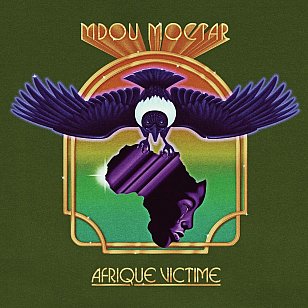 Remarkably, it has been more than 15 years since Elsewhere started to write about what has been called "desert blues" or "Sahara blues" out of the Tuareg (and beyond) musicians from the sub-Sahara (and beyond) region of West Africa.
Back then we picked Etran Finatawa and Tinariwen albums among our best of the year (and twice more since for the latter's subsequent releases).
We have followed some of the artists into solo careers, we interviewed Etran Finatawa 11 years ago, picked up on the next generation artists like Tamikrest (we recommended their Kidal and Tamotait on vinyl) and even went back to a Folkways album of music from the Southern Sahara recorded in 1960.
And wrote about the 2019 studio album by the Tuareg singer/guitarist Mdou Moctar who, like so many of his generation, has been influenced as much by Western rock (Jimi, Prince, reggae etc) as the traditional music of Niger.
So we happily turn back into the region for this fiery outing by Moctar which revels in dense layers of coiling guitars from the mainman and his foil Ahmoudou Madassane, and the driving rhythm section which will pin you to your seat with the five minute opener Chismiten.
Taliat which follows is a thrilling Gordian Knot of guitar lines and Moctar's desperate vocals (and the chant-like backing vocalists) which don't leave you much room to catch a breath.
Those opportunities do come, but this is the album all subscribers to Guitar Player magazine need to have.
Oh, and later on there is his own Layla, an acoustic song addressed to his partner Layla and yearning about how much he misses her when he is touring.
The seven minute-plus title track is a furious monster of propulsive rhythms, that staggering hard rock guitar and incendiary political lyrics (in Tamashek and French, translated in the clip below) and an explosive rhythmic shift which adds to the intensity.
It is an astonishing piece of music, guitar noise and feedback which leaves the likes of Neil Young and Thurston Moore far in its wake.
If you hear no other piece of music this week strap yourself in for that Hendrix-inspired flamethrower.
It is unbelievable.
.
You can hear this album on Spotify here