Graham Reid | | 6 min read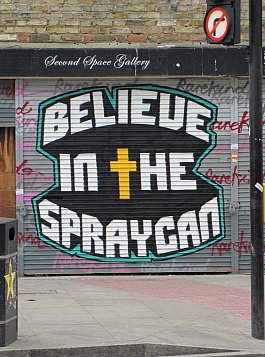 At some time in the mid Nineties when I was working in Parnell, there was an open air carpark just off the main road. The back wall was perhaps two storeys high and painted white.
One day, right at the very top in letters at least a metre high, this sentence appeared: "SHORT PEOPLE GIVE ME THE SHITS".
It was clever, funny and looked impossible to accomplish without a ladder. It stayed there for a very long time, I suspect because the carpark owners also found it amusing.
Not long after I saw another such thing, on a large white wall. This one read "ANOTHER OBVIOUS WALL".
That didn't last quite as long, but it was equally funny. To me at least.
If it was your wall you might see it differently.
And that is the thing about tagging, graffiti, bombing, street art and even poster plastering. Where someone see vandalism another might see art.
After the early Eighties doco about New York street art/graffiti Style Wars was shown on New Zealand television, I recall a huge upsurge in tagging around Auckland and then some beautiful examples of graffiti appearing on walls around the city.
When I went to Sydney for a while -- where I observed the same flourishing of bad tags and sometimes breathtaking graffiti art, real "art" -- I also saw evidence of the excellent (and also often funny) Buga-Up campaign in which people would deface advertising billboards which promoted unhealthy products or – like that obvious wall – were just plain asking for it.
Again though, depending on where you stood, was Buga-Up a legitimate fight back with a socio-political agenda or simple vandalism?
Time has institutionalised much graffiti art and it now appears in swanky galleries and is framed on the walls of the monied and arty who want to be seen to be cutting edge (or down with the kids) in their taste.
One of my almost-mega rich friends from Parnell days in the ad-game constantly changes his "graffiti" wall art in what seems to me a desperate attempt to keep up.
But he never could or can.
I don't know if anyone has said it, but -- to paraphrase Paul Simon's Sounds of Silence -- when it comes to graffiti art in the marketplace, the words of the profits are written on the subway walls.
Or, as someone else sang, money changes everything.
Out there on the streets of major cities it seems to be a cut-throat business of battling loyalties, competing -isms and schisms as Bob Marley once said, and of turf wars over space, concepts and intellectual property.
The documentary Graffiti Wars looks in depth at one such battle for supremacy, between London's legendary Robbo who started bombing and graffiti in the Eighties (I suspect after seeing Style Wars) but retired some years back, and the most well-known but equally anonymous street artist of today Banksy.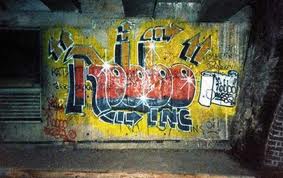 Apparently a decade ago Robbo slapped the young Banksy once when the young pretender said he didn't know who he [Robbo] was.
Banksy denies it happened but after Robbo told the story for a recently published book, Banksy did paint over Robbo's last remaining piece in London.
Sacrilege and scandalous behaviour in the world of ephemeral street art/graffiti -- although Banksy did provide a photo of what Robbo's final extant piece looked like before he took to it (desecrated and defaced by tags) and tartly noted, "If you want things to last you shouldn't paint them under a bridge on the canal".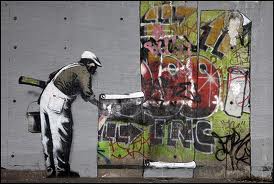 But the insult to his last remaining work -- the code of the craft says you just don't paint over a master's work without permission (who knew that street art was so codified?) -- drew Robbo from retirement.
And so the London streets saw tit-for-tat attacks on each other's work between 2009 and 2011– Robbo changing a Banksy, Banksy coming back and doing the same to Robbo's embellishment. Then it degenerated into insults between Team Robbo and Banksy's numerous supporters. Serious stuff in the world of street art.
Robbo even dared call Banksy's integrity into question.
"He nicked the rat," he says of Banksy's most widely known visual signature image, attributing it to Seventies stencil artist Blek Le Rat in Paris, and the evidence seems to support him. Banksy has also acknowledged the debt. *
Banksy, as so often is the case, seemed to have had the last quippy word early on in their feud as recounted in Graffiti Wars: "If you think my graffiti is overrated you'd be right. I only hope that one day I get the lack of recognition I deserve."
Graffiti Wars – with annoying and unnecessarily dramatic music and a stentorian and husky voice-over to enhance the drama – follows this clash of the spraycan titans, Robbo even wearing a head-cam while he goes about his stealthy business one night in Camden. And leaving a Top Cat posing against a tombstone which reads "R.I.P. BANKSY'S CAREER" on the site of his original but now lost work.
This is perhaps all boys bickering for most people and it's hard to see how and why people take it all so seriously.
But reputations are at stake more than art, crystalised by the problem graffiti removal people who admit they can't tell the difference between art and vandalism.
There's an irony that London councils will protect some graffiti (Banksy's mostly) and even retouch it if necessary, but wipe out others (Robbo and his team) and that British PM David Cameron would gift Barack Obama a piece of gallery-designed stencil art by Londoner Ben Eine on his first state visit to Washington.
Eine was even invited to Downing St by Cameron to say thank you. (He went, sat in the garden and had tea and Kit Kats, he says.)
Then again in a further irony, stencils are cheating says Eine, who has worked with both Robbo and Banksy. Real graffiti writers paint trains, nick their paint and do everything freehand. These days he does none of that.
Heaven's above, this is a turf war of dogs fighting over idealogies and concepts most of us walk past and think "Yeah, cool" or ignore completely because it's just more tat and crap on walls.
In this documentary someone called King Adz, apparently a reputed author of books on about street art says, "if it wasn't for stencils I wouldn't be here talking to a national broadcaster about what is essentially defined as vandalism . . . stencils took street art from the street and made people want to invest in it".
He also notes that street art is illegal and so is mostly painted over by local councils "unless you're Banksy, which is preserved. That is good for Banksy but kind of unfair on all the writers".
The Robbo Vs Banksy feud however serves to bring Robbo out of retirement and has given him another life. He is now feted and the subject of a film, had a solo gallery show and almost as famous as Banksy in his jet-setting lifestyle.
Or so it seems. Then there is a twist at the end of this engrossing doco.
It is well worth staying the distance in this interesting sub-culture documetary to get to whatever end the end-game might be. It isn't what I -- or you perhaps -- might expect.
But for outsiders, the best graffiti in this tit-for-tat comes from Robbo who, in taking to one of his rival's pieces wittily quotes from Monty Python's Life of Brian.
"BANKSY. HE'S NOT THE MESSIAH. HE'S A VERY NAUGHTY BOY."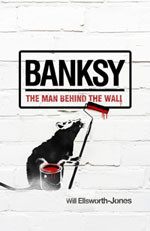 * The Banksy Vs Robbo Vs Banksy story is recounted in the new Banksy biography by Will Elsworth-Jones, Banksy: The Man Behind the Wall (Aurum)
Elsewhere has a large selection of all art here. Click the image and they get bigger and tell you where they were located.
Owen Wood describes himself as such an occasional writer that he can't recall much published between '84 and 2004, says he prefers television programmes with real actors rather than reality people, orders real ale over red wine, and promises faithfully to get a Facebook and Twitter account as soon as he thinks of something worth saying. He has no website but does have a large library and "No, I don't like at home with my mother". His previous contribution to Other Voices Other Rooms is here.

Other Voices Other Rooms is an opportunity for Elsewhere readers to contribute their ideas, passions, interests and opinions about whatever takes their fancy. Elsewhere welcomes travel stories, think pieces, essays about readers' research or hobbies etc etc. Nail it in 1000 words of fewer and contact graham.reid@elsewhere.co.nz.
See here for previous contributors' work. It is wide-ranging.