Graham Reid | | 2 min read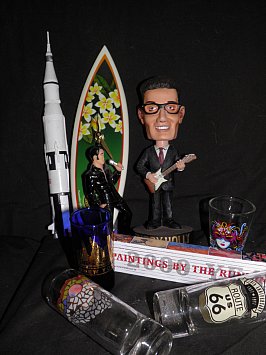 Having paid our respects at Buddy Holly's grave in his hometown of Lubbock in west Texas, where the inscription takes the family spelling "Holley", it was time to get serious. And shop.
Back at the excellent Buddy Holly Center in town there was the inevitable gift shop and I had my eye on a bobble-head Buddy doll to match a Wonder Woman one I'd bought previously.
These are the amusing, cheap and portable souvenirs many of us collect when we travel. Unless we're wealthy and trust postal services, most of us aren't going to buy expensive art, carpets or handmade cabinets. We're down there with t-shirts, "Made in China", fake ethnic art, kitsch and oddities.
For years I bought small, solid shot glasses: Hearst Castle, Gaudi in Barcelona, remote Cape York at the top of Australia and so on. Memories with each drink, except George's Bar somewhere about which I have no recall. And for reasons I can't explain I also have a few Fifties number plates bought in a Mississippi junk shop, an ashtray from Sun Studios in Memphis (we don't smoke but it holds guitar pics, strange coins and some obscene badges), a plastic pineapple-shaped ice-bucket from Hawaii and various toy cars.
I also have a fold-out timeline ruler bought at Noah's Ark in Hong Kong (true, a life sized replica) which starts with the birth of Jesus . . . which begs the question of where Noah came in.
Recently in Amsterdam at the Rijksmuseum I acquired a similar and more useful two-metre ruler, 2000 years of paintings in chronological order. Go on, ask me which came first, French illustrated manuscripts or Mayan murals?
Around the house we have a tin container in the shape of a classic American diner, a pencil sharpener inside a small suit of French armour (I doubt there's a pencil in the house), cool rocket ships, the usual fridge magnets (Evita on a matchbox, a Degas dancer, Andy Warhol's Jackie Onassis etc), odd ballpoints (one from the Alamo shape like a musket), small but interesting clocks which no longer work, a tea towel with characters from Dickens (bought at the author's birthplace in Portsmouth) and an almost framable one of the Grand Pavilion in Brighton.
Incidentally, in his bedroom the late Dalvanius Prime of Poi E fame had a magnificent framed portrait of Tutankhamun's head on a black background. It was a bath towel.
It's a curious thing, but the higher up the cultural totem pole you go, the more the tat in gift shops. At Shakespeare's Globe in London I bought the blood splattered tea-towel which reads "Out damned spot!" from Macbeth. Goes well with my apron like a Canadian Mounties' uniform.
And don't even start on gift shops in the Louvre (the Mona Lisa on everything you wouldn't want) or all the Rembrandt-imprinted stuff at the Rijksmuseum. They have handbags, umbrellas, jigsaw puzzles, earrings, pencils and rubbers, writing paper . . .
Yes, we buy serious things like brochures, books, small artworks and proper souvenirs, but the cheap stuff -- NASA oven mitts like astronauts' gloves – is more fun.
At the Van Gogh Museum they had an ear-ring – a keyring attached to a plastic ear, a classy homage to the painter who sliced off a bit of his lobe – but I got something even more worthless.
It's a "made in China" music box modeled on the bed in his painting The Bedroom (of his cheap digs in Arles). It plays Don McLean's Starry Starry Night.
It's kitschy and pointless but was funny, cheap, portable and is a conversation starter. They missed an opportunity though: a bobble-head Vincent with a bandaged ear?
That would look great alongside Buddy Holly and Wonder Woman.
For more -- and sometimes unusual -- travels in Elsewhere go here. Or check out these idiocies.