Graham Reid | | 6 min read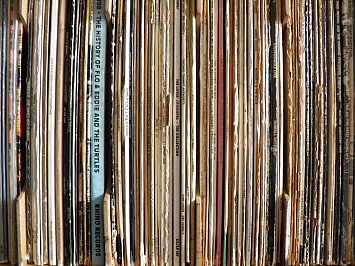 The annual Record Store Day is an opportunity to show the love for vinyl as artists local and international issue good old fashioned records, many of them limited editions and often coming in special packaging.
So now is not the time to be worried about the credit card, just let it do the work this coming Saturday, April 18.
We offer here a quick rundown on what stores are doing what – those who have provided us with information.
If you know of other stores with special offers, performances or vinyl releases going on then feel free to use the Post A Comment link below to tell everyone.
REAL GROOVY, Auckland
As in previous years, Real Groovy on Auckland's Queen St has bands performing and special limited edition vinyl offers of New Zealand artists.
This year The Echo Oha appear at 3.30pm to launch their 12" vinyl EP which is exclusive to Real Groovy and comes in handmade cover art.
The two albums on vinyl this year are A Study in Colour by Larry's Rebels – r'n'b rock on side one, their more psyched-out material on side two – and the band will play at 5pm.
Larry's Rebels were one of the great Sixties pop-rock bands with hits such as This Empty Place, I Feel Good (later covered by Citizen Band), Painter Man, Let's Think of Something, I'll Make You Happy (a cover of the Easybeats' song) and Mo'reen.
In addition to the vinyl, there is also a 25 track Larry's Rebels CD collection being released: I Feel Good; The Essential Purple Flashes of Larry's Rebels 1965-1969. Another presentation by archivist and enthusiast Grant Gillanders, the disc comes with a booklet telling the story of the band and includes terrific period photos and clippings.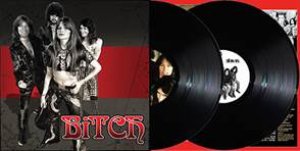 Also at Real Groovy is a double vinyl release by the lesser-known Cleves (later to become Bitch). The Cleves emerged out of the band The Clevedonaires (they came from Clevedon, of course) but as the Cleves they were a powerful psych-cum-prog band who gained a foothold in Australia. They relocated to the UK where they changed their name to Bitch, signed a deal with Warners and recorded an album . . . which has never been released until now, part of this double album retropsective. They play at Real Groovy at 2pm on Record Store Day.
Other local vinyl releases at Real Groovy include Shihad's Killjoy getting a 20th anniversary remastering and the Mint Chicks' 10th anniversary edition of Fuck the Golden Youth which comes in a gatefold cover with eight-page booklet. Just 300 copies of the latter.
For more information see: www.realgroovy.co.nz
SOUTHBOUND, Auckland
In new premises on 132 Symonds St, the expanded Southbound has a numbered, limited edition vinyl run of Delaney Davidson's Diamond Dozen, an album of lost tunes, soundtrack pieces and demo material drawn from the past decade. The album comes on clear, black or gold coloured vinyl and in a hand-printed cover by artists Samuel Harrison and Scott Jackson. There is a picture in the insert sleeve also.
Originally released on Berlin's Squoodge Records label, just 150 copies have been imported for New Zealand's Record Store Day at Southbound.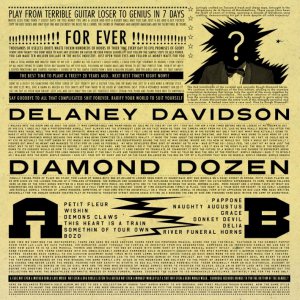 And Davidson will be there to sign copies.
Southbound also has live music at 3pm from SJD celebrating the release of his acclaimed Saint John Divine album (available on CD and vinyl) and he will be followed by Don McGlashan in an acoustic set playing material from his new Lucky Stars album (released the previous day and available on CD).
In keeping with their intimate and friendly nature, Southbound also lay on coffee and baked treats for all customers – nice gesture to enjoy while queueing at the checkout – and will also have numerous international Record Store Day releases on hand.
For more information keep an eye on their Facebook page: www.facebook.com/southboundrecords.
FLYING OUT, Auckland
Well, if you are going to open a new record shop, Saturday is the day to do it. Flying Nun Records and Arch Hill Recordings open their Flying Out Record Store at 80 Pitt St just of K Rd ay 9am (famously the former Shaver Shop -- although hipsters probably never needed to go there).
Stock from their massive vinyl catalogue will be there to peruse and of course they will have special treats brought out for the day, notaly the single mentioned at the very bottom of this page . . .
MARBECKS, Auckland.
Still in the same premises after 80 years – Queens Arcade at the bottom of Queen St – this is a store which has justly earned that over-used description, "iconic".
For Record Store Day they have in-house performances by Lawrence Arabia and Tiny Ruins with Jonathan Bree playing DJ at other times, and their own Princess Chelsea spinning some discs too.
They will be announcing their special release available over the coming days so keep an eye on their website here: www.marbecks.co.nz
VINYL COUNTDOWN, New Plymouth
A free sausage sizzle? Now that's a nice idea. And that is in addition to exclusive vinyl releases, live music and such . . . and as a special treat a short set from 2.30pm by Peter Jefferies who will be signing copies of the limited edition 7" release of Randolph's Going Home (see very far below). They are at 109 Devon St West.
ROUGH PEEL MUSIC, Wellington
Paul Huggins of Rough Peel -- now at 173 Cuba St -- has a very personal relationship with vinyl through his own RP label on which he has released record pressings of albums by the Eastern, the Labcoats, Beastwars and others.
Aside from vinyl treats, on the day there will also be live music in-store.
Adam McGrath (right) of the Eastern plays at 11am, Eb and Sparrow at 1.30 and Eastern Bloc at 4pm.
Throughout the day there wil also be DJs and of course.
For more details check out their Facebook page here.
SLOWBOAT RECORDS, Wellington
Famous Slowboat at 183 Cuba St also has shipments of international vinyl (no word on what just yet) as well as in-store guests performing: Tami Neilson at 11.30, Neil Finn at noon and a string quartet from Orchestra Wellington at 1.30pm.
For more information: www.slowboatrecords.co.nz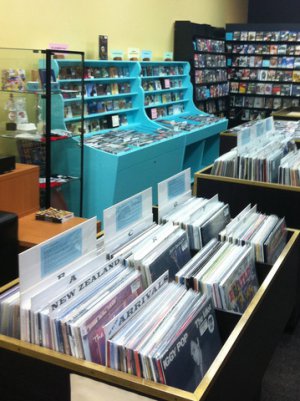 RELICS, Dunedin
Dave James – formerly of Record Exchange and Corner Records in Auckland, and bassist for Dead Flowers – says they will be stocking a lot of official (and unofficial) Record Store Day releases, and they run an annual sale on the day of vinyl and CD etc.
No bands playing, not enogh space in their small store at 86 St Andrews St. For more informations see here: http://relicsmusic.co.nz/blogs/news
ALSO
Flying Nun have reissued on 7" vinyl the Shayne Carter/Peter Jeffries single Randolph's Going Home b/w Hooked Lined and Sunken which originally appeared in '86. The A-side was Carter's tribute to his friend and bandmate Wayne Elsey who had been killed not long before.
"Randolph was written about the loss of a friend and is still one of the best songs I've been involved with" Says carter. "I wrote it while between bands and played it to Peter Jefferies when he came around to my George Street flat in Dunedin one day for a jam. He added his signature drum line and suggested repeating the chorus at the end.
I've seen this song bring people to tears more than once and it's a good feeling to be associated with a piece that can still wield that kind of power."
"For me," says Jefferies, "Randolph's Going Home is one of the most enduring things I've ever been involved in doing. There are times when mining the soul can produce something that transcends anything that could have been expected as an outcome. And never more so than this".
There are only 1000 copies available. See here.
AND A PS
Liam Finn is releasing a limited edition (1000 copies) 10" mini-album which includes two unreleased songs (Within an Inch, Salt on the Wound) alongside six demos for songs which appeared on his album The Nihilist.
Available at participating stores.
See here for more on The Nihilist.