Graham Reid | | 3 min read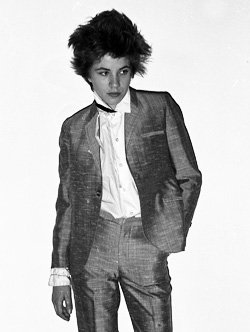 So who was it rocked into downtown New York in the mid Seventies with her head full of Rimbaud? Who fell in with the CBGB crowd, had Richard Hell as a partner who saw her as his muse, and whose aesthetic ran from poetry and music to art and film?
And who wasn't Patti Smith?
Lizzy Mercier Descloux from Paris arrived in New York when the city was – unbeknownst to itself at the time – becoming the crucible for American punk and No Wave culture.
Mercier Descloux modelled herself on Rimbaud, the outsider, and was there when the Ramones, James Chance and others were just starting to make their challenging noises.
She stood out from the crowd because unlike those other denizens of the night, she eschewed basic black and went for colour.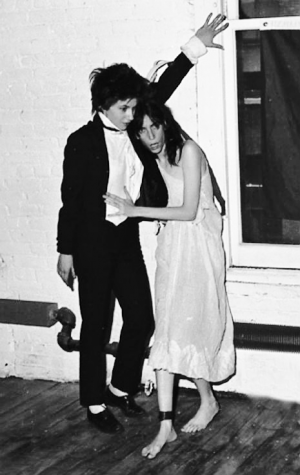 And her debut album – produced by Bob Blank of the Blank Tapes label in his handbuilt studio – was entitled Press Colour.
It was as if she was rejecting those who were rejecting, but she was also part of that world.
She was in the Blank Generation and Patti Smith illustrated her first book of poems Desiderata . . . but she was also European enough to look beyond the American source material her peers enjoyed and drew from, such as the Ramones' love of girl groups, early Beach Boys and Phil Spector for example.
The first thing she recorded was her idiosyncratic take on Arthur Brown's Fire for Michel Esteban and Michael Zilkha's ZE label where she was alongside James Chance and the Contortions, Lydia Lunch, Was (Not Was) and others.
Her Press Colour album has now been reissued, with other later tracks, including Morning High from '95 with Smith and produced by Bill Laswell (it appeared on his Hashisheen; The End of Law album which came out in 99).
That piece – their take on Rimbaud's poem Morning of Drunkenness – would be among the last recordings we had from her. After extensive travels with Esteban and a couple more albums in the Eighties following Press Colour, she'd moved to Corsica where she continued to paint until her death from cancer in 2004.
She was only 48.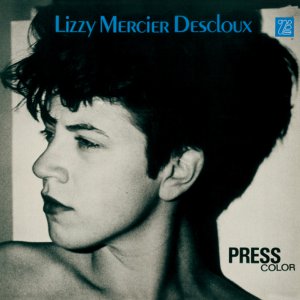 Musically, Press Colour – with a liner essay by NME's Vivien Goldman – is not what you'd expect from the company she kept.
Nothing here shouts, bellows, yells or comes at you like a punk-rock flamethrower or angry free jazz.
More along the lines of spiky Moroder-influenced disco and adopting a minimalist dance ethic, she fills Fire with a detached ennui, the classic Willie John song Fever is made over into a danceable Tumour ("You give me . . . tumour"!) and you can hear the early flashes of reggae from Soweto in No Golden Throat (while people seem to carry on a conversation behind her girly exhalations and seemingly wordless vocals).
There's a sense of Franglais slink about the broody Torso Corso.
Oh, and there's a version of the Mission Impossible theme which owes clear debts to African and Latin American rhythms behind the piano (she later recorded in South Africa and Brazil). And another version which mostly leaves the theme behind and offer shatter glass guitar across the familiar baseline.
Some of this – the pre-Talking Heads rhythm and bouncing bass of Wawa – sounds ahead of its time, or at least well outside of it.
I wonder if the Feelies heard her rhythmic rapid-fire Rosa Vertov which includes Yoko-like blather or the fist-tight Herpes Simplex?
In the great ZE label, she found her home where Now Wave and mutated disco could co-exist although – given her English was limited and the musicians spoke no French – it's hard to know just who was providing the creative spark behind such oddball angularities like Herpes Simplex. But she had taught herself rudimentary guitar so that is her jittery riffing which drives most of these songs.
With a Ramones-like economy (these 18 songs run to only 46 minutes, the shortest being the Wire-like Nina con un tercer ojo which doesn't quite make 60 seconds), Mercier Descloux never outstays her welcome . . . and most often you wish for more from these complete, self-contained miniatures.
So why do we need to talk about Lizzy Mercier Descloux?
Because, despite my best research through the hip books which cover this period in New York, her name – surprisingly – appears nowhere.
That seems wrong.
Her music is as interesting as anything else from the late Seventies and it might just be nice to be talking about her.
She is most definitely worth listing to, even now.
The expanded edition of Lizzy Mercier Descloux's Press Colour on ZE is available in New Zealand through Southbound.
For other articles in the series of strange or different characters in music, WE NEED TO TALK ABOUT . . . go here.