Graham Reid | | <1 min read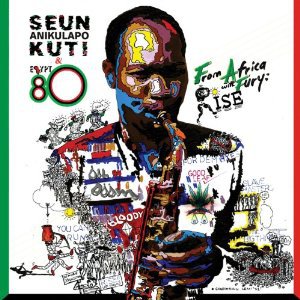 The musical offspring of the great founder of Afrobeat Fela Anikulapo Kuti have an unenviable career path to follow, especially Seun and Femi who choose Afrobeat as their chosen vehicle.
Femi has embraced remixes and on his recent Africa for Africa outing edged more towards a pop version of the boiling and urgent style, and Seun delivered an exciting, if instantly familiar, debut Many Things a few years back. His outing with Fela's Egypt 80 also lead me to note that accusations of musical originality wouldn't be thrown.
This firecracker album which bristles with energy and indignation (You Can Run, Mr Big Chief, Slave Masters are typical titles) doesn't disgrace the lineage and you cannot help but be swept up by the sheer energy and Femi's urgent delivery.
But again, whether it adds anything is another matter, and although it has been hailed as comparing favorably with some of Fela's most incendiary work, you cannot help but feel you have heard much of this before.
That said, this Kuti's band is tighter than Fela's and politics is also to the fore. The title track and Slave Masters certainly step away a little from the Afrobeat formula . . . but once the music ends there isn't that same frisson of excitement, revelation and discovery which Fela's music left as an aftertaste.
But it's hard to deny the gut-hitting power on display here and if Fela ever meant anything to you then this is an album you need to hear.