Graham Reid | | 1 min read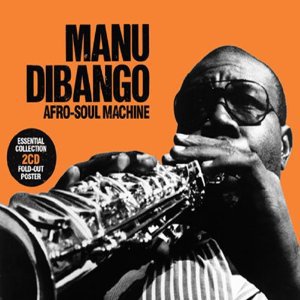 In the rush to embrace new artists out of various parts of Africa or distill the history down to reissues of little known acts and the cult of Fela, it probably isn't a surprise the great Manu Dibango hasn't had his dues.
His jazzy sound on sax and sensually low voice once enjoyed considerable international recognition -- notably with the single Soul Makossa in '72 which subsequently underwent numerous reissues and remixes. It scored him a 10 night stand at the Apollo in Harlem.
Although born in Cameroon in West Africa, Dibango's career has been so itinerant that he equally has close links with the Congo, Nigeria (his boiling makossa sound owed a nod to Fela's Afro-beat) and the Ivory Coast.
He is as popular in African communities in France as he is in parts of South America, has recorded in a reggae style (the inevitable Reggae Makossa, among other pieces, with Sly'n'Robbie) and has worked with Hugh Masekela, Bill Laswell, Herbie Hancock and many others.
And his haunting soundtrack to Ousmane Sembene's outstanding '77 film Ceddo is breathtaking.
Regrettably nothing from Ceddo appears on this up-beat, non-chronogical but smoothly programmed double disc, but it would doubtless have been out of place for its quietly haunting evocation of a village in the 1600s on a collision course with Islam, slavery and colonialism. Images de Familie here is perhaps the closest in spirit with its gentle marimba.
What is throughout though are bubbling grooves, his dark brown and seductive voice, Afro-jazz rhythms, some seriously ripping jazz-funk (try Super Kumba from '96 where smooth LA jazz collides with Africa and has to up its game), slippery bass lines, influences from South America (Blowin' Western Minds), reggae (Tek Time, Choc'n'Soul and Reggae Makossa from the Sly'n'Robie sessions), what could pass for blaxploitation soundtrack stuff (The Panther, Aloko Party) and much more.
And a version of Soul Makossa from '90 which is still impressive.
This is a considerable swag of a particular kind of Manu Dibango's enormous and diverse output (it does favour the polished jazz-soul Afro side), but given just how far below the radar he flies these days it is certainly very welcome.
And a reminder of just how influential and consistent he has been.
Now, if someone would just release the extraordinary Ceddo on DVD . . .
Like the sound of this? Then check out this Essential Elsewhere album.