Graham Reid | | <1 min read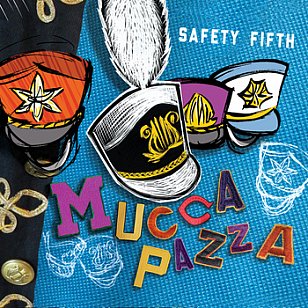 What with the funky lineage out of New Orleans, the woozy sound of the late Lester Bowie's Brass Fantasy and the likes of the free-wheeling Hypnotic Brass Ensemble, the ground has been well prepared for this big band (like HBE, from Chicago).
These heretics throw funk, rock, avant-garde jazz, imagined movie themes, a smattering of world music (tango in the house!) and a dozen different instruments into the blender to produce genre-defying good time music which will redefine career possibilities for any kid in a high school marching band.
Whimsical but quirky, energetic and often mad, Mucca Pazza also have a sensitive side (the stately sound of Last Days set in a 19th century parlor in Buenos Aires), although they seem happier to drag you off to a guitar-twanging spaghetti-western bullfight with mariachi trumpets (Sexy Bull).
And Hang 'Em Where I Can See 'Em sounds like an offcut from a moody scene in Citizen Kane while Coolashell is a drum-driven digression paving the way for the self explanatory Maui Waui 5-0.
Fun for all the family and a mash-up of hyphenated styles to take you away from these troubled times.
World music for this increasingly strange planet.
This album is available for download from here.