Graham Reid | | <1 min read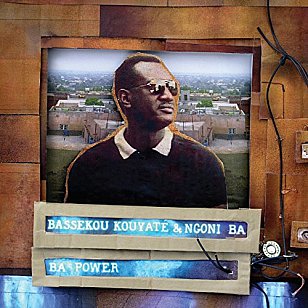 Because, in the Bambara language of Mali, the word "ba" means great or strong, some have suggested the title of this swirling, rock-influenced album alludes to the Stooges' Raw Power.
Maybe that's not such a stretch because here Kouyate – briefly signed to a SubPop spin-off label – plugs in his ngoni (a small, simple lute), hooks up wah-wah and distortion pedals, brings in former Walkabout/Willard Grant Conspiracy member, now Glitterbeat boss, Chris Eckman as producer (who delivered this exceptional but overlooked album) and heads into sometimes abrasive rock territory.
It's not all way-out (sadness about troubled Mali abounds) and it's still African music (those rolling rhythms, the soulful singing of Kouyate's wife Amy Sacko).
But with drummer Dave Smith from Robert Plant's Sensational Space Shifters, plus the visceral energy and flickering, mercurial sound of the ngoni (the band also plays medium-sized and bass variations of the instrument), this goes beyond anything previously out of Mali.
Or by Kouyate who broke through in world music eight years ago with the acclaimed but more traditional Segu Blue.
He admits touring in the US and Europe changed him. As it would and perhaps should.
So if you only buy one "world music" album this month . . .