Graham Reid | | 1 min read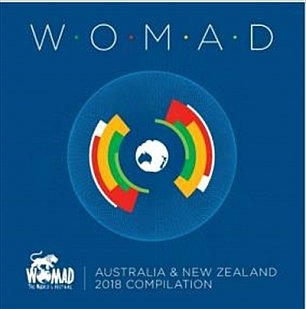 This 15-track collection of diverse world music artists is a tasty amuse-orielle, not just for those going to this year's festival in Taranaki (details below) but for those who still wonder what all the fuss is about.
The fuss is about the unexpected, where acts from various corners of the globe bring their traditional music or a contemporary take on it. Sometimes the latter comes within the context of hip-hop, reggae, Afrobeat, alt.pop or an odd version of country music. Or post-punk.
Womad is where you go to be surprised by artists whose music you have probably never encountered before, and sometimes from countries which are not on your scanner.
A number of the artists on this collection we have featured at Elsewhere already (Victoria Hanna, My Bubba, Ghada Shbeir, Nano Stern, Rodrigo y Gabriella among them) but here too are Bixiga 70 (Braziliann Afrobeat), Thievery Corporation (the most familiar name of the bunch with their global trip-hop and beyond), Jojo Abot (genre-defying contemporary music out of Ghana via the US), Mista Savona (Cuban reggae, not coming to New Zealand), Dayme Arocena (contemporary Cuban soul-funk), Le Vent du Nord (odd and engaging contemporary folk from Quebec), Violons Barbares (with the stonking throat-singing Saturday Yurt Fever) and others.
So a lot of passport stamping and ear-worms in unfamiliar languages. (and you can read and here more about these people at Elsewhere here)
An appetite whetter if nothing else.
For more on next year's Womad check out their website here.
.