Graham Reid | | 1 min read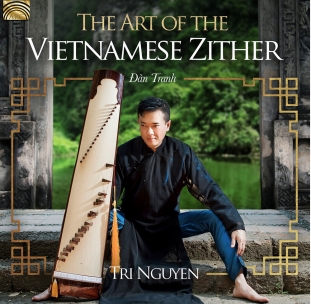 As with the Korean gayageum, the 16-string Vietnamese zither (dan tranh, pronounced "dan chang") is fiendishly difficult to play but offers gloriously, light and evocative charms in the hands of the best.
Tri Nguyen studied Western classical music (piano) in Saigon and later Paris, but also learned dan tranh from an old master, one of the last apparently. So because he could move between different worlds this compilation album, drawn from his first three albums, reflects that with pieces from various schools of Vietnamese music adapted and recomposed for string ensembles, traditional instruments, guitar, oud and Arabic percussion.
There is a melancholy folk feel evident in a number of the pieces (Autumn Moon Lullaby, the gentle Sadness of the South, quite beautiful Move on Water Walk on Clods with piercingly high violin) and most of the titles refer to nature (Twilight Mist, Prayer for Water, Waterdrops, Song of the Blackbird etc) while the delicate music frequently conveys a sense of reverie or pastoral pleasures.
The longer crossover pieces with oud – Child Where Are You? And Golden Skies – work extremely well.
The more dramatic Exchange of Love and Strategist Khong on the Fortress bring diversity to the overall mood, and the final piece is the galloping, popular folk song Black Riding Horse with percussion, violin, flute and monochord.
Clearly this is music which will have a select audience but if you enjoyed albums like this, this and this, then The Art of Vietnamese Zither will fit neatly into you more reflective listening moments.
And, as always, the liner notes on ARC releases are thorough and readable.