Graham Reid | | 3 min read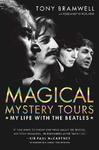 Tony Bramwell -- who sounds like great man to have a martini with -- has had an extrordinary life, and not just because he was a childhood friend of the Beatles, became their manager Brian Epstein's off-sider, and -- as their road manager and CEO of Apple Records and Films -- was one of a small inner sanctum around the band until they went their separate ways.
His extraordinary life includes losing his fortune not once but three times, being a "manager" of sorts to Phil Spector (who was clearly always bonkers and dangerous) and bedding any number of beautiful women.
His story -- told here with Rosemary Kingsland -- has a brusque, no-nonsense Northern tone to it also: he might have acquired a taste for the finer things along the way but at heart he was still a down-to-earth straight shooter -- no more so than when Yoko Ono enters the scene and he heaps vitriol upon her for her manipulative abilities, sense of entitlement because she was now with a Beatle (Lennon, whom Bramwell says she stalked like a spider) and then for using Lennon's obvious fragile mental state to twist him around her finger.
"I have visions of her going home and cooking up eye of newt and toe of frog, or perhaps making a juju doll and sticking in a few long pins . . ."
Bramwell is ruthless in his portrayal of her -- and of his friend who does certainly seem to have gone through bouts of emotional and psychological instability.
He also doesn't shy away from recouting Epstein's periods in rehab and his somewhat sleazy life.
But because he equally recounts the great times, the joyful madness (some of which he wasn't around to see because he was working) and the decent people (he has a fondness for Linda Eastman who comes off as normal if constanty toking on a joint), you tend to believe him when he nails Ono who would order expensive caviar to be delivered to Apple then leave it to go off.
"Thousands of pounds worth of lovely caviar went to waste because Princess Yoko could get a fresh pot the next day."
There is also much amusement in his recounting of an anxious and irritating student who wanted Lennon to give him something (music presumably) for a flexi-disc to be given away with his student magazine and then getting seriously litigious when it didn't show as Lennon promised. The gall of the "odd little student pest" -- who harrassed Lennon then brought lawyers with him -- is astonishing: it was Richard Branson.
In this small mad world of British entertainment it was inevitable Bramwell would later end up doing freelance promotion work for Branson's Virgin Records.
Bramwell weaves in the rich and famous through these pages and paints them as he saw them -- some are fools and dandies, others sound like lovely people. One of the nicest took off with his money.
He offers some interesting revelations about the doctoring of soundtrack to the Shea Stadium concert, and fills his pages with telling and insightful observations of the famous. He has no time for those who were out to save the world but couldn't wash their coffee cup.
Bramwell makes some interesting claims for himself too: he was the guy who suggested that the flipside of Gloria Gaynor's Substitute was a better song so the company "flipped" the sides: the B-side was I Wil Survive.
Bramwell seems an honest broker in these pages, a man for whom life has turned out rather nicely -- even after losing his fortunes -- and has no particular axe to grind or self-aggradisement to indulge in.
He was friends with the most famous people on the planet and it worked for him. When they changed -- as he admits he did too -- he could see when it was for the better or worse. He has a soft spot for Ringo, George was his oldest friend, people like Phil Collins, Mick Jagger and Keith Richards, Michael Caine, Sean Connery, Joan Collins, the young Bruce Springsteen and many, many otherss were just passing through.
At he end he notes that for him now there are probably more yesterdays than tomorrows, but at least he still has tomorrows: John, George, Linda, Maureen Starkey, Eppy and many others are gone.
"I have a wife and family and that makes me a lucky man . . . . I feel honoured and very grateful that I was part of it. So here's to yesterday, and tomorrow. Cheers!"
You feel like raising a glass to him . . . and to this anecdote-filled, lively and informative autobiography.
PS: Bramwell also has an interesting website here which has rare Beatles footage he shot himself.