Graham Reid | | 4 min read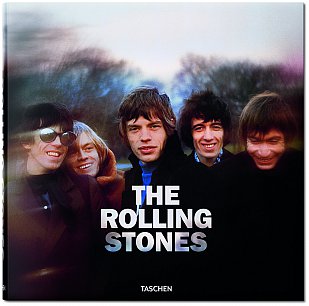 Wrapped in a cover from the evocative shoot on Primrose Hill in 1966 by Gerard Mankowitz -- which gave the band their Between the Buttons album cover -- this high-end, 600 page photo-history of the Rolling Stones gives you some idea of how the mighty have risen.
It comes with a foreword by former US president Bill Clinton.
Not bad for a band which was once denounced in the British parliament and popular press, had its fair share of high profile drug busts and run-ins with the British and US establishments, and were once considered a threat the Western Civilisation, if not life on the planet as we know it.
But the Stones' cachet in the "Swinging Sixties" and beyond always attracted talented photographers to it for their sneering or sullen look . . . and so among the great image-makers on these pages are Helmut Newman, David Bailey, Annie Leibovitz, Anton Corbijn and Norman Parkinson.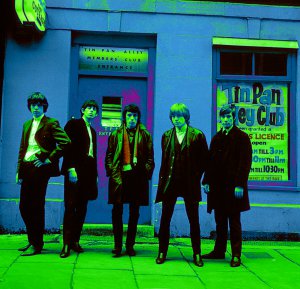 With specially commissioned essays by David Dalton, Luc Sante and Waldemar Januszczak, this hardback beauty comes in a box-case and has been edited by Reuel Golden, former editor of the British Journal of Photography and executive director at Photo District News.
Cultural critic Sante's essay sets up a shibboleth which is unworthy however when he says the Stones "were emphatically not cuddly. And 1964 was the peak of cuddliness in pop music -- you could say that The Beatles, seen from that angle, merely represented a further evolutionary step along the line from Fabian and Frankie Avalon and Tommy Steele; mothers were invited to imagine pinching their cheeks".
Umm. Bullshit.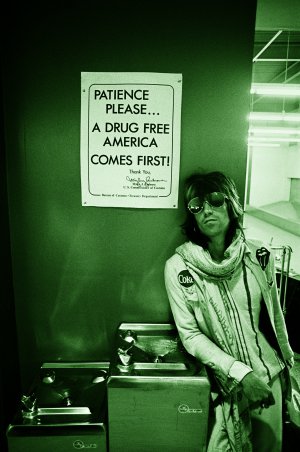 Anyone who was there in '64 -- Sante was 10 and in New York at the time -- knew Lennon and Harrison, and even Ringo, did not invite anyone to pinch their cheeks. Even my mum -- who thought John Lennon the best looking of the bunch -- knew that he was a man not to be messed with.
What Sante is doing is relitigate the hoary Beatles Vs Stones divide to make the case for Jagger, Richards et al when he says, "The Stones on the other hand were gaunt, hard-faced, dour, in those early days".
Some of that is true (really though, Brian Jones gaunt?) but this weary and familiar observation is unworthy . . . especially when the images which accompany his piece (striking black'n'white individual portraits of the Stones from the period) speak so more eloquently. And truthfully.
Taschen could have done so much better than to commission inane and insultingly reductive pap like this. Fabian in this context, for Chissake?
And it has to be said the essay by Rolling Stone magazine's founding editor David Dalton's on the Stones' music offers no searingly original insights either. More cliches and reductiveness.
You kinda wonder where a British or outsider voice -- someone there in the early days when this music was vital and who lived through all the rest -- was when Golden from Taschen was commissioning. Given the money they must have shelled out on images they surely could have done better than this?
That said, Januszcazk -- British art critic, just nine when the Stones' first singles came out -- is more insightful and even bluntly poetic on the group's cultural impact. Although in the following he does rather ignore the Czech "Velvet Revolution".
"And when the longhairs finally overthrew the shorthairs in Prague, when Václav Havel finally became president of the newly freed Czech Republic, whom did he invite to his city for a concert in 1990? The Rolling Stones. Anyone who has been to one of their gigs will know exactly why the president was so keen to have them in Prague.
"The Stones, live, burn it up like no one else. It isn't just that they are so damned good on stage that needs admiring. It's their commitment to it as well. See the photos. You'll never catch The Rolling Stones lip- synching at a presidential inauguration, or anywhere else.
"They are the bastard sons of Muddy Waters and Howlin' Wolf, so they'll go on and play whatever's happening. It's how they've been brought up.
"How marvellous that they are still here for us. No rock band had ever grown old before. So how the hell do you do it? While all the others fell away – split up, gave up, died or went part-time – the Stones stayed on the job and saw it through, heroically . . . it's what they do."
And then nails the purpose of this book -- far from the first such photo-essay on the band -- in three simple words: "See the photos."
Many of the images here have never been seen before.
A number come from outtakes of album cover shoots (mostly not that interesting, Mankowitz' own Masons Yard to Primrose Hill captures those early years thoroughly), although there are some hilariously unposed Polaroids. And other books have strutted this way.
The "timeline" section includes tour posters and newspaper ads from down the many decades (if you have Bill Wyman's detailed and beautifully ilustrated Rolling With the Stones the first half of this is redundant).
However longtime fans will doubtless be amused by images from the mid Sixties taken from The Rolling Stones Book (their equivalent to The Beatles Monthly) and from the pages of Fabulous, Jackie and Beat International.
Those days are long gone -- they seem almost innocent -- but they do serve to remind that once upon a time, half a century ago, the Stones were about music and less about marketing.
Once-upon-a-time the rebel Rolling Stones rejected consumerism. Now they invite you in with Taschen.
Here's the book which looks like a very nice Christmas present for the senior babyboomer Stones fan.
Ho ho ho .........
The Rolling Stones from Taschen is distributed in New Zealand by New Holland. The recommended retail price is $280. It is available in stores on November 25. Images here used with permission.
Stones on Denmark Street copyright Terry O'Neill/Getty
Keith photo copyright Jane Rose