Graham Reid | | 4 min read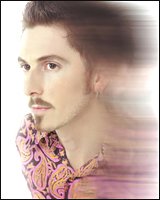 The Cafe Bangla restaurant in London's Brick Lane isn't too difficult to find - and it's worth the effort. It's a couple of doors along from the one with Prince Charles' photo in the window. Which is ironic because the chief feature of Cafe Bangla - aside from reasonably priced and generously sized Indian meals - is a mural of the face of Lady Di hovering over a landscape.

It is alarming in its realistic execution - "See how the fringe follows you round the room?" - but painted in the same garish colours as its neighbouring murals which depict idyllic Indian countrysides with temples and orange sunsets. Kitsch sentiment in spades.

Cafe Bangla is the midpoint between the homes and workplaces of two expat Kiwis, musician Blair Jollands and film-maker Marc Swadel. So it is here we meet under the late princess' baleful stare.

Listening to these two expats speak, you cannot help but be impressed: Swadel was a freelance film, commercial and video director in New Zealand (Bailterspace, Tim Finn, Stereobus, Mutton Birds, Garageland, plus corporate clients and sports coverage) and in London he is the director/producer of www.rockfeedback.com, one of the best websites for interviews and reviews of the London music scene.

He continues to work in film and video, and one of his commercials for Visa was part of a selection of highlights in the Cannes Golden Lions awards last year.

That gets you a nice trip to the south of France, but Swadel has also filmed in Italy, France, Austria and the States. In London he's shot Ed Harcourt recording at Abbey Rd, live material for Peaches, the Thrills, Libertines, Serafin (helmed by former Aucklander and From Scratch member Darryn Harkness), and shot doco material of Gordon Raphael producing the Strokes' last album in New York. He went on tour in Japan with Raphael and the band.

He's a busy man - no less so the other expat sitting by his side over the steaming curries and rice.

Musician Jollands, who has his own company, Glowb Records, does sound design for film and television, and was an Emmy nominee last year for his soundtrack to the television mini-series Shackleton which got him a trip to Hollywood.

"We got a limo to the show, didn't win and so got a cab back," he laughs.

In addition to sound design - which means layering in effects and atmospherics on soundtracks - in Britain last year Jollands also released an impressive album, Violent Love, under the moniker El Hula.

It's on Boy George's More Protein label and George describes Jollands' style as "the illegitimate child of Scott Walker and Jim Morrison with a bit of Desi Arnez and a shot of tequila". Whatever that means.

But the mix of names he conjured up - he might have also referenced early Bowie - is understandable because Violent Love is an embarrassment of musical ideas.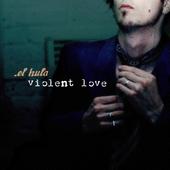 Two outstanding tracks, When the Devil Arrives at My Door and Beautiful Day, feature Johnny Cash's pedal steel guitarist James "Sparks" Sinclair and are located somewhere under a Mexican sun. Hence Boy George's tequila reference perhaps?

Elsewhere, Jollands edges towards Nick Cave and Leonard Cohen (Swampman, Jerusalem) and the Bowie influence is undeniable on tracks such as the anxious Gems and the space-oddity Killer Landings.

There are swooping strings, stinging guitars, mariachi trumpets, lyrics which leap out ("we gonna drill through you, common man" on the title track) and it all opens with the dramatic, rock-to-mock-testifying soul on Arena of My Soul.

However you describe the album - and the British press went from "David Bowie meets Crowded House and Willie Nelson" to just plain "awesome" - it is a broad sweep of styles and a calling card from a major talent.

But it isn't his debut. His first El Hula outing, the self-funded Hotel, had musicians Simon House (David Bowie), expat Harkness (whose critically acclaimed Serafin spent three months opening in Europe for Frank Black late last year), and Nathan Haines. When playing the album live, Jollands caught the ear of an appreciative Boy George, who signed him up and took over distribution.

Jollands also attracted the attention of Steve Fargnoli, Prince's former manager and at the time looking after Sinead O'Connor. Fargnoli set up showcase gigs and all was looking promising until he developed cancer and headed back to the States.

Oddly enough, Jollands - who produced Violent Love in London with the Strokes' knob-turner Raphael - is hardly known in New Zealand. Admittedly, he's been away for eight years (playing in LA, New Orleans and New York before settling in London) but his music CV here only mentions time in Bike and Flat Hamster Man.

His profile at home might be about to change. His show at the Odeon Lounge tomorrow comes in advance of the local release of Violent Love and he - and Swadel - is also the subject of an episode of the television series about expats abroad, The Living Room, which will screen late night on TV3 next month.

The programme shows the two in their British environment - the rainy streets of London and small studios - but also offers snippets of their work (Jollands' video shoot in Spain, Swadel on stage filming Serafin) and their lifestyle. Their determination to succeed in the tougher artistic climate of London shines through the grey weather.

"I'm halfway there," says Swadel. "It's a long way back - and a long way forward."

With Jollands briefly in New Zealand to talk up his forthcoming Violent Love release and play the Odeon, the programme is timely. But remember, for each minute of screentime these guys have put in a year of hard yakka.

And sometimes made it to Cafe Bangla for a warming Indian meal under the watchful, benign gaze of a disconcerting and hilariously po-faced mural.
Blair Jollands 2010 album with his band Lotus Mason is reviewed here.