Graham Reid | | 2 min read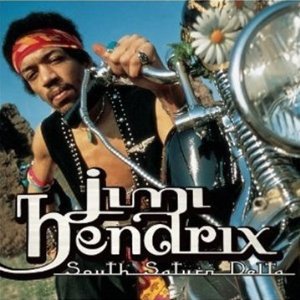 As with Bob Marley's "catalogue", it seems only right that Jimi Hendrix's messy existence -- he seemed to a sign a contract at the drop of an offer, and would record with whomever when the mood took him -- should be reined in and given some coherence.
So when the Hendrix family finally wrestled a measure of control after years of litigation we started to see "new" Hendrix albums under sometimes rather odd titles.
In the late Nineties the Experience Hendrix company got serious and rather professional in releasing newly constructed posthumous albums of some integrity.
Among them was this one released in '97 -- not a bad title when you think how blues-based but out in the cosmos he was -- which pulled together 15 tracks ranging from studio material with the Experience to sessions with sit-in musicians and those with the Band of Gypsys . . . as well as Hendrix solo on the bluesy Midnight Lightning where he finger picks in a manner seldom heard in his recordings.
Some of these were obviously demo recordings -- Look Over Yonder here has appeared on a number of compilations as Mr Bad Luck (such as here) and was a working drawing for the version of Look Over Yonder on Electric Ladyland -- but which had been scrubbed up by Jimi's longtime engineer Eddie Kramer (a safe pair of hands).
So among these sessions you have different versions of Little Wing, Power of Soul, All Along the Watchtower (just a different mix), the largely forgotten trippy b-side Stars That Play With Laughing Sam's Dice (ie. STP-LSD) which burns with guitar energy . . . and Hendrix's multi-tracked demo of the ballad Angel.
There is also his version of Dylan's Drifter's Escape which is again a vehicle for his guitar and rather less satisfactory than his classic revision of All Along the Watchtower. (Out there on the internet is a weird and compelling remix of this song which echoes Hendrix's different vocal takes over his chipping guitar. Pretty interesting.)
The title track here includes a horn section and perhaps hinted at yet another possible direction, which he however didn't explore in the two years following . . . despite him saying it was an area between rock and jazz he wanted to get into.
The studio version of Power of Soul here beats out the live treatment on the Band of Gypsys album, and the oddly constructed version on the Alan Douglas studio creation Crash Landing.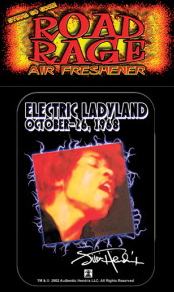 This album -- for some a hotchpotch, for others a fascinating document which is actually more coherent than many of the hundreds of bootleg or posthumous releases -- has been reissued alongside the Power of Soul tribute album and the DVD film of the Band of Gypsys Live at the Fillmore East (as well as other merchandising, see left).

It is all part of the wider gameplan -- along with last year's Valleys of Neptune -- to get Hendrix back into the wider consciousness with albums which have some shape to them, rather than just collections of jams.
A noble enough project . . . but this is a reissue of the '97 album so the "previously unreleased" liner notes should be taken lightly.
To its credit however, this album was (and is again) very handsomely packaged with a 24-page booklet and good liner notes giving the provenance of the tracks, something which had been conspicuously lacking on most cobbled-together posthumous releases.
Want to hear more of and about Hendrix? Then you could start here and lose yourself for a while.