Graham Reid | | 3 min read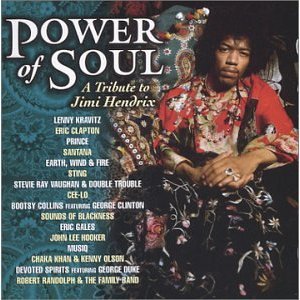 This chock-full 17-track tribute to Jimi Hendrix arrives on no significant Hendrix anniversary: his short career in the headlines was bookended by his arrival in London in late '66 and he died there in September '70.
And although this isn't the first (nor will it be the last) tribute to his particular genius, there is always a place to remind a new generation of just how towering his musical achievements were: He redefined the possibilities of the guitar; bridged rock, blues, free form jazz jamming and a little latter-day funk; wrote classic songs (Purple Haze, The Wind Cried Mary, Voodoo Child, Little Wing and others); was an exceptional re-interpreter of music by others (Hey Joe which launched his career, Wild Thing, Bob Dylan's All Along the Watchtower) and . . .
And he did all that in a little over three years.
His music has been adapted for jazz orchestration (by Miles Davis arranger Gil Evans), he opened the door for guitarists like James Blood Ulmer and Jean Paul Bourelly, Prince borrowed his look and . . .
And so much more.
Of course there's no shortage of actual Hendrix in the world. His small catalogue of albums released in his lifetime is always available, then there have been box sets of previously unreleased recordings (here) and most recently the excellent West Coast Seattle Boy collection which included some thrilling pre-fame songs recorded when he was with Little Richard, the Isley Brothers and the like.
And so many more.
So what sets this tribute apart? Certainly the sheer diversity of artists on hand from the obvious (Eric Clapton, Lenny Kravitz, Carlos Santana and Prince) to two tracks pulled from the archives (the late John Lee Hooker on Red House, an exciting live and previously unreleased Little Wing/3rd Stone from the Sun medley by the late Stevie Vaughan and Double Trouble from '83).
Then there are Bootsy Colins with George Clinton and the P-Funk All Stars; Cee-Lo Green and Musiq. There are also jazz-funk players here (George Duke), Earth Wind and Fire, the Sounds of Blackness, the great Chaka Khan, pedal steel bluesman Robert Randolph . . .
And there is the rather more mysterious Velvert Turner, a guitarist who apparently knew Hendrix and learned licks from him, and whose 43 second Going Home is undated but may come from the early Seventies.
Oh and Sting. What, Elvis Costello not available?
Actually Sting's treatment of Wind Cries Mary is among the better tracks, largely because it mostly belongs to guitarist John McLaughin who obviously enjoys being let off the leash.
And of course this is an album of guitarists on the loose: Santana, Prince, Clapton, Kravitz, Kenny Olson on Chaka's soul-belting Little Wing, in-house favourite Sheldon Reynolds (on four tracks), Eric Gale etc etc.
However the overall sense here is that just about everyone sticks rather too faithfully to Hendrix's originals, and by not making a distinct point of difference you feel you may as well go listen to the master.
Musiq for example -- until a weird kazoo-like solo -- sounds like he's using Hendrix's backing track on Are You Experienced? and his vocal is cautious; and Clapton's Burning of the Midnight Lamp, while allowing him to ache through the lyrics and whip out some stinging six-string, doesn't have the ascending excitement of the original.
Better are Santana on a hefty treatment Spanish Castle Magic with Living Colour's Corey Glover on vocals, bassist Stanley Clarke and drummer Tony Williams who get down and rock out; Prince reconfiguring the blues of Red House into a rather more funky, horn-driven soul groove as Purple House; and Earth Wind and Fire taking Voodoo Child away rom its hard rock and into Seventies wah-wah funk.

Of course the whole Bootsy/P-Funk crew are a hoot on the title track (everything and the kitchen sink) and the choral approach of Sounds of Blackness bring in an African element.
Aside from maybe Cee-Lo -- pretty much sticking to the Jimi template on Foxey Lady -- these perhaps aren't the names to take Jimi to the next generation. (If you are 19 it's likely you've never heard of old fellahs like Clapton, Santana et al). People like these guys might have been more interesting?
Tribute albums are always patchy and in that regard this is actually much better than most (John Lee Hooker still sounds timeless), you just wish maybe a few younger artists had been pulled in to see what they could make of the master.
Interested in this? Then there is plenty of Jimi Hendrix -- some obscure and different -- at Elsewhere. Your journey starts here. Take food and water, you could be gone for some time.