Graham Reid | | 3 min read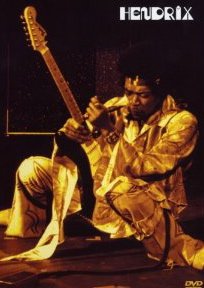 1969 was a bad year for Hendrix. Despite his superb Electric Ladyland double album at the tail end of the previous year, he still had an audience wanting to hear Purple Haze, was frustrated with the Experience band and was looking for a new direction.
In August 1969 he appeared at Woodstock with an expanded band line-up but that didn't work in subsequent studio sessions, so at year's end he took to the stage of the Fillmore East with a new set (no old hits) and a band of bassist Billy Cox and funk drummer Buddy Miles formerly of Electric Flag.
As many noted, once it was Jimi and two white guys, now it was Jimi and two black guys. In a sense Hendrix -- who wasn't that popular with black audiences which had funk and rhythm and blues, not rock -- was shifting his sound and also making a visible political statement at a time when the Black Panthers were asking questions of this brother and if he supported Black Power.
Over the years a few of the tracks this line-up played came out as unofficial posthumous recordings, and of course in his lifetime as the album Band of Gypsys, the name under which they performed.
In Hendrix lore, this was a shapeless period and some didn't find the Gypsys' free-form funk jamming as appealing as the more considered rock of previous years.
But perhaps that is only when lined up with what had gone before in such a short period. He'd been spotted by the Animal's Chas Chandler while in New York who offered him a passage to London, he landed in late '66, within weeks had astounded British guitar players like Eric Clapton and Pete Townshend, wowed Paul McCartney (Linda Eastman who later became Mrs McCartney photographed Jimi, one of her enhanced images is the cover of the recent Valleys of Neptune album), then he started having hits: Hey Joe, The Wind Cries Mary and Purple Haze in quick succession.
His debut album Are You Experienced with bassist Noel Redding and drummer Mitch Mitchell stands as one of the most accomplished, daring and innovative albums in rock and over just two sides of vinyl it laid out the template for a dozen different directions he could -- and sometimes would -- later move in.
It was rock with a pop economy and memorable hooks, but also blues and free-form jamming, and of course guitar work which defied categorisation. From there on it was constant touring, the album Axis: Bold As Love, more touring, headlines and television appearances (the Lulu show and most memorably his quiet, serious and witty appearance on the Dick Cavett Show), more touring, Woodstock, Electric Ladyland . . .
Then on New Year's Eve '69 he did two shows at the Fillmore East with Miles and Cox. The subsequent album Band of Gypsys was widely viewed as a disappointment although it contained the thrilling Machine Gun.
In '99 -- over two discs and with a clear-eyed historical account of the period by John McDermott -- the bulk of the two shows they played appeared as an expanded edition of the original vinyl, released by the Experience Hendrix company.

Hendrix sounds in top form but you can't help feel this line-up would have been short lived. Miles is an uninventive time-keeper and the stolid funk of Cox can be leaden. And the songs with Cox on vocals come up well short of convincing.

Wlth a few exceptions - Stone Free, Machine Gun and Power of Soul - the new material was mostly funk vamps to improvise around. But Hendrix was in blistering live form.
The original album got a handsome Experience Hendrix reissue last year to pull it into line with the generic packaging (good art, fold out sleeve, open disc material, digital remaster etc) of the other EH reissue programme.
But Band of Gypsies always felt like a lesser album in the small Hendrix catalogue, and unfortunately it was his last in his lifetime.
This DVD doco -- previously released but here re-presented to coincide with the Power of Love tribute album and the re-presenting of the South Saturn Delta album -- was made by the noted doco director Bob Smeaton (the Beatles' Anthology, the Jimi doco with last year's West Coast Seattle Boy) and has taken some stick down the years for not being pure concert footage.
But with members of the Experience (all now dead) and Band of Gypsys (Miles also gone), plus engineer Eddie Kramer and many, many others laying out the background (not the least the Ghetto Fighters and Lenny Kravitz commenting about how hard it is today for black rock artists to be accepted), this is an interesting historical document . . . which also includes all the known black'n'white footage from those Fillmore shows (somewhat shaky) with the sound cleaned up and given a 5.1 stereo mix by Kramer.
"One has to look at the Band of Gypsys as a period of development in Jimi's life," says Kramer. "It was a necessary point in time fo Jimi to go through this, he needed it. It cleansed his soul so to speak".
Naturally Cox and Miles speak in defense of Band of Gypsys and given this contextualisation, Band of Gypsys sound much more interesting and full of possibilty than they were given at the time on the basis of a severely edited single album . . . which Kramer says Hendrix was "resigned" to putting out for contractual reasons.
An insightful look into a politically and musically volatile period for Hendrix, who didn't live long enough to come out the other side of.
For more on Jimi Hendrix, start here.