Graham Reid | | 3 min read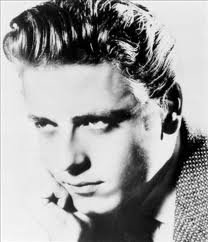 When Amy Winehouse died in 2011, few were much surprised that biographies started appearing within weeks. When Whitney Houston died there were no albums of hers readily available in New Zealand stores -- her previous studio album had been almost three years previous -- but that was a problem resolved within days.
As we know all too well, there is money to be made out of that combination of sentiment and dead singers.

But you have to take your hat off to Liberty Records back in 1960. When rock'n'roll star Eddie Cochran died in a car accident in Britain in April, his recently released album 12 of His Biggest Hits was, within a fortnight renamed as The Memorial Album and reissued with the same cover photo.
The industry was at work even as his body was being flown home for burial in California.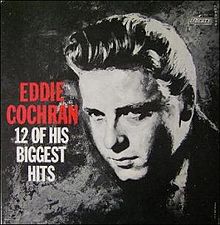 Cochran's career had been a short but successful one and he left behind definitive rock'n'roll songs in Twenty Flight Rock, Jeannie Jeannie Jeannie, C'mon Everybody and, especially, Summertime Blues which he co-wrote with Jerry Capehart.
Together they wrote three of the 12 songs on what became the Memorial Album - expanded to 14 songs with two more Capehart-Cochran compositions, Boll Weevil Song and I Remember.
Cochran may have been characerised as a rock'n'roll singer and his brooding good looks certainly conformed to the image of the era, but he also sang a considerable number of middle of the road ballads, some fairly bland material and some pure Elvis knock-offs like Somethin' Else written by his girlfriend Sharon Sheeley (who went on to write with the great Jackie DeShannon) and his older brother Bob Cochran.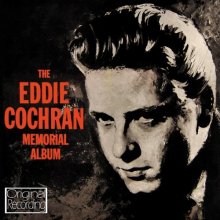 The fact of his death at age 21 -- Gene Vincent limped away, Sheeley too survived -- only enhanced his rather small cachet as a live fast/die young rock singer.
The other inconvenient fact however might be that he wasn't really as much of a rebel rocker as his looks and few hits suggested.
Cochran had come into rock'n'roll as something of an overnight sensation when he appeared in the '56 film The Girl Can't Help It alongside Little Richard, Fats Domino, Gene Vincent and Julie London in cameo performances.
The film was intended as a vehicle for the busty Jayne Mansfield and set loosely against a backdrop of rock'n'roll, then quite the new fad.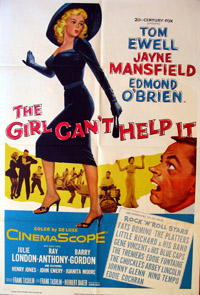 However it was the rock'n'roll and not Mansfield's ample attributes which had the lasting effect. As Pete Frame noted in his excellent account of pre-Beatles British music The Restless Generation, for many this was the film (released in the UK in '57) where "the monochrome post-war world bloomed in full spectrum colour".
"Some scenes would glow in the memory for the next 50 years. You can't get any better than than Gene Vincent and Eddie Cochran in their most hungry-for-it prime, dressed splendidly, performing vitally their epic recordings Be Bop A Lula [Vincent] and Twenty Flight Rock [Cochran]."
Cliff Richard, at 17, sang Twenty Flight Rock at his first live recording session and 15-year old Paul McCartney singing it to John Lennon later that year got him into the Quarrymen. The young Billy Fury, then still Ronnie Wycherley from Liverpool, was so impressed by Cochran's appearance in the film he immediately adopted the hairstyle.
But while Cochran might have looked the part he was, like Presley, scrupulously polite ("a gentleman with a warm personality and a great sense of humour" says Frame) . . . although there's no doubt he and Vincent enjoyed the pleasures of the flesh and booze on that ill-fated tour.
Perhaps his early death and its location (in the country which never got to see Elvis) enshrined him more in the memory of that first generation of Elvis-influenced British kids like the young Beatles and Who (covering Summertime Blues to great acclaim a decade later, and Blue Cheer with a Hells Angels-speed/psychedelic version).
But a fairer hearing of his music would find much of it insipid and even songs like C'mon Everybody little more than a sloganeering clarion call to party.
And there were plenty of those at the time.
His Memorial Album certainly contains his seminal Summertime Blues (and C'mon Everybody) but elsewhere his string embellished version of Ray Charles' What Did I Say shows his vocal limitations as both a rock'n'roll singer and a white soul man.
His rockabilly reputation is intact however, even at this distance.

Eddie Cochran's short musical contribution was one of a few great highs and considerable mediocrity. He wasn't the James Dean of rock'n'roll (promise unrealised) but, as we know, sentiment and an early death can do wonders for a career.
This article was prompted by finding the Cochran Memorial Album in same JB Hi-Fi dump bin as the terrific Little Richard Here's Little Richard and Billy Fury's debut album. All just $7 a pop. A Bargain Buy by any other name.