Graham Reid | | 3 min read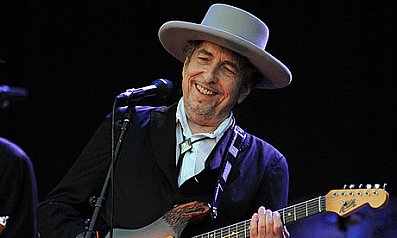 The new Bob Dylan album Tempest – in yet another uninspiring cover – is released later this week, but already there has been controversy over the first-released song Early Roman Kings on which the croaky old troubadour rides Muddy Waters' famous Mannish Boy riff.
Some have called it a rip-off (which rather damns everyone from Bo Diddley to George Thorogood and beyond who've also used it) and to others it is Dylan with a respectful hat-tip and homage to the great bluesman.
Well, as Dylan himself once observed: Amateurs borrow, professionals steal. And few have had as much stolen from them as Bob Dylan.
Even as early as the mid Sixties – when he was very much alive and creative – new acts were being touted as the "New Dylan", by which writers meant an artist who had a poetic sensibility, maybe a socio-political "message" and usually an acoustic guitar as the delivery mechanism.
The list of New Dylan's began with Donovan ("Britain's Bob Dylan") and Barry McGuire (who sang P.F. Sloane's apocalyptic folk ballad Eve of Destruction) and at various times included Loudon Wainwright III, Bruce Springsteen, Patti Smith, Steve Forbert (Dylan with the teeth removed), Steve Earle, Beck . . . Jeez, even Britain's retro-folk-rocking Pete Molinari recently got the tag (although he invited the comparison) and you really had to feel for Jakob Dylan trying to step out from his dad's shadow.
That long shadow falls mostly over Dylan himself however. Tempest is his 35th studio album and arrives half a century after his self-titled debut.
So because he is out there ploughing a field few others explore, Bob Dylan today is mostly just compared to himself. For those who liked folk-protest Bob, newly plugged-in Bob of the mid Sixties, Band-era Bob or even gospel Bob, this means the man faces an impossible task of expectation. So he ignores it and is nothing like any of those Bobs of course, hasn't been for decades.
He is still going to be – and the evidence I've heard of Tempest confirms it – the same cantankerous, gruff-voiced and uncategorisable singer-songwriter who explores the byways of American music in a way no other does.
So Dylan can only be assessed against himself, his recent self. The "Old Dylan" if you will.
It has been like this since his resurrection in the early Nineties after the albums Good As I Been To You and World Gone Wrong. At the time it seemed Dylan had writer's block (both were folk and blues covers) but in retrospect we can see he was, as he had done 30 years previous when he scoured Harry Smith's collection of old folk recorded in the late Twenties and early Thirties, going back to source material to find a voice and invent himself.
Since then, starting with Time Out of Mind in '97 (and ignoring his Christmas album of three years ago), Dylan has been a solitary and singular figure in a musical landscape of his own creation.
His songs delve into darkness and mythology, offer flashes of wit, slip through timezones so ancient figures walk in our world – the 14 minute title track of his new one refers to both the Titanic and James Cameron's film – and when he sings of love it is about betrayal as much as beauty.
These are timeless themes, yet hardly the stuff of popular music.
And the first single Duquesne Whistle refers to nothing in contemporary music, it is a forward into the past/back to the future song which seems beamed in from the 19th century. But kinda fun.
And that's where 71-year old Dylan is in the 21st century. He's a man out of time, a lone traveller who won't look back. Yet in many ways Dylan's music is a look back, it's a prowl through the old songbooks of America, through past loves, ancient history and old hurts. And – in Roll On John on Tempest – back to his one-time friend and musical rival John Lennon whose death is subject of the song.
Dylan was once stalked by dangerous fans (doubtless still is), and could have been cut down. Any number of "New Dylan" types might have stepped up to take his place.
Today no one can be called a "New Dylan" because – given the path the "Old Dylan" has carved these past 15 years -- no one else could be.