Graham Reid | | 5 min read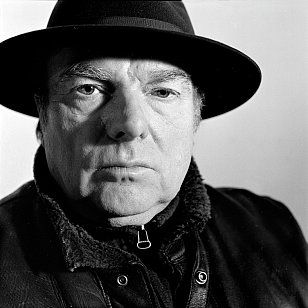 The respected American cultural critic Greil Marcus has given us some insightful books, among them Mystery Train; Images of America in Rock'n'Roll Music and Like A Rolling Stone which uses that Bob Dylan song for an analysis of the musician in his time and at a crossroads, and of the song itself.
But Marcus – perhaps most widely known for his opening line of his Rolling Stone review of Dylan's Self Portrait album back in 1970, "What is this shit?" – has also written acclaimed but sometimes suspect books. His Lipstick Traces is a fascinating trawl through history with punk as its prompt, but he makes connections to politics, social and art movements, and other music history which you know the musicians were unaware of when they were just making their rowdy noise.
It reads like what it is: an academic history written in the dean's office but trying to bring the street onto the pages.
And Marcus' 2010 book Listening to Van Morrison has all the feel of a pot-boiler knocked off quickly from his collected notes. It is as worthless to hardcore Morrison fans as it is casual listeners because he creates his own reference point: "the yaaragh" in Morrison's voice, which fellow critic Ralph J. Gleason referred to in review of Morrison's Moondance album of 1970.
He also analyses Morrison songs from bootlegs which are impossible to find or a live concert which the reader wasn't there for. Worse, he's prepared to drill deep on individual songs (five and half pages on Morrison's live version of Dylan's Just Like a Woman, from a bootleg, which he argues is awful) but skims lightly over whole albums.
He dismisses 15 years and 16 Morrison albums from 1980 in just nine pages. Say what you like about how disappointing and dreary some of those albums were, it seems absurd that to barely mention Enlightenment (90) and the double album Hymns to the Silence (91) in such a cursory fashion.
Morrison – like Paul McCartney – is one you might always give the benefit of the doubt on the basis of some sublime work, so each album should be given a fair hearing.
In recent years he's actually delivered two more than passable albums – and many, like What's Wrong With This Picture? (2003) have been barely that – in Keep It Simple (08) and Born to Sing; No Plan B (12).
Yes, he's still the world's most irritable and ungracious musicians (even Spike Milligan said he was hard to get a laugh out of, and Lord knows Spike tried) and for someone rich, unhindered by paparazzi and married to a former Miss Ireland you'd think he'd have reasons to be cheerful.
But no. He still gripes about people out to get him (they aren't), record companies or folk who ripped him off (they did, 35 years ago) but the principle to apply to recent Van is that which applied in his finest years: it isn't always what he says, it is how he sings it.
Maybe it's that "yaaragh"?
Fame has never interested him and after more than a couple of decades worth of albums, in 93, Morrison wrote to Dublin's Sunday Independent and declared he wasn't a rock star: "What I am is a singer and songwriter who does blues, jazz, soul etc. I made my reputation as a blues singer in Belfast on the r'n'b scene, which I started in that city.
"On the one hand I am quite flattered by the sudden attention of that rock star mythology, but on the other hand I do not need or want the attention, having spent most of my life living the role of an anti-hero and getting on with my job. So I tip my hat to the gods and goddesses of the media and say thanks, but no thanks."
Morrison has a vast catalogue (Born to Sing was his 34th studio album) and aside from some truly dull recordings, there are also some oddities, notably No Prima Donna of 94 (with his lovely wife on the cover).
At a time when tribute albums were dropping every week, one to Van seemed overdue but not forthcoming. (He's so grumpy, would you dare?). So he sort of did it himself and produced artists like Sinead O'Connor, Liam Neeson, Marianne Faithfull and Elvis Costello covering his songs.
And with the double CD The Philosopher's Stone in 98 – previously unreleased songs and studio outtakes etc – he appeared to be following Dylan's Bootleg Series. It was pretty good (although shoddily presented with some wrong recording dates, and oddly Marcus doesn't mention it in his slim book) and was promisingly subtitled "Volume One". There's been no second volume, unfortunately.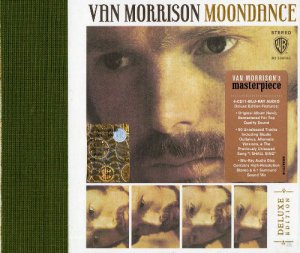 However Morrison's current album is a remastered re-presentation of Moondance, one of his most popular albums which sprung the songs And It Stoned Me, Crazy Love, Caravan, Into the Mystic and the title track which has become jazz-lite standard.
The album comes in a single disc reissue, a double disc with 11previously unreleased alternate versions from the sessions, and a whopping four CD/Blu-Ray edition which has multiple studio version of many of the songs. You want six takes of Caravan? Here they are.
Understandably that Deluxe Edition would only be for the most hardcore Van fan, but Moondance is one his timeless albums (it followed the cornerstone Astral Weeks) and there is a budget price version.
So with all those albums – hmm, that skiffle album with Lonnie Donegan and Chris Barber, huh? – how and where might you start with getting some essential Van Morrison albums which you might still actually play in five year's time?
Well, we are here to help, so – with the essential Astral Weeks and Moondance already in hand – why not try these . . .
VAN MORRISON: SIX OF THE BEST

His Band and Street Choir (1970): Released the same year as Moondance and with many of the songs worked up during sessions for that album and the earlier Astral Weeks, this acts like the third part of a coherent trilogy.

Veedon Fleece (74): A departure into lush Celtic romanticism and a quieter, poetic mood. Perhaps the most overlooked of his better albums, and the last of his most consistently impressive period which had started with Astral Weeks.

Into the Music (79): A widely acclaimed return to form and a companion-piece to Moondance if you liked that side of Morrison, the songman . . . and here with a dollop of Christian mysticism. Described by writer Brian Hinton in 97 as an album "that needs time to grow into", on which was a head of its critics at the time.

No Guru, No Method, No Teacher (86): The magic came back again for this one, the album which redeemed him for patient fans. Unfortunately many had given up on him by this time. Pity. This is very good.

Hymns to the Silence (91): The double disc that is far too good to ignore, it contains beguiling songs like the yearning Take Me Back and the beautifully wistful spoken word On Hyndford Street about growing up in thrall of blues, childhood innocence and music "in the days before rock'n'roll".

Keep It Simple (08): His first album of new studio material in almost 10 years, this one took heed of its title as Morrison ambled into soul, country, Celtic, folk and jazzy sounds. A late career high reviewed here. Not the Van of Astral Weeks, but the mature artist at ease with his gifts and achieving more by trying less. It also paved the way for the equally good Born to Sing; No Plan B four years later. Which brings you up to now . . . and these two explain why you should always give the man a fair hearing.

AND ON THE LIVE FRONT
It's Too Late to Stop Now (74): A double record, this caught him at a real peak and with a great tight 11-piece band, the appropriately name Caledonia Soul Orchestra. A "greatest hits" where the hits just sound greater, it is reviewed here.
A Night in San Francisco (93): Another double which admittedly starts on a slow boil but increasingly becomes an impassioned soulful r'n'b review show.