Graham Reid | | 4 min read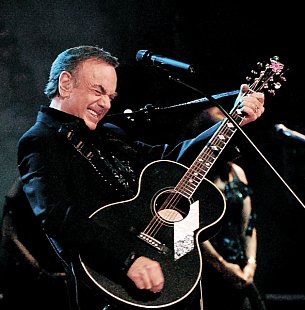 Speak this low: Neil Diamond used to be cool. Not tacky cool like Engelbert Humperdinck, but actual rock star cool.
Quite when he lost the cool is hard to say, but you'd have to factor in the godawful mawkish duet in '78 with Barbra Streisand on You Don't Bring Me Flowers.
It wasn't entirely all down hill after that, but before then he'd been so cool that The Band invited him to appear at their Scorsese-filmed Last Waltz farewell concert alongside Bob Dylan, Joni Mitchell, Neil Young, Dr. John, Emmylou Harris, Van Morrison and other luminaries.
Neil was cool.
"Oh yeah," laughs Don Was who produced Diamond's new album Melody Road. "He's amazing, it was a real honour and a treat to sit there in the studio and see these songs come to life and hear his voice."
Understandable because -- like the poor -- Neil Diamond has always been with us. And sometimes cool.
Back in the mid Seventies The Band's Robbie Robertson produced Diamond's ambitious Beautiful Noise album. And Diamond's '72 double live album Hot August Night – which effectively encapsulated his career to that point with hit-after-hit – sold in massive numbers.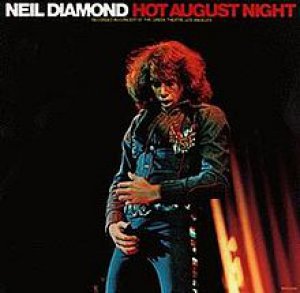 In the mid Seventies it was assessed that one in seven households in New Zealand had a copy . . . which accounts for so many in the cheap bins at secondhand record shops today.
Diamond had begun his musical life as a jobbing songwriter in New York in the early Sixties and started singing in clubs in Greenwich Village with little success. He's said when he realised Lennon and McCartney wrote their own songs he decided he'd start pushing his solo career forward, despite some small successes writing in the Brill Building for the likes of Jay and the Americans and later the Monkees: I'm a Believer and A Little Bit Me, A Little Bit You are his compositions which he'd recorded but the Monkees released their versions first.
Suddenly Diamond songs were all over the pop charts handled by the likes of Lulu (The Boat That I Row), but increasingly he was there as a solo artist. He scored dozens of chart hits in the late Sixties, among them Solitary Man (later covered by Johnny Cash), Cherry Cherry, Kentucky Woman (covered by Deep Purple), Sweet Caroline (Elvis, a rather icky song about 11-year old Caroline Kennedy) . . .
He opened for the Who once.
And in the Seventies the hits just kept coming: Cracklin' Rosie, Song Sung Blue, I Am I Said, Brother Love's Traveling Show . . . He did the Grammy-winning soundtrack to Jonathan Livingstone Seagull and stretched himself into song suites.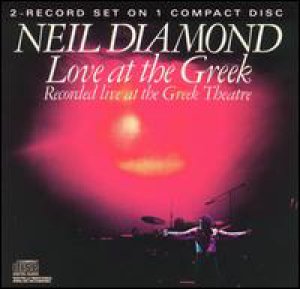 There was however a sticky and sentimental showbiz side to Diamond as his later live albums showed when he told stories about girls rejecting him, and getting up people like Helen Reddy on stage. Check out Love at the Greek from 77 if you dare to hear him at his most cloying, and having The Fonz (Henry Winkler) join him on Song Sung Blue.
By the end of the Seventies Diamond was no longer the hip character he'd once been and his appearance in the central Al Jolson role of the remake of The Jazz Singer was roundly condemned.
That said, he was always more than a merely competent songwriter, as witnessed by the fact Burt Bacharach, David Foster, Carole Bayer Sager and Stevie Wonder were happy to write with him.
He almost got cool again when Urge Overkill's cover of Girl You'll Be A Woman Soon appeared on the soundtrack to Quentin Tarantino's Pulp Fiction in 94.
His rehabilitation started with 12 Songs in '05 which was produced by Rick Rubin and was typically stripped back in the manner of Rubin's work with Johnny Cash (although the overly earnest collection of covers Dreams from four year was leaden).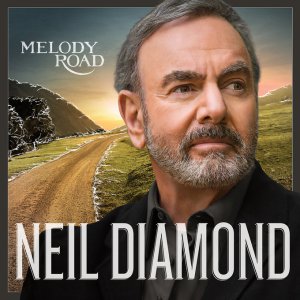 He might even get further back in favour with his new album Melody Road which is co-produced by Don Was and Jack Knife Lee, and that's pretty cool.
It's a Diamond song-cycle about his life.
And hearing it was reassuring says Was: "It was a case of an artist with a real strong vision. I went over and he played me his demos almost in the sequence the album is in, and it depicts his journey through life as a songwriter and how his life experiences impacted his songs. And how his success as a songwriter impacted his life.
"Every time he started singing I had a strange emotional reaction to his voice because for most of my life he's been there. And he sounds the same. People get divorces, fired, the world goes through upheaval but Neil Diamond's always been there . . . and he's always sounded like that.
"It was really comforting in a way to hear him sing. He's one of the greats."
And when you listen to Melody Road, you know Don Was is right: Something Blue has all the hallmarks of an early Seventies Diamond classic (an increasingly orchestrated singalong) and The Art of Love one of those seriously brooding love ballads he can be so good at.
Given Barbra Streisand's latest album rocketed into the charts last month – and she's never been cool – and the love felt for 80-year old Leonard Cohen's new album Popular Problems it'll be interesting to see how Melody Road is received.
It would be kinda cool if 73-year old Neil was cool again.
In an actual cool way, I mean.
It would be, as Don Was says . . . reassuring.