Graham Reid | | 3 min read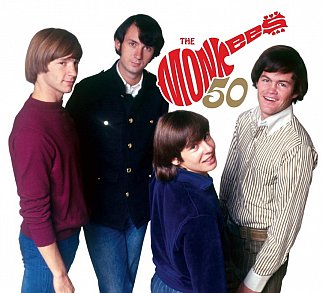 Anyone can easily locate the YouTube clip of the 1967 recording sessions for the Beatles' extraordinary A Day in the Life. The montage shows celebrity pals hanging around: Mick Jagger and Marianne Faithfull, Donovan clowning with George Harrison, a youthful and happy Keith Richards, Harrison's wife Pattie Boyd sipping wine, Marijke from the hippie clothiers The Fool earnestly waving a wand . . .
And in this illustrious inner circle Mike Nesmith from the Monkees chats with John Lennon, and there's a glimpse of fellow Monkee Mickey Dolenz.
No matter what critics thought of them – and many complained they were just a made-for-TV band who didn't play their own instruments, initially true – musicians didn't have a problem with the Monkees.
The Monkees hung out with various Beatles and the Laurel Canyon set in Los Angeles (Crosby, Stills and Nash, Joni Mitchell etc.). It's worth remembering Stephen Stills auditioned for the Monkees but didn't make the cut, so suggested to his folk-singing pal from New York, Peter Tork, that he try out.
The generation whose lives had been changed by the Beatles on The Ed Sullivan Show in February 64 and had their passion confirmed by the Fab Four movie A Hard Day's Night later that year enjoyed the Monkees television series for what it was. Just a colourful knock-off of the Beatles' film with some classy pop songs scattered about.
The Monkees were entertainment plain and simple, especially for kids arriving into pop just as the Beatles were leaving it behind with albums like Rubber Soul, Revolver and Sgt Pepper. The Monkees became surrogate Beatles for young teens, and their songs like the theme from the show, Last Train to Clarksville, I'm a Believer, Pleasant Valley Sunday, the garage-rock of Stepping Stone, Valleri and many more were prime cuts of 60s pop and all over radio. Globally.
Okay, they didn't write them and early on didn't play on their records (like the Beach Boys, Association and others did, huh?). But they were fun . . . and they took their music onto concert stages where they did play their own instruments. Then they wrote.
Long ago the Monkees ceased being a guilty pleasure and became recognised as within the landscape of pop. And their 68 myth-destroying film Head -- appearances by Frank Zappa, boxer Sonny Liston and Jack Nicholson (who co-wrote it) -- remains a bewilderingly trippy movie both slapstick and cynical.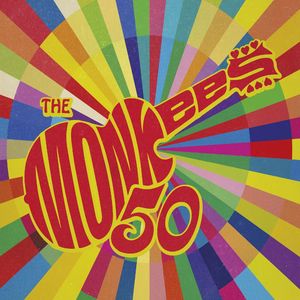 Because of the television show in re-runs and their songs staples on pop radio, the Monkees never really went away . . . even so, we can say they're back.
This year there' has been the "new" album Good Times! on which the late Davy Jones appears from archive tapes to sing Love to Love (written by Neil Diamond in the 60s) and Mickey Dolenz duets with the late Harry Nilsson on the title track. (Nilsson had written their hit Cuddly Toy back in their heyday).
Elsewhere songs for the still-alive Monkees – Tork, Dolenz and Nesmith – come from fans like XTC's Andy Partridge, Weezer's Rivers Cuomo, Noel Gallagher and Paul Weller (the excellent psychedelic Birth of an Accidental Hipster) and others, including their 60s hit-team Tommy Boyce and Bobby Hart pulled from the vaults.
Good Times! is uneven and it helps if you don't think of it as a Monkees' album . . . . because that invites comparisons with their hits of old.
And those hits and more get brushed off with The Monkees 50 – yes, it's half a century since they debuted – which is three CD catch-all set from their earliest work to a couple of the best songs from Good Times!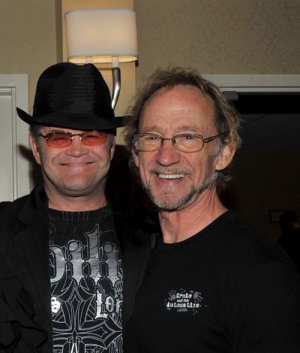 It's not just a decent overview – there have been others, and expanded sets of many of their albums – but acts as an enjoyable homework assignment because the Monkees (not Jones obviously, or Nesmith who was always the most reluctant Monkee) are touring again, playing Christchurch and Auckland in late November.
On stage Dolenz and Tork will look old – they're in their 70s – but that's the price of having a pop and television career half a century ago.
But what's ageless is the shameless appeal of the Monkees' classic pop.
Here they come, walking down the street . . .
Yet again.