Graham Reid | | 3 min read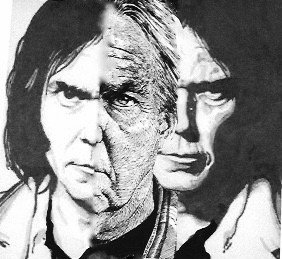 For a long time – perhaps from even as far back as '75 – Neil Young earned the right to do exactly what he wants . . . because he just does exactly what he wants.
By '75 he has moved from folk-rock to folk and rock as distinct genres as well as finding a place (sometimes very briefly) in Crosby Stills And Nash's close harmonies or going straight down to the darkest reaches with his Tonight's the Night album.

By the end of the Eighties he'd also been through country, swing, whatever Trans is and so much more.

That said, much as he is as entitled to do whatever he likes his audience is equally entitled to be less than enamored with some of it and also downright critical.

Only the most slavish camp follower would waste their time with the lo-fi A Letter Home (2014), the belated political rage of Living with War (2006) and any number of other releases in the past couple of decades.

As Young delves into his archives to present a sometimes haphazard selection of live and studio releases he also records new albums, and the stark contrast between the Now and Then is apparent.

For every indifferent Now album and another which seems halfway decent there can be thrilling one: Elsewhere favours Le Noise (2010), the swirling Psychedelic Pill (2012) and The Visitor of last year (with the Promise of the Real band).

With Young you really do pays your money and tales your chance.

This month Young released two albums almost simultaneously, one of the Now (Paradox with Promise of the Real and which is the soundtrack to the tour doco-cum-road movie with an eco-message by Young's partner Daryl Hannah) and the other a Then live album from '75 (Roxy; Tonight's the Night Live).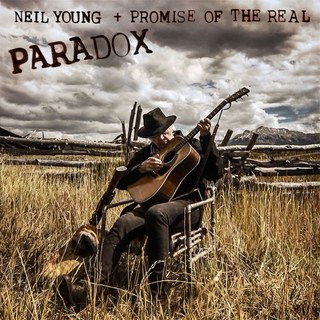 To be utterly crass, all you need to is look at the running times of some of the 21 pieces on Paradox to get a picture: many are bare fragments below the three minute mark (some less than 30 second snatches of guitar), there is a live Cowgirl Jam which stretches past the 10 minute mark (it's a Young + Real wig-out of course and his staggering guitar still thrills) and 45 seconds of some locker room amble into the Turtles' Happy Together (dissolve to laughter).

The pity is that among the marginalia and trivia – none of which make you think, "Man that must a great movie!" – are some lovely things like right at the end his delightfully intimate Tumbleweed with mandolin, or the sonic landscape of organ which underpins the aching Pocahontas, a relaxed Angel Flying Too Close to the Ground with Willie Nelson . . .

But his is just yet another patchy Young album of the Now and as we've noted previously the Then albums hooked out of his bottomless archives are nearly always far superior.

Roxy: Tonight's the Night Live is the real deal and came immediately after the harrowing album of the same name where he immersed himself in the deaths of guitarist Danny Whitten and roadie Bruce Berry. It was the sound of coming down, waking up, taking stock and finding that the dream of the Sixties was and truly over.

Young had gone that path before (On the Beach) but now it felt personal.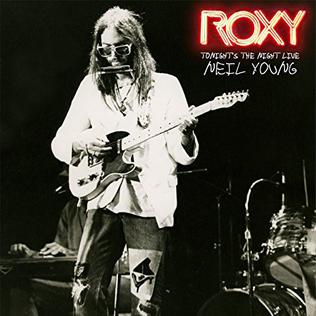 This show recorded at the Roxy in LA shortly after the album sessions were completed however finds Young in oddly humorous and playful mood when he introduces himself (as Glenn Miller) and the band, they throw in a jaunty piano take on Roll Out The Barrel, he speaks between songs (introducing Walk On as an oldie but it hadn't been released) and so on.

Young is in much stronger voice than on the album and this set – while still channeling the pain he felt – bristles with assurance as the Santa Monica Flyers band (which included Nils Lofgren, Crazy Horse's Billy Talbot and Ralph Molina, steel guitarist Ben Keith, all of whom would be with him off and on for decades) are tight yet have that pleasingly ramshackle quality which has been a hallmark of Young's best supporting cast (Albuquerque here a weary standout, Roll Another Number for the Road a Seventies stoner road song).

The original running order of the studio album is juggled and some may find the confidence here at odds with the fragility and nerve-end pain of the studio album, but you also sense that the catharsis is being, or has been, worked out.

It was in Neil Young's Now at the time . . . but today, as his current Now staggers uncertainly, you conclude his Then was when he really was in the moment.