Graham Reid | | 1 min read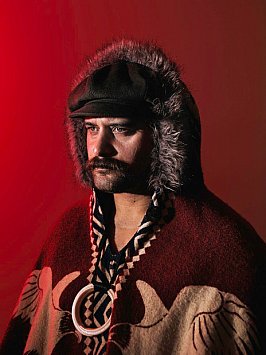 Most musicians don't see the bigger picture, they're too busy getting out the single or EP, planning the gig or short tour. But Troy Kingi is not like most musicians, he has a masterplan.
Kingi – singer, songwriter, guitarist and actor among other things – has set himself the project of releasing 10 albums in 10 years. That, as the sports commentators say, is a big ask. But even more demanding on him is that they will all be in different genres.
As the 2020s decade began he was well on his way, having ticked off a 22-song double album, Guitar Party at Uncle's Bach, in 2016 with his Electric Haka Boogie band, the tripped-out soul-psychedelics of Shake That Skinny Ass All the Way to Zygertron the following year, and political roots reggae album Holy Colony Burning Acres in 2019.
And these did not go unnoticed. As Kingi prepared for his next albums – maybe two in one year as he skipped 2018 – he could reflect on four Tui music awards.
Kingi (Te Arawa, Ngā Puhi, Te Whānau-ā-Apanui) was born in the Far North and raised in Rotorua, Te Kaha and Kerikeri. He picked up guitar at Te Aute College in Hawke's Bay and while at Kerikeri High School formed his first band, Toll House, which entered and won the local Smokefree Rock Quest.
In the decades since he has become a multi-instrumentalist, accomplished on bass, keyboards, drums and more.
When he was asked in 2016 after the launch of Guitar Party what song initially affected him he said, "I'd like to say 'Black Dog' – my dad would play Led Zeppelin IV from start to finish before school every morning and that was the very first track on the album.
"But I've been hearing 'Summer Breeze' a lot lately, the Isley Brothers version, and instantly remember being five again, so I'd have to go with that."
His role models in music were, he said, "Doobie Brothers, Steely Dan, Jimi Hendrix, Bill Withers, Bob Marley – again, artists my dad would thrash on the turntable and on our car stereo."
Out of such diverse influences from soul, hard rock, smooth pop and reggae, Kingi created his own musical personality which reached as wide as it did deep.
He studied at MAINZ in Auckland and returned to Kerikeri where . . .
To read the rest of this article go to Audioculture here.
Audioculture is the self-described Noisy Library of New Zealand Music and is an ever-expanding archive of stories, scenes, artists, clips and music. Elsewhere is proud to have some small association with it. Check it out here.