Graham Reid | | 2 min read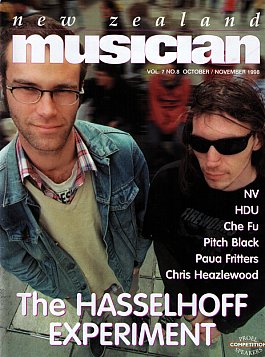 History and memory become conveniently codified, reduced down into a few key images, explanatory paragraphs, illustrative memories and some further associations to suggest breadth and depth.
But all nuance disappears, outliers or those things which don't conform are ironed out.
Consider the case of Flying Nun. The shorthand has been simple: white-boy guitar bands in black jeans, reverb and jangle, lo-fi alternative rock. The defense calls the Bats, Clean, Chills, Verlaines . . .
This conspicuously overlooks not just the musical distance and ambition between those artists but bands like Look Blue Go Purple, the country stylings of the Renderers, the idiosyncratic Chris Knox and Wrecks Small Speakers let alone Netherworld Dancing Toys (before they left and had their massive For Today hit), Headless Chickens who juggled aggressively experimental rock with popular hits, Superette, JPSE . . .
And, at the end of the Eighties, the two-man Hasselhoff Experiment of guitarist/singer Andrew Tolley and, on drums/various percussion, Brendan Moran.
Out of Wellington, they signed to Flying Nun to distribute their albums on CD (they retained the rights for vinyl). Theirs was a short-lived career – just three albums – before Moran moved overseas.
Always Outnumbered Always Outgunned pulled from the shelves at random for this column – followed their self-titled debut, and it sounds as aggressive and enjoyable as it did at the time.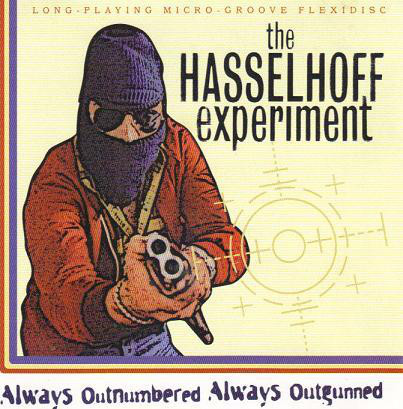 Gritty rock'n'roll noise (Moran plays "suitcases/oventrays/toastrack") which includes their thrashing cover of the Changing Times/La De Das' How is the Air Up There?
In a fold-out cover by Andrew B White, sold for $25 through their own website (says Brendan in a polite note with my copy), recorded at Wellington's Inca with Mike Gibson and Auckland's The Lab with Matthew Heine, and pressed by Corduroy in Melbourne, AOAO is a furiously energetic hard rock/alt.rock which anticipated the stripped down format of Black Keys and White Stripes but doesn't indulge in the blues tropes often adopted by both those US bands.
Reference points here are Sixties garageband rock (Sonics, the Nuggets collection), Motorhead and the sound of industrial machinery in a deserted factory.
At a time when clean CD sound and electronica culture were endemic, the Hasselhoff Experiment (along with Nothing At All!, Head Like a Hole and other garagerock'n'roll bands) had an earthiness and authenticity which might not have had wide commercial appeal but found favour with the student radio audience . . . and especially live where there was a fury to their playing.
Fortunately this album captured much of that rawness and even now can be used to terrorise innocent civilians and those into bland pop.
So although not really "on" Flying Nun and certainly very much outliers at the time, the Hasselhoff Experiment certainly deserve their place in in New Zealand rock.
More than a few images and a paragraph.
And damned if Brown Paper Bag or High on Destruction couldn't be student radio hits right now.
.
It's a pleasant surprise to note you can find the Hasselhoff Experiment's music on Spotify and this album specifically is here
.
Elsewhere occasionally revisits albums -- classics sometimes, but more often oddities or overlooked albums by major artists -- and you can find a number of them starting here