Graham Reid | | 4 min read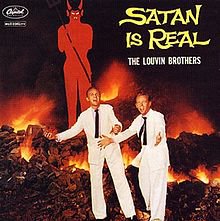 It's not strictly true that "You can't judge a book by its cover". If the title is Sex, Strippers and Sleaze and the photo is of naked people cavorting in a dungeon then you can probably guess it isn't essays on the life of St Francis.
Okay, that's not exactly judging, but you get the point.
Similarly with album covers. Gothic lettering, umlauts and a devil's head tend to point to heavy metal, just as a Roger Dean sleeve suggests prog-rock.
Some album covers take on a life of their own and become, in that most overused word of our time, "iconic". The Beatles' Sgt Pepper's became emblematic of the colourful hippie era and the first Ramones album just yells New York punk even now.
Country music is full of classically awful and kitschy covers, many of them collected in the wonderful book Vinyl Hayride.
One of them stands out even in that challenging company and appears in many collection, the cover to the 1959 album Satan is Real by the Louvin Brothers, Charlie and Ira.
In fact, the cover is better known than the album's contents . . . so let's deal with it first.
"Back in those days the Louvins took an active role in designing their covers," writes Charles Wolfe in the biography In Close Harmony, The Story of the Lovin Brothers. "It was Ira who built the set for the cover Satan is Real and built that devil too.
"The brothers took it to an old rock quarry near Nashville where they started a fire from old tyres that had been soaked with gasoline to get them to burn real good."
The Louvin Brothers almost got burned by the fire and flying rocks which exploded, but the effort was worth it and the cover, with its 12-foot high Satan, stands, in the words of Sid Griffen in Q magazine's 100 Best Record Covers, as "a masterpiece of diabolical kitsch, both heartfelt and hilarious".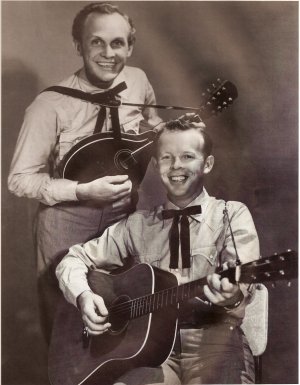 The sentiments of the Louvin Brothers were certainly heartfelt and genuine, they came from that Southern school of religious thought which says if Jesus and God are real, then Satan must be too.
That is what they attest in the title track, where a man stands up in church and tells the preacher and congregation that Satan came into his life and destroyed him and his family as they fell into sinful ways.
"Yes preacher, it's sweet to know that God is real, and to know that in Him all thing are possible . . . but sinner friends, if you are here today, Satan is real too."
Ira grappled with his own demons (booze and rage) and Charlie was plagued with doubt about making music which was commercially successful. So they felt the temptations of the Devil as an actual fact.
A close harmony duo from Alabama, the Louvins – from a religious family with seven kids, born Lonnie Ira and Charlie Elzer Loudermilk – were signed to Decca in the early Forties and became a popular touring act with their close harmonies and spiritually-imbued originals and covers.
They ran a parallel career in secular country and bluegrass music and in the mid Fifties were at the Grand Ole Opry.
But things increasingly came unstuck with Ira's boozing and rages (the taller of the two, he once challenged Elvis to a fight backstage) and in '63, angered by Ira's unreliable behaviour, Charlie quit.
It was during the volatile period before that however that Satan is Real was recorded in just three days, and was well received on release.
Some of the songs became minor classics, such as their original The Christian Life which was covered by Gram Parson and others, and their harmonies influenced the country-rock of the Byrds and the Everly Brothers. Phil Everly was recently invited to sing with Charlie for a concert of Satan is Real and a compilation, but Charlie was diagnosed with cancer and died in January 2011.
Ira's death in '65 was replete with irony: the hard-drinking, much married man – who wrote The Drunkard's Doom on Satan is Real about a drunk having a vision of his fate so gives up drink and starts living a Christian life – was killed in a head-on in Missouri. At the tim Ira had an arrest warrant out on him for drunken driving, but in this case it was the other driver who was drunk. Nine times over the limit in fact.
The mystery of death and the uncertainty of life, the belief in faith, the notion of sin and redemption . . . all of these elements in Satan is Real have come into contemporary alt.rock and indie.folk.
For a 2006 album by Charlie, a long list of admirers turned up play including Elvis Costello, George Jones, Jeff Tweedy of Wilco, Will Oldham, Tift Merritt, David Kilgour and many others.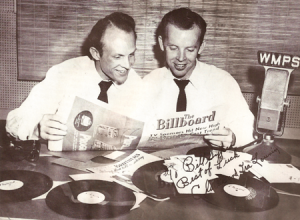 There is an elemental simplicity about the arrangements on Satan is Real – just voices, guitar and mandolin, the band of bass, guitar, piano and guitars barely present – which befits songs with titles like There's a Higher Power, The Kneeling Drunkard's Plea, Are You Afraid to Die, Dying from Home and Lost, Satan's Jeweled Crown and I'm Ready to Go Home.
The 2011 reissue of this cornerstone country album came with an excellent booklet and extra disc, Handpicked Songs.
These 14 songs from the Louvins' spiritual and secular catalogue were chosen by the likes of Mark Lanegan, Graham Nash, Beck, Emmylou Harris, Will Oldham, Lucinda Williams (who had Charlie on her '08 album Little Honey), Jim James of My Morning Jacket, M.Ward, Kris Kristofferson and others.
In the booklet each writes a few words about their choice.
As Jim James notes about Low and Lonely, "when Charlie and Ira's voices blend so real together and the reverb is just splashing off them, you are swimming in an ocean of all of what life could be . . . good and bad . . .you hear the Devil there . . . the sadness of mistakes and deeds done wrong in the past . . . real living . . . and the promise and hope of redemption and a life lived in purity and righteousness, and you hear God there too, rooting for them . . . pushing them along".
.
There is more about the Louvin Brothers at Elsewhere here.
Elsewhere occasionally revisits albums -- classics sometimes, but more often oddities or overlooked albums by major artists -- and you can find a number of them starting here
.
Charlie Louvin explaining the intuitive musical understanding between the brothers
.