Graham Reid | | 3 min read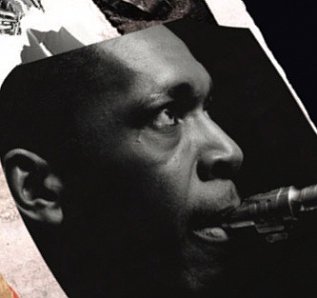 It should be accepted without question that half a dozen
John Coltrane
albums – the list usually starting with A Love Supreme (1964) – belong in any serious jazz, or even general music, collection.
If the majestic spirituality of A Love Supreme is someone's first taste of Coltrane they would most likely want to hear more from this giant of jazz who died in '67 at just 40.
Pity, however, anyone whose first encounter is his later and more avant-garde, outsider work: That's akin to giving someone Captain Beefheart's Trout Mask Replica because they expressed a vague interest in the blues after hearing some early Eric Clapton.
However for anyone who embraced A Love Supreme these First Meditations sessions – recorded two months after Love Supreme with the same musicians: pianist McCoy Tyner, bassist Jimmy Garrison and drummer Elvin Jones – could be the next logical step.
Although it is one few seem to take.
The album (on Impulse!, produced by Bob Thiele at Rudy Van Gelder's studio) rarely pops up in any consideration of Coltrane's career, in part because it marked a transition between A Love Supreme and the more familiar Meditations released in '66 when Coltrane brought in saxophonist Pharoah Sanders and drummer Rashied Ali to re-address some of the First Meditations material as a sextet.
So this album – pulled from the shelves at random for consideration – is a problem child in the catalogue: possibly one not intended for release but a well thought-out suite; not heard until a decade after his death when a conveniently linear release schedule and progression had been established by critics; the material reconsidered for Meditations . . .
However, as the critic Whitney Balliett wrote of Coltrane in the New Yorker Magazine decades ago: "Visionaries rarely leave clear tracks".
The constant discovery of previously unreleased or hitherto unknown sessions by Coltrane (as recently as this and thisand this!) confirms those inconvenient footprints and First Meditations (For Quartet) – the title imposed by the Impulse! marketing department when the tapes appeared – is certainly like tracks in the snow, circling back and then into the beyond.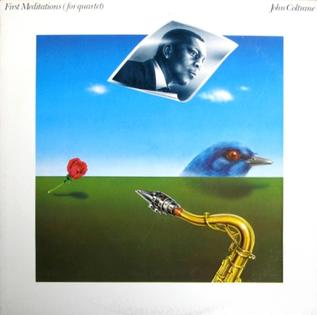 By the time you hit Consequences halfway through the second side of First Meditations, all bets are off as Coltrane unleashes not his famous "sheets of sound" so much as small, energetic motifs which drill into massive and seemingly angry, dissonant improvisations over Tyner's equally furious piano.
If you came for Cray, you've just got Beefheart.
And gosh, things started so well?
The opening piece is Love (which, as with four of the five pieces here, were reconsidered for the subsequent Meditations album by the expanded group) and it has gloriously holy quality, especially when the leader drops away and Tyner more quietly and romantically explores the possibilities over the supportive angularity of Garrison-Jones rhythm section.
When Coltrane re-enters he brings a yearning anxiety.
Compassion which follows has a dark beauty but the appropriately titled Joy which opens the second side offers the kind of release/exultation that freedom brings: it is unconstrained, exuberant aural abstract expressionism which somehow manages to keep its heart close at hand.
Then there is Consequences, the very title standing like a "Danger Ahead" roadside sign, although after what has preceded it, it becomes a negotiable highway, often thanks to Tyner, Garrison and Jones.
The album ends with more accepting Serenity.
For scholars and obsessives it's worth noting how Coltrane reconfigured the subsequent Meditations album by placing the new and uncompromisingly furious The Father and The Son and The Holy Ghost at the start before moving to Compassion, Love, Consequences and then a very truncated, reflective Serenity.
It's interesting that the liner notes on the original '77 album release, Coltrane discographer and pianist David Wild doesn't address what First Meditations contains but rather defaults constantly to a comparison with that subsequent album.
Fair enough perhaps, because it is the better of the two which share the not-dissimilar title.
First Meditations (For Quartet) was – and perhaps still is – going to suffer in any comparison.
However this was John Coltrane, off the back of the astonishing A Love Supreme and moving towards his equally exceptional (but further out and also posthumous) Interstellar Space.
It is a John Coltrane album from a most inventive and remarkable period in his life, and in jazz and music in general, so . . .
Just don't get me started on his also-posthumous Sun Ship.
Just as well that wasn't pulled out at random.
.
You can hear this album on Spotify here
.
Elsewhere occasionally revisits albums -- classics sometimes, but more often oddities or overlooked albums by major artists -- and you can find a number of them starting here