Graham Reid | | 1 min read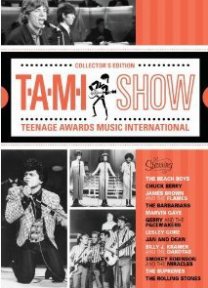 Rock'n'roll never looked quite as exciting as it did at this awards show in 1964.
No, the Beatles aren't here but just eight months previous they had played on the Ed Sullivan Show for the first time and set off the British Invasion. So at the Teenage Awards Music International you had Gerry and the Pacemakers and Billy J Kramer and the Dakotas alongside Motown acts like the Supremes and Marvin Gaye, all playing to an enthusiastic crowd and giving it their all.
There was also Lesley Gore, Jan and Dean, the Beach Boys, the famous Wrecking Crew in attendance as the studio band . . . and relucantly topping the bill the Rolling Stones who hadn't wanted to go on after James Brown, and very wisely.
Brown delivered a sweat-drenched show of a lifetime as if to say "top that, young pretenders".
This was a star-studded line-up -- Chuck Berry and Smokey Robinson are here too -- and this was originally filmed for cinema release.

Believe me it works just as well on your home screen. A classic snapshot of the period and at just $13 from JB Hi-Fi stores here, this is a much recommended Bargain Buy.
You can read more about the show and this film here.