Graham Reid | | 2 min read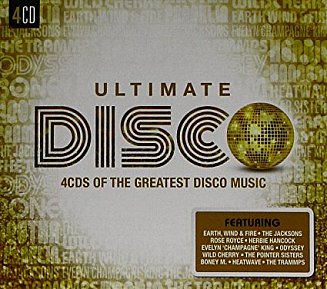 One of the more interesting developments in the past decade has been the rehabilitation of disco and many artists in their Thirties – especially those with tastes so eclectic to point of being musically ADHD – are incorporating the mirrorball grooves in what they do.
And in most instances it isn't even ironic.
Disco, boogie, dancefloor funk or however you style it – as came to prominence in the last half of the Seventies and into the Eighties – was founded on the pleasure principle (if not unhealthy hedonism) and because the music was primarily for dancing it has endured in a way a lot of styles from the period haven't.
You can still dance to it but it's harder to get all phlegmatic about Thatcher or political events in Britain of four decades ago.
Elsewhere has previously noted that disco was reviled for all kinds of racist and anti-gay reasons by many mainstream white rock critics which lead to that extraordinary Disco Sucks riot in Chicago.
That dance music really got under some people's thin skins, huh?
There are a few collections out there similar to this four-CD set but let's turn the spotlight back on the mirrorball and see where the flashes fall.
This offers some of the cornerstone songs of the era: Earth Wind and Fire with September and Boogie Wonderland, The Jackson (the addictive Blame It On the Boogie and Shake Your Body Down), Heatwave (Boogie Nights), The Hues Corporation (Rock the Boat), The O'Jays (Love Train), Odyssey (the soulful Native New Yorker and Going Back to My Roots), Vicki Sue Robinson (the almost archetypal Turn the Beat Around), Wild Cherry (Play That Funky Music) . . . And that's just a scattering among the 20 tracks on the first disc.
No, the Bee Gees, Gloria Gaynor and Donna Summer aren't here (nor are a few other key players due to licensing no doubt) and the Trammps' track is the extended version of Love Epidemic, not Disco Inferno.
Also these are mostly the single edits not the extended version which many got, but that still makes for a danceable segue from one to another after about four minutes.
There are some interesting inclusion as the net is cast wide: Luther Vandross (Never Too Much), Sly and the Family Stone (Family Affair), Aretha (What a Fool Believes), George Duke (I Love You More), the Weather Girls (It's Raining Men) and Pointer Sisters (I'm So Excited) among many others.
There are a few unfamiliar names too: Tom Browne with Funkin' For Jamaica, Jean Carn (Was That All It Was), jazzman Benny Golson (I'm Always Dancing to the Music), Rick Sheppard (Can We Share It) . . .
So from the familiar to the unexpected, from Esther Phillips' What A Difference a Day Makes and LaBelle's Lady Marmalade to Linda Hopkins' It's in Your Blood and Bobby Womack's It's Party Time this one is guaranteed to get you moving.
Especially if you get in touch with yo' bad self.

And in even betternews these 60 tracks across four discs weigh in at just $25 at JB Hi-Fi stores here.
A Bargain Buy and a party starter, even ironically.
NB: This collection is part of a series which includes Ultimate Gospel, Ultimate Soul, Ultimate Feel Good, Ultimate Power Ballads, Ultimate Rock and so on.