Graham Reid | | 4 min read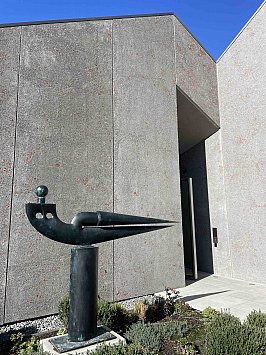 The historic tram circling Christchurch's central city – a hop-on hop-off service for tourists – rattles past the repurposed and restored Arts Centre, the beautiful Canterbury Museum (currently closed) and along Rolleston Avenue towards spacious and leafy Hagley Park.
The driver-cum-guide offers commentary and after stopping outside the Arts Centre points out the Botanic Gardens and museum to the left.
And on the right Ravenscar House, the largest and best private art collection in the city – some might say the country – open to the public.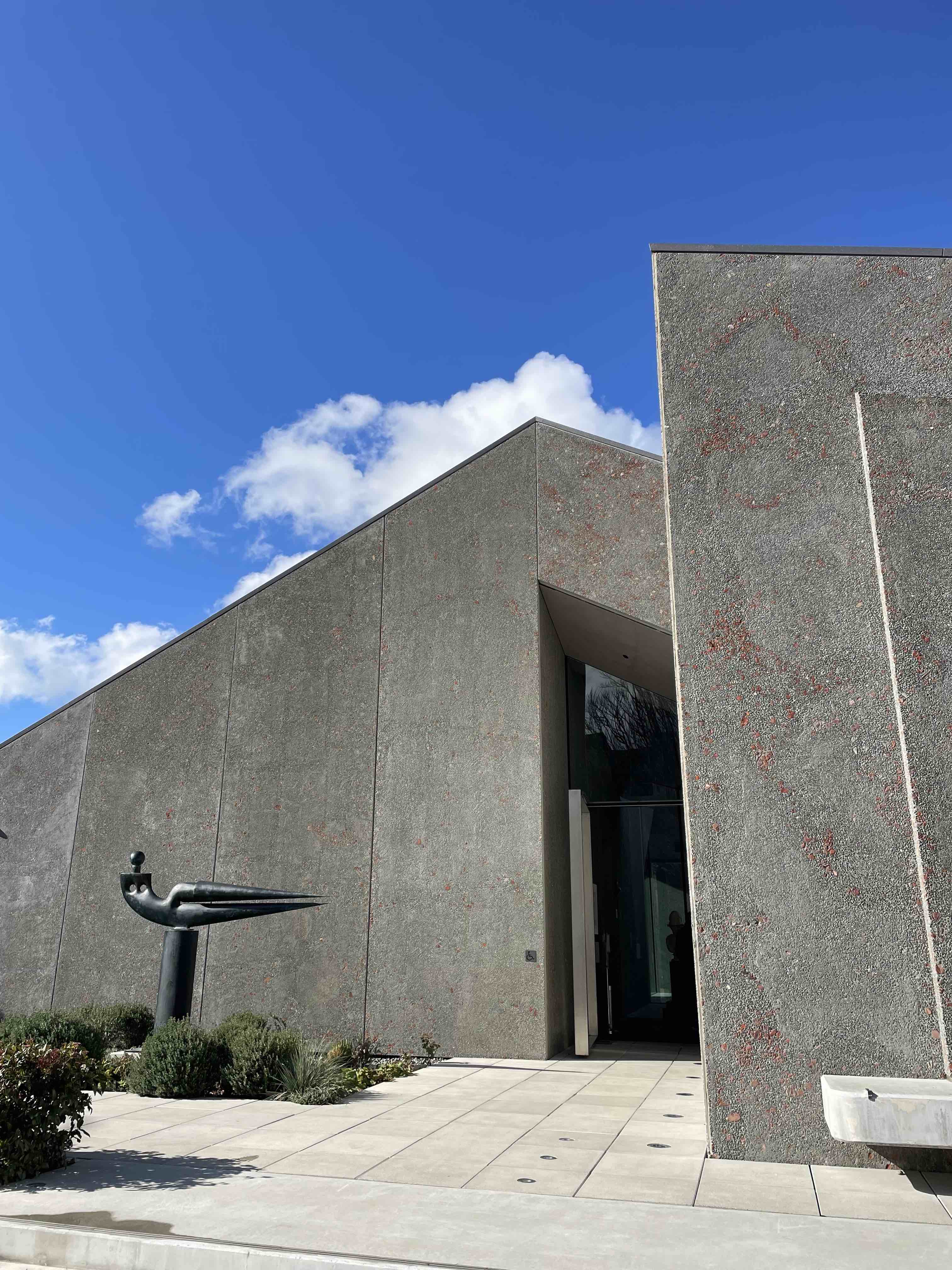 But most tourists give it a quick glance because, unlike the attractive Gothic Revival facades of so many other buildings which survived the 2011 earthquakes, Ravenscar offers little that catches the eye: the large grey walls – the name carved into the precast concrete with bits of red bricks recovered from quake damaged buildings -- give no hint of what is within.
Only the Paul Dibble sculpture outside suggests a gallery of art.
As John Walsh says in his excellent Ōtautahi Christchurch Architecture: A Walking Guide, "It's a strong silent type, a chiselled object that reveals nothing of its interior life".
Yet behind the enormous glass door and that characterless exterior is an extraordinary private collection of mostly 20th century New Zealand art by some of our most well-known names.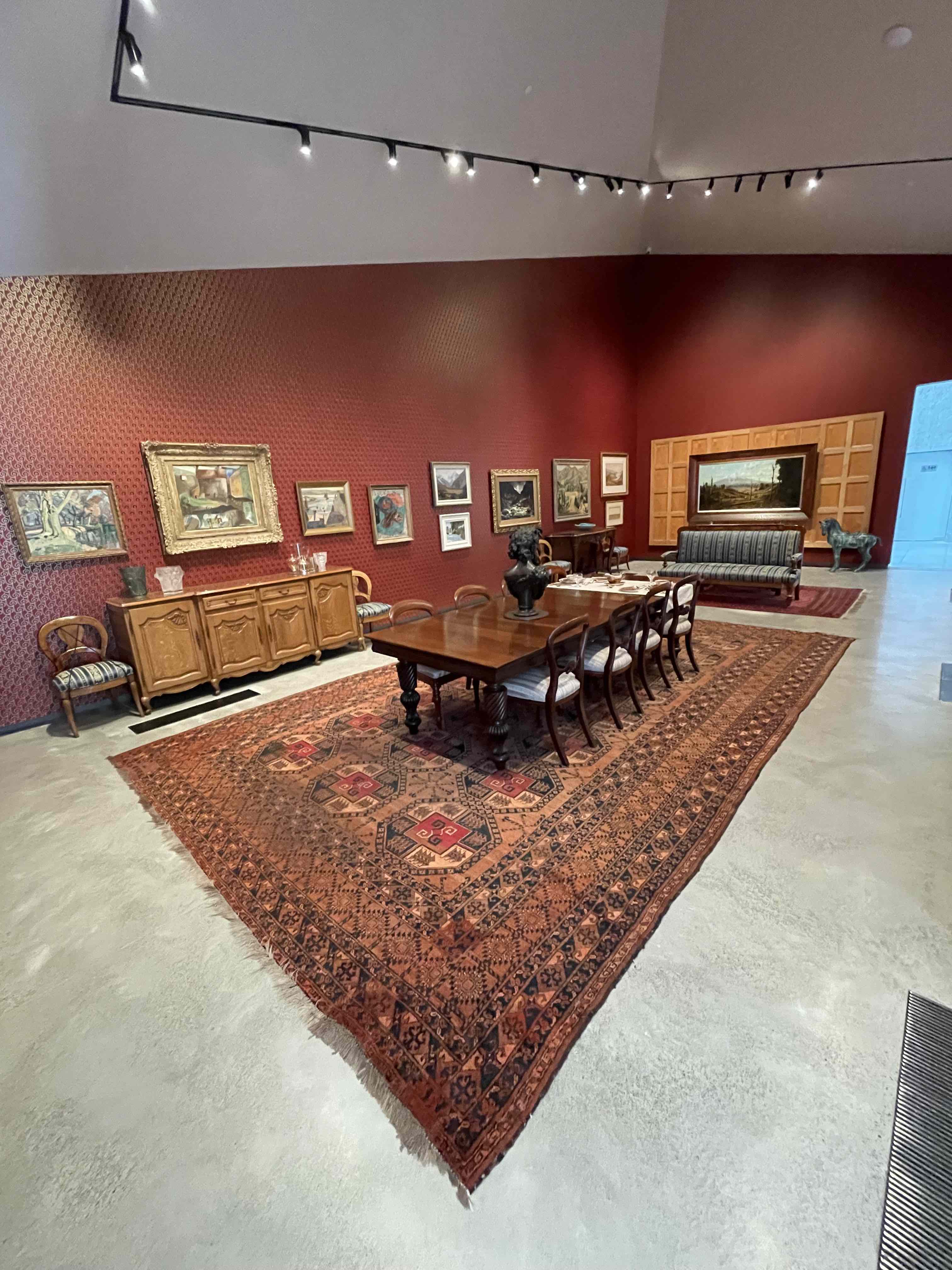 And while the collection of Jim and Sue Wakefield might be as idiosyncratic as any collection of works which appealed to its owners, the Wakefields exhibited fine and coherent taste.
Unlike the magpie-like tendencies of Sir John Soane whose Soane Museum in London is an enjoyably crowded cacophony of sculpture, art and bits'n'pieces, the Wakefields collected astutely and with refinement.
And as opposed to the slapdash Wallace Collection at Rannoch House in Auckland – formerly the home to now disgraced James Wallace and his aesthetic inconsistency – the couple judiciously selected fine work from the best artists for their original Ravenscar home at lofty Scarborough overlooking the city, Canterbury Plains, up the coast to Kaikoura and across the endless Pacific Ocean.
As Max Gimblett – whose Harlequin Parade was purchased by the Wakefields – said, "Art was their dominant interest and they had an impeccable eye . . . I am an artist who uses the word 'masterpiece' and I think Harlequin Parade is one of my masterpieces, it came right from the centre of my oeuvre, so I think they chose very well from quite a large selection".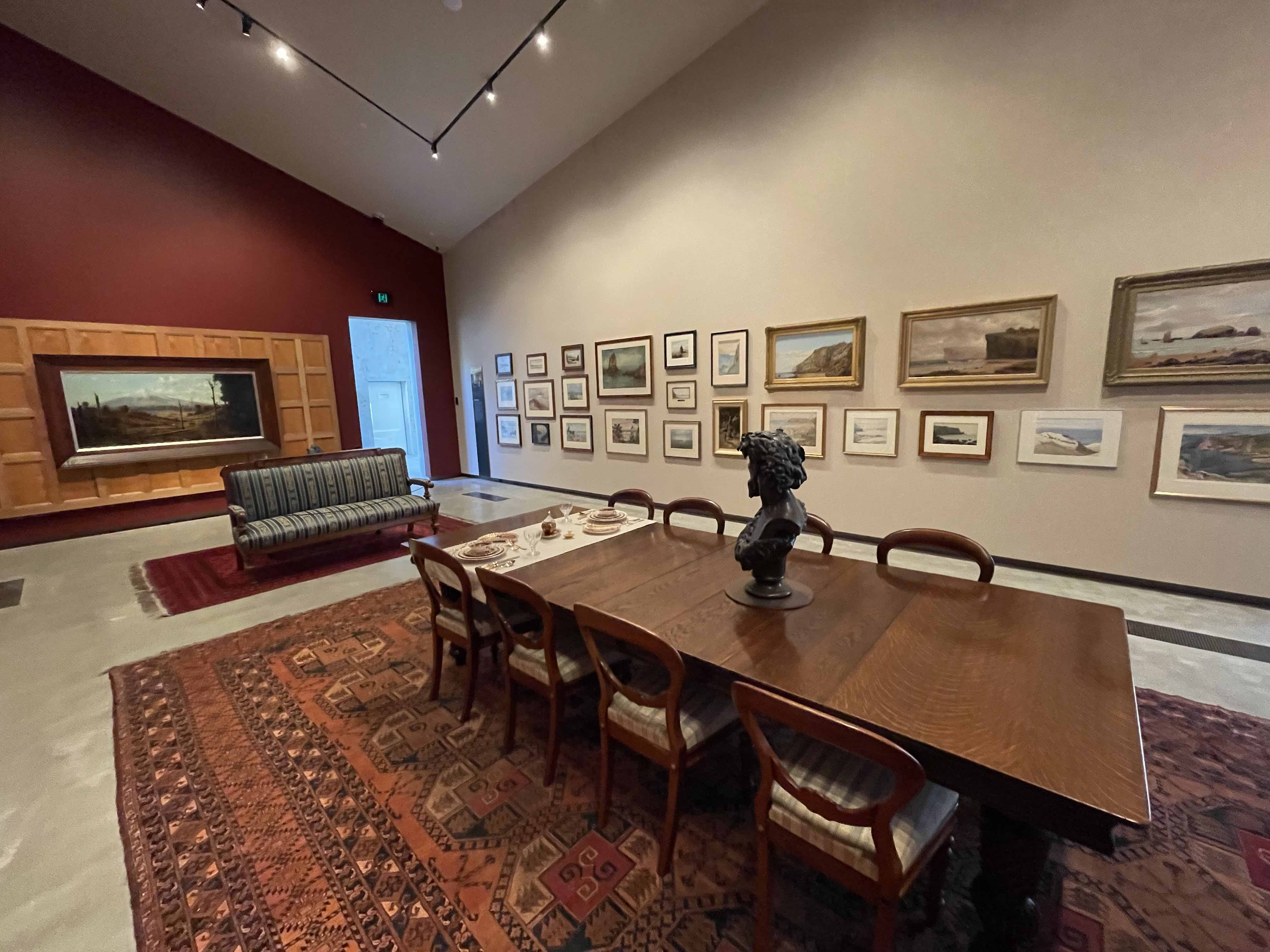 When their home at Scarborough – inspired by the low design features of Frank Lloyd Wright – had to be demolished in 2016, 18 years after they bought the property on which it stood and five years after quakes, the Wakefields and their Trust created – "built" is too crass a term for what they did – the new Ravenscar in the arts precinct of central Christchurch.
And in a nod to their original home, the layout at the new location echoed a home with a large dining area, spacious and comfortable lounge (Harlequin Parade on a wall with works by John Pule, Gretchen Albrecht and others), master bedroom, a light-filled gallery for the glass art and a windowless, intimate library. All around a shallow and restful central pool.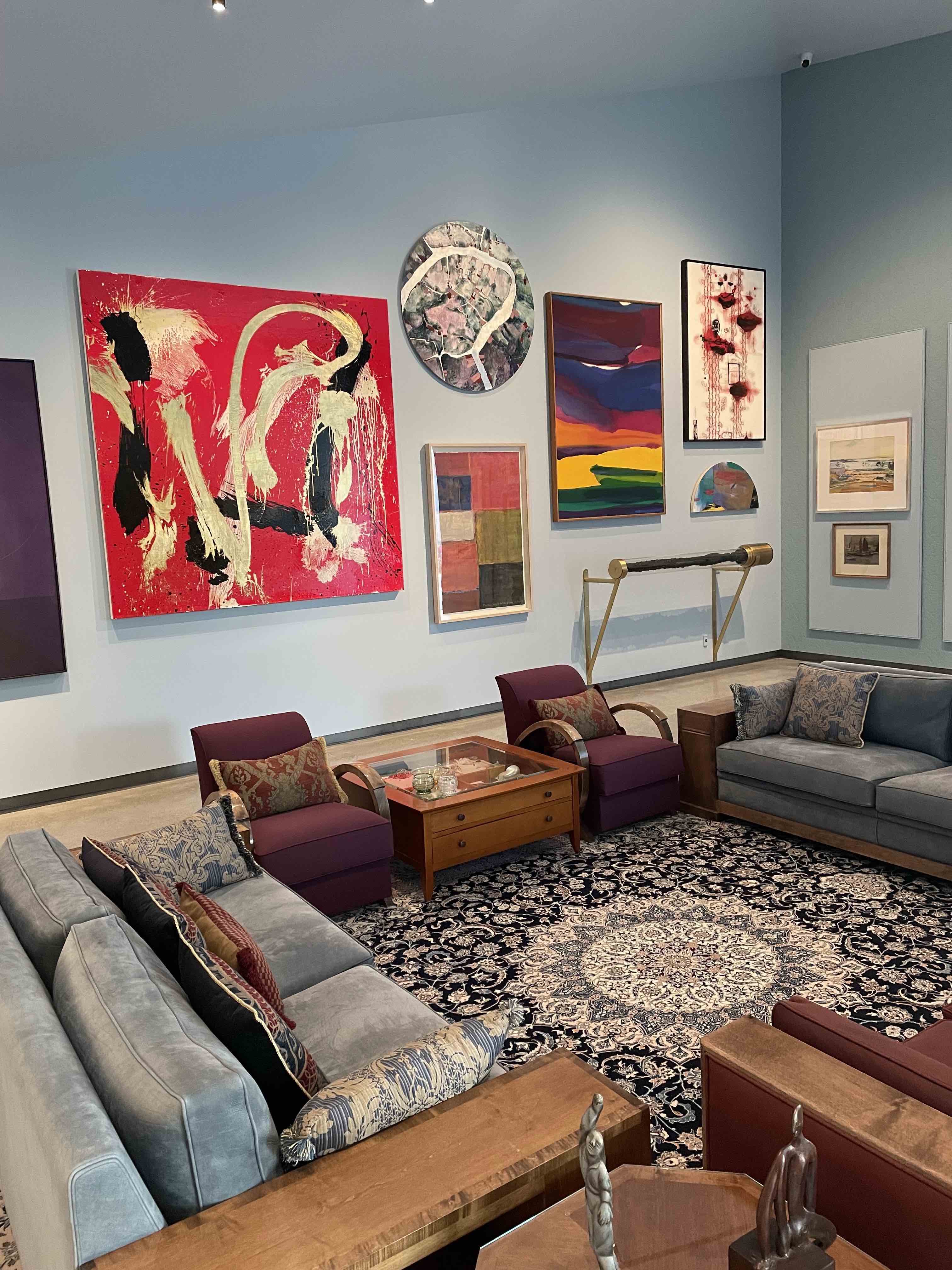 Ravenscar House mimics a home but also stylish galleries like Louisiana in Denmark.
The rooms look inward – other than the garden off the gallery – and invite, and demand, quiet.
Behind that somewhat forbidding exterior, Ravenscar House offers singular landscape works by Colin McCahon, Evelyn Page, Frances Hodgkins, Lois White, Leo Bensemann and others of the Bloomsbury South group, Bill Sutton . . .
In the dark and cosy, albeit huge, library – with specimen drawers of objects d'art and small pieces from antiquity – are New Zealand works from early times by Petrus van der Velden, Gottfried Landauer and Charles Goldie.
There is sculpture – a delightful homage to Italian painter Giorgio Morandi's muted colour palette by potter Wendy Fairclough – and glass works, antique furniture and . . .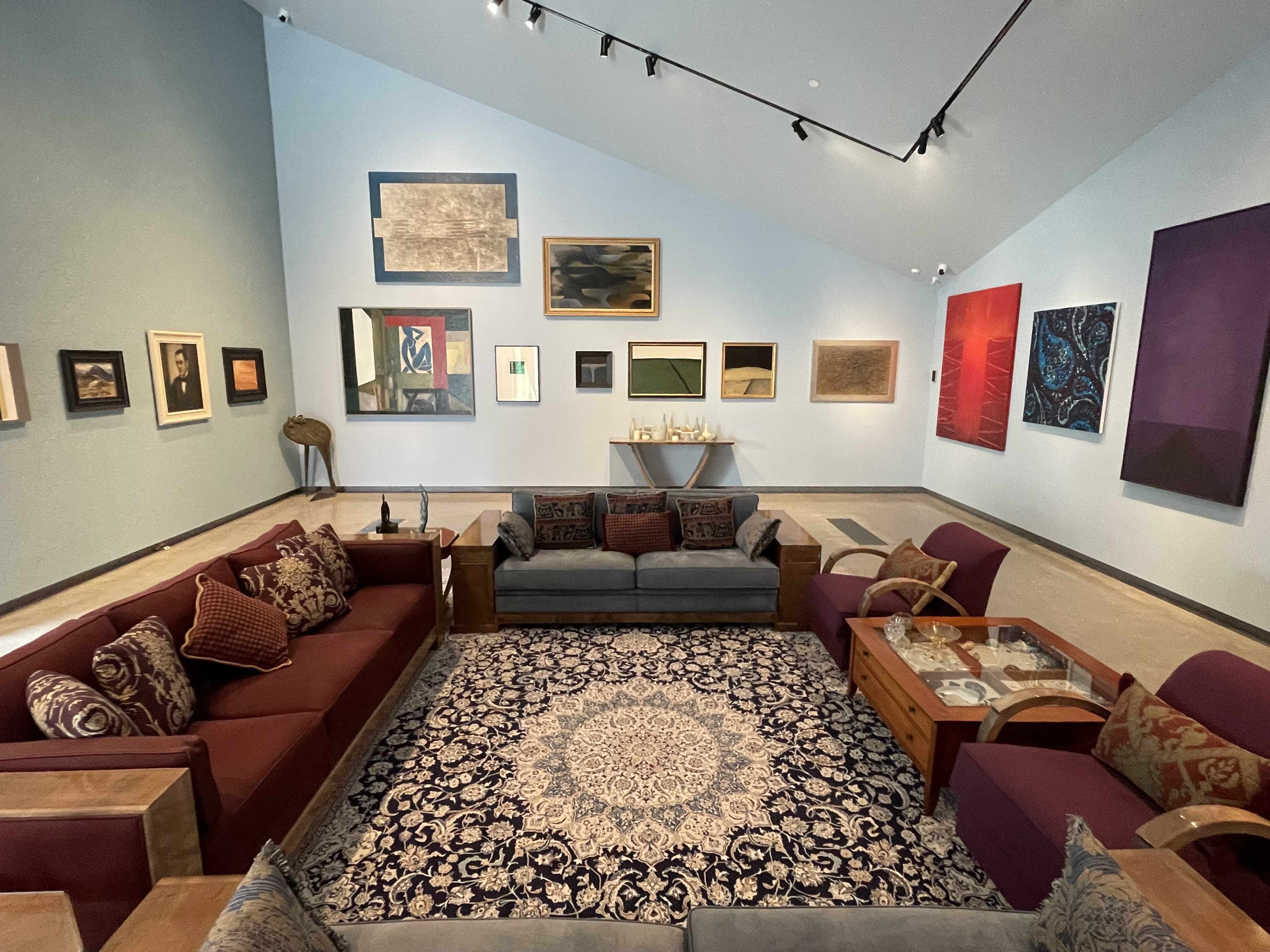 Ravenscar House Museum – which opened in 2021 -- was designed by Patterson Associates who also created the striking Len Lye Centre in New Plymouth.
Ravenscar won the Supreme Award at the 2022 New Zealand Commercial Projects Awards.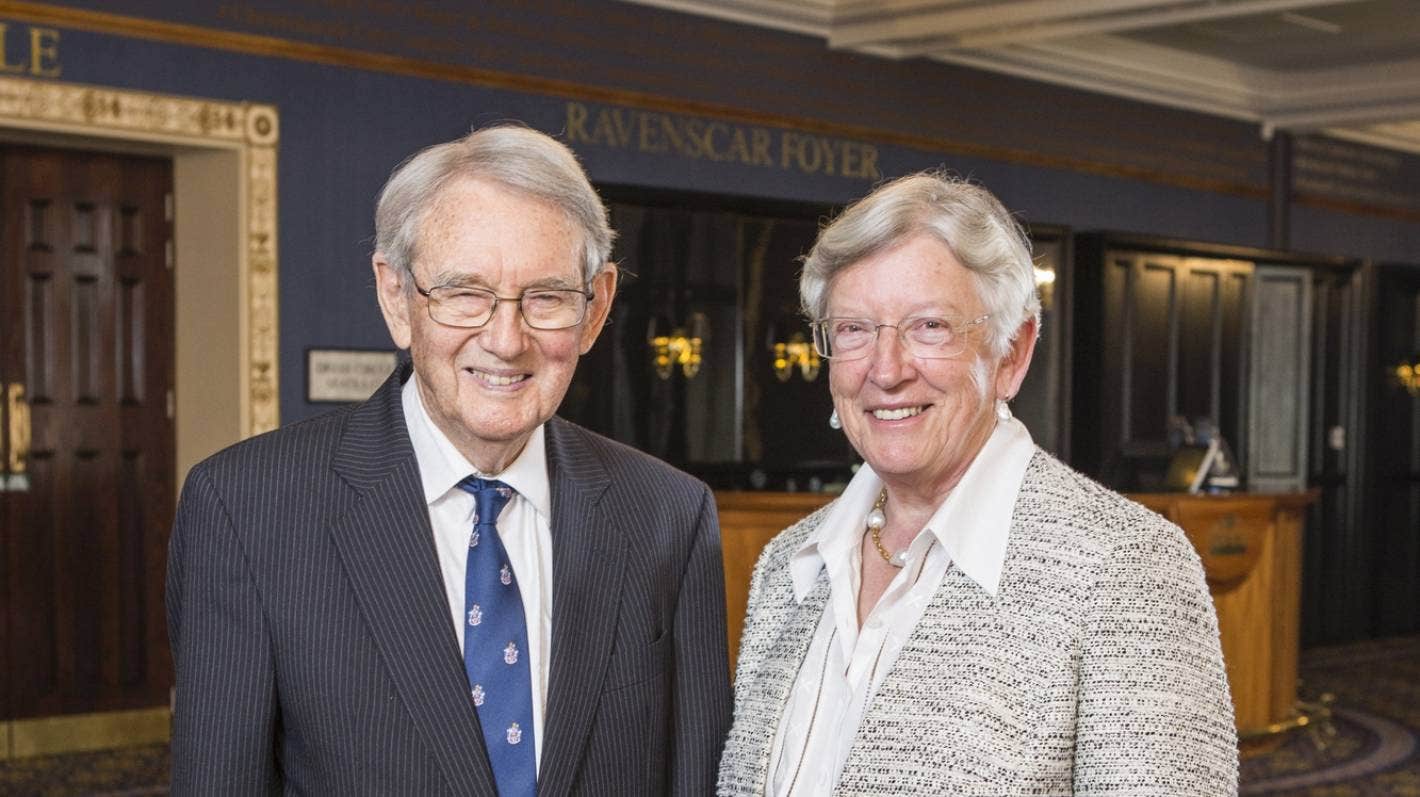 Regrettably Jim Wakefield never saw it completed, he died in November 2020 at 87.
But it is a living tribute to the Wakefields' generosity and vision, and that of the subsequent generation who steered to completion.
So hop off the rattling tram, go through the towering glass door into the quiet of Ravenscar House and discover it for yourself.
Elsewhere is indebted to the book Ravenscar House: A Biography by Sally Blundell (Canterbury University Press, 2022) in the preparation of this article.
.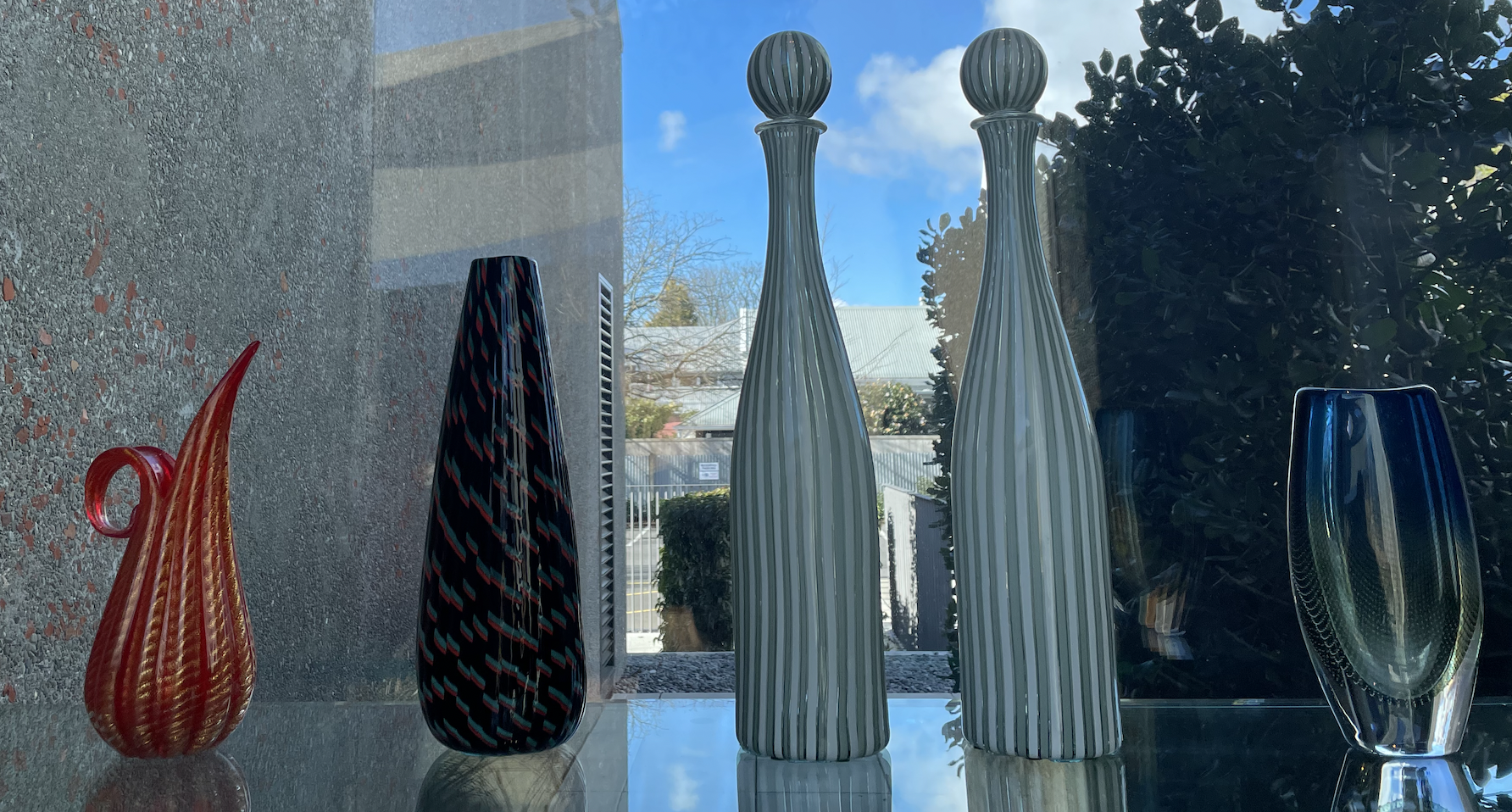 .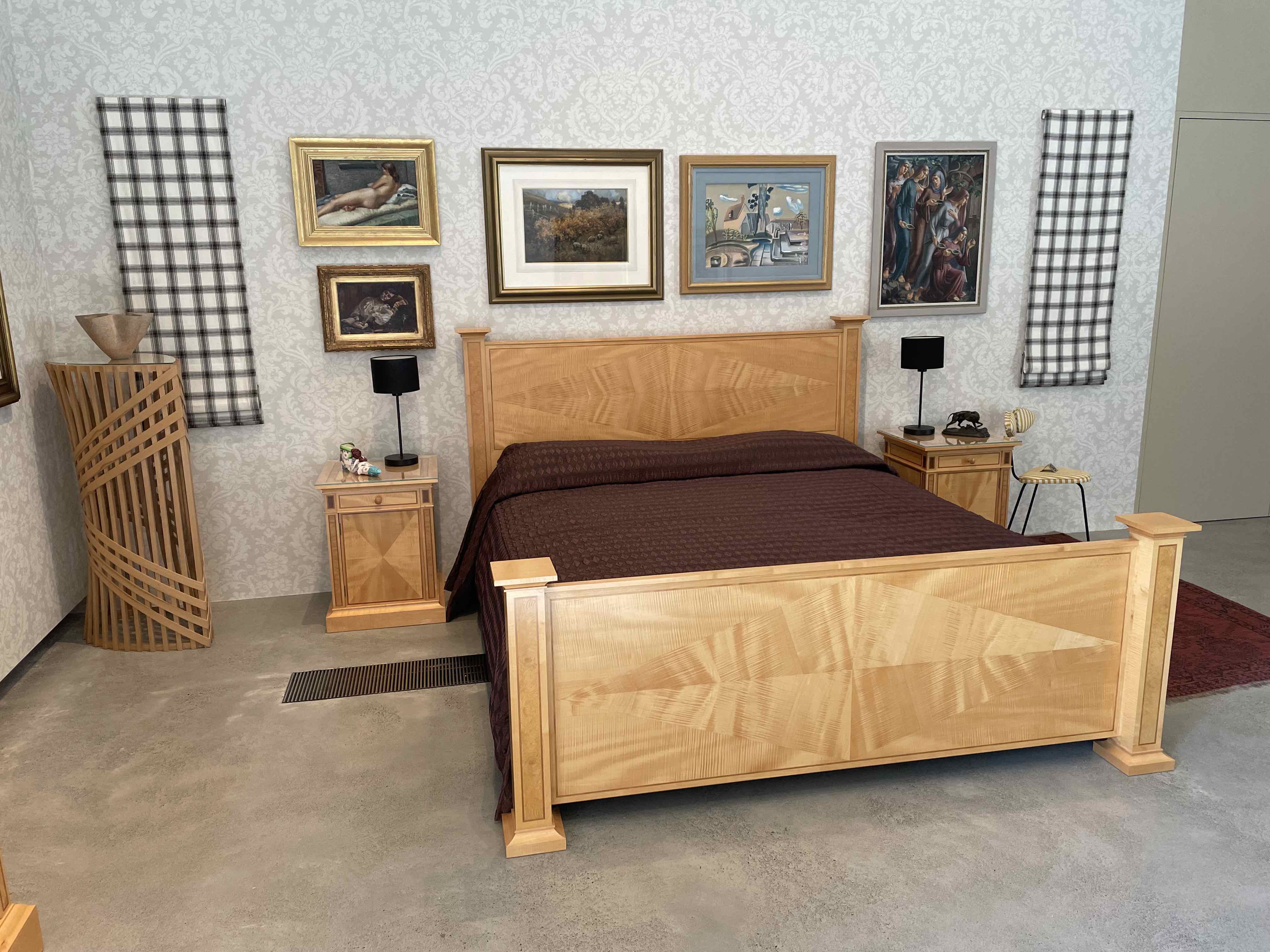 .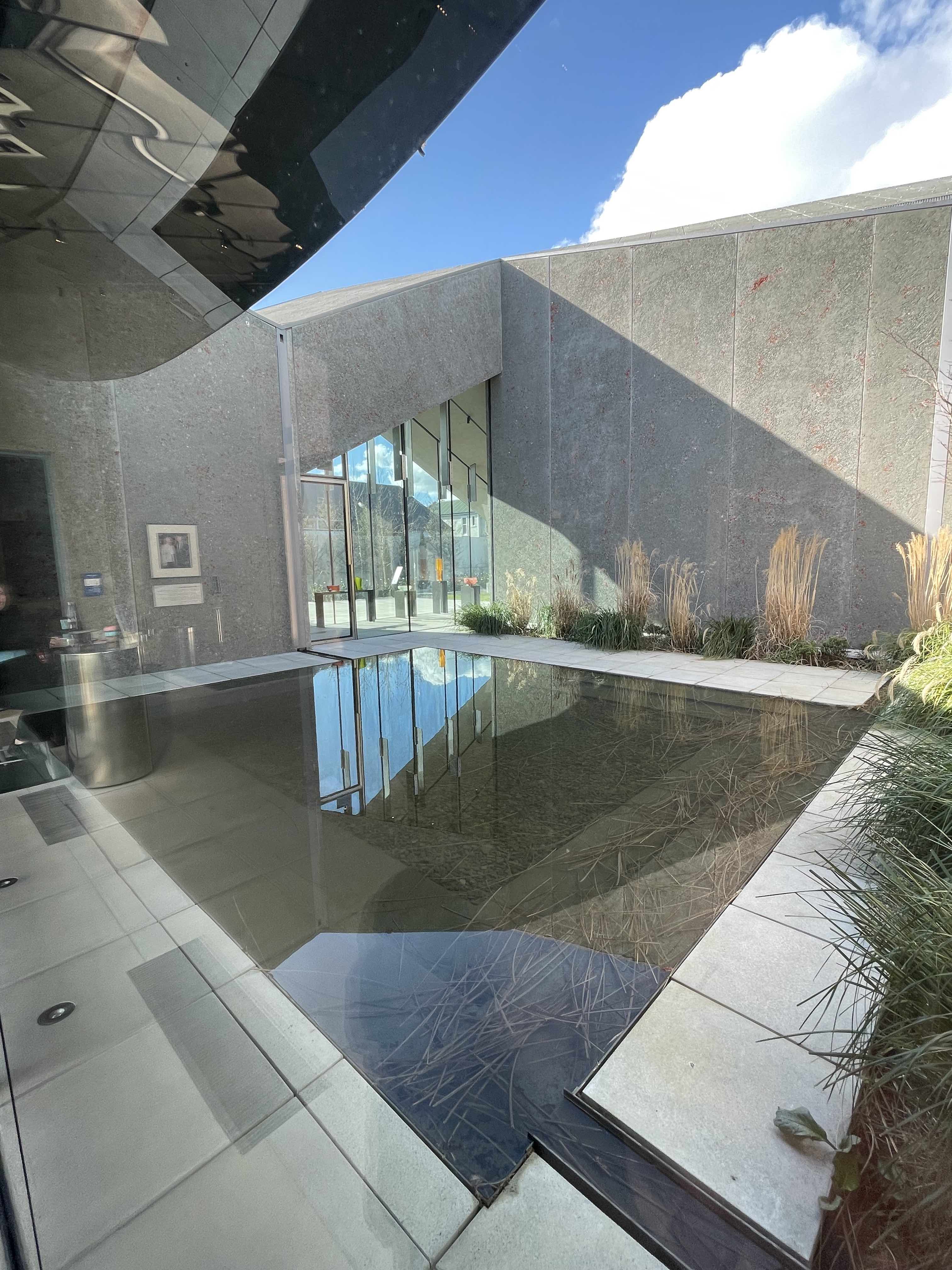 .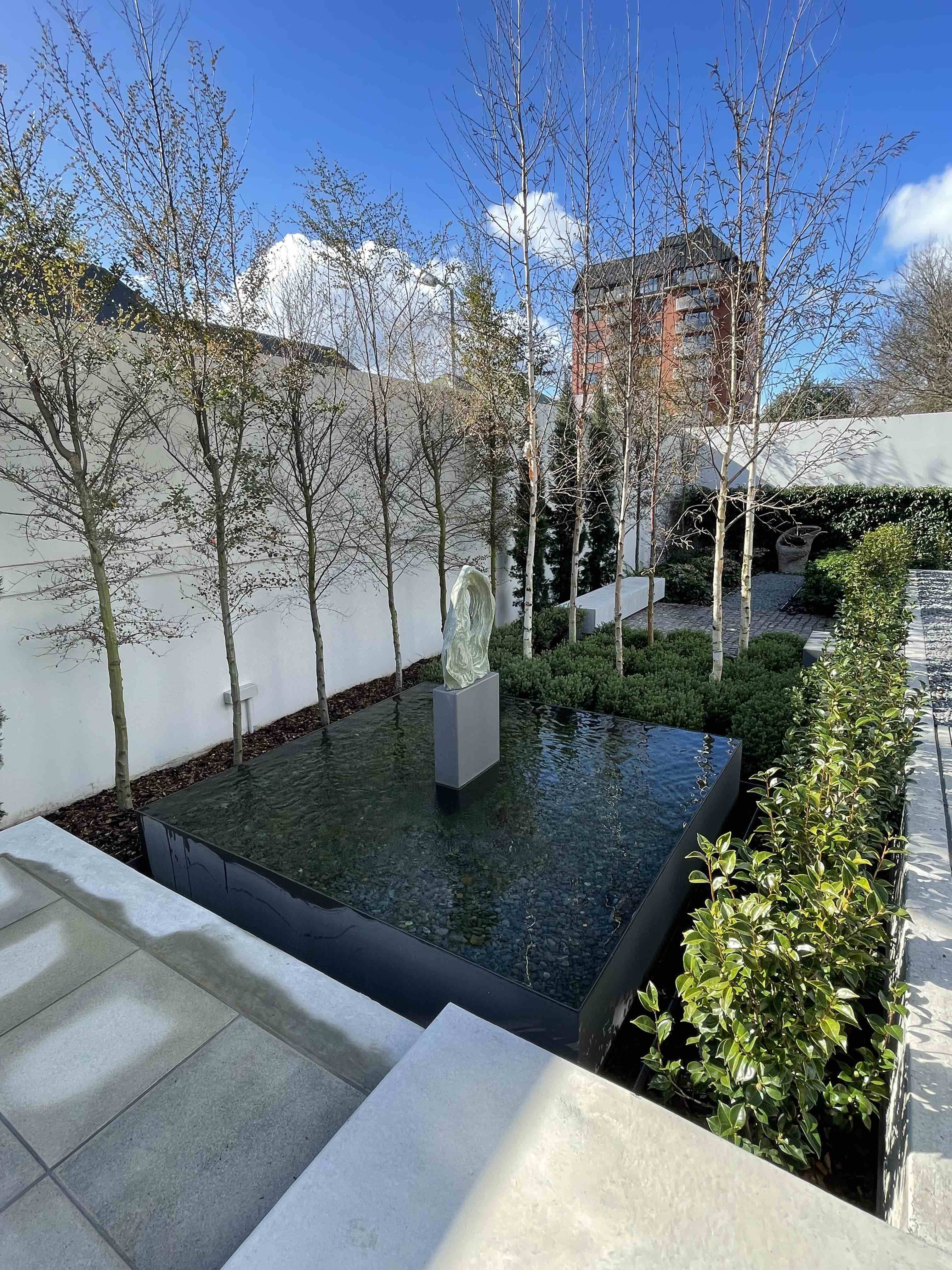 .
.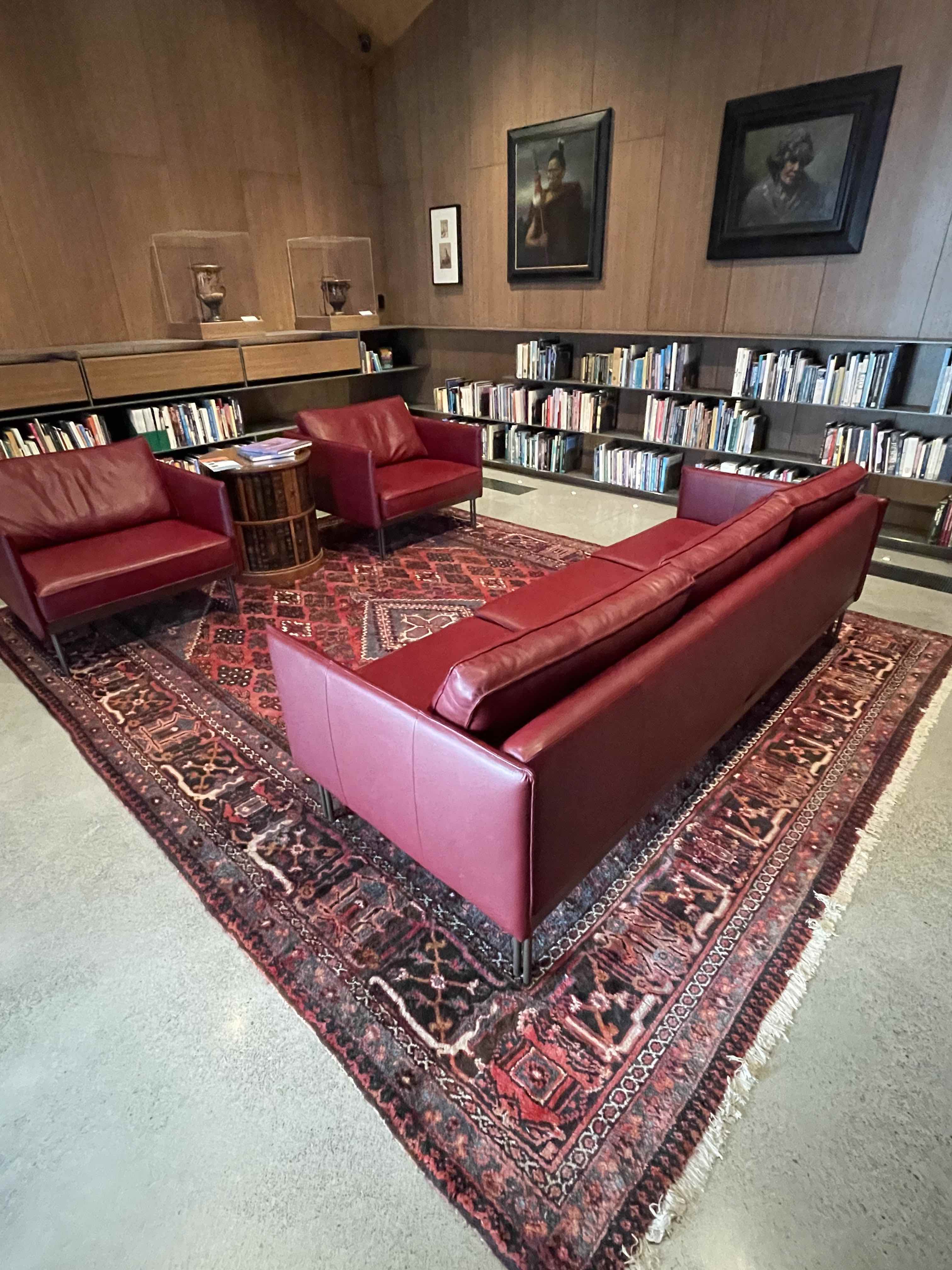 .