Graham Reid | | 4 min read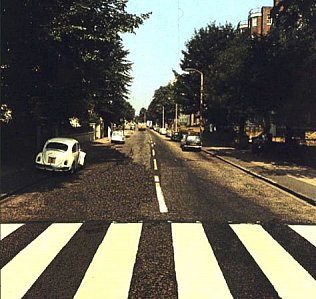 As most Beatle fans know, the group debated for weeks over what their final studio album should be called. Among the titles thrown around were All Good Children Go To Heaven and Four in The Bar.
One of the more serious contenders was Everest which had a double meaning, it was obviously the name of the mountain but also -- in a more prosaic version and the inspiration -- the brand of cigarettes which engineer Geoff Emerick smoked.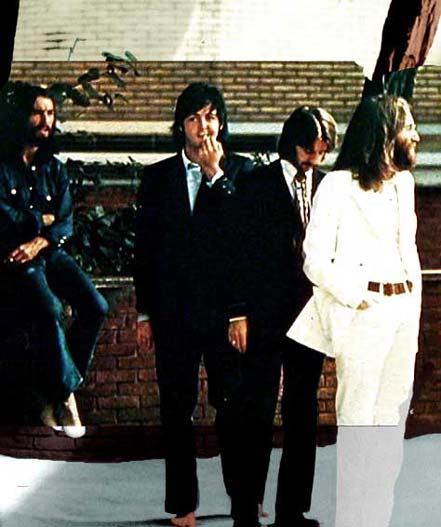 For the former meaning, images started to float around of the band taking a trip to Tibet for a photoshoot with the mountain as the backdrop.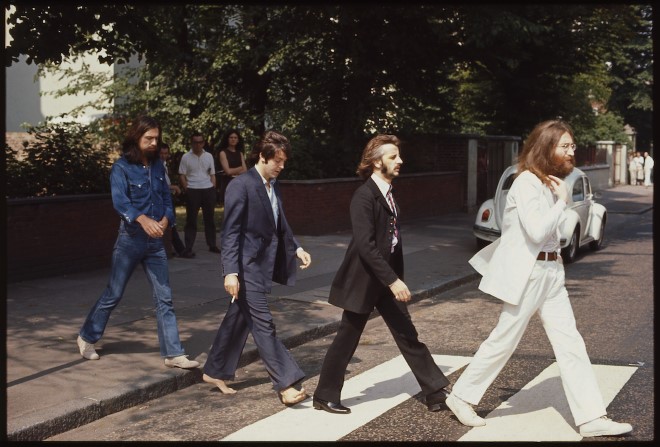 McCartney was the most keen but as the album wound to a close Harrison and Lennon sided with Ringo who didn't want to make the arduous trip and endure food he didn't like and could barely eat.
According to studio engineer Geoff Emerick, it was Ringo who said words to the effect, "fuck it, let's just step outside and name it Abbey Road."
Others remember it differently and that it was McCartney's suggestion. Certainly in the days prior to the quick shoot, he prepared some initial sketches of what it would look like.
And so -- on the street outside EMI studios on August 8, 1969, while a helpful policeman held up traffic in the leafy suburb of St John's Wood as the photographer stood on a ladder in the middle of the road -- the Beatles walked across and back on the pedestrian crossing having their picture taken.
It took just 10 minutes and for the rest of the day the individual Beatles went their separate ways: Lennon and McCartney back to Paul's place nearby, Harrison off to London Zoo with roadie Mal Evans, and Ringo Starr went shopping -- before they met up at the studio later to continue work on what would be their final sessions together as a group.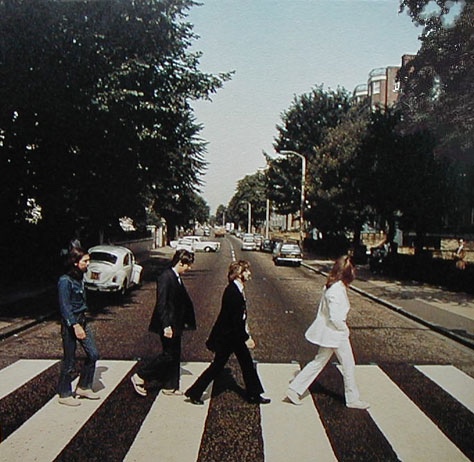 In the course of their lives together as a band, that photograph seemed a mundane incident.
But one of the six photographs Iain Macmillan took that day became the cover for an album simply named after the street outside EMI Studios.
And in a curious piece of symmetry to a career that unwound gradually in personal vindictiveness rather than ended abruptly, that casually shot cover echoed that of their debut album Please Please Me (recorded in one day, February 11 1963) of just six and half years previous.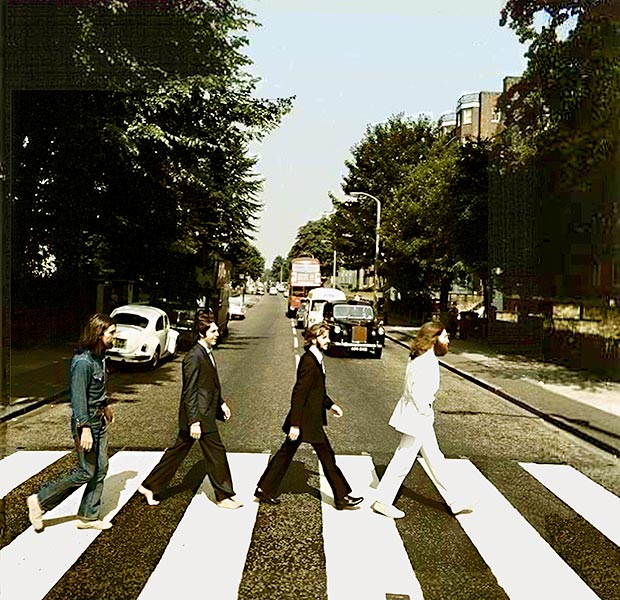 For that cover the band -- which had a couple of hits but, as with all British pop groups of the time, wasn't expected to last -- was hustled up to a stairwell in the EMI offices and Angus McBean took a quick snap of them looking down at the camera.
Abbey Road's cover was just as a perfunctory a session, if indeed it was a session at all. Snapshots might be a better description.
But as with so many of the Beatles covers – we think of With the Beatles, Help! Revolver, Sgt Pepper and Let It Be – the image became iconic and therefore much copied and parodied.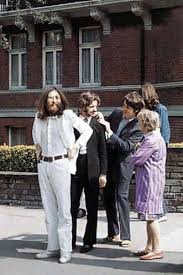 Everyone from British prime minister Margaret Thatcher and Beatles tribute bands to thousands of anonymous tourists (yes, and me) have had their photo taken on the crossing at Abbey Road . . . although like the famous Cavern in Liverpool, the original crossing has been moved.
Scottish-born photographer Macmillan had met Lennon through Yoko Ono when she introduced them. He would also provide images for the Plastic Ono Band's Live Peace in Toronto album, Sometime in New York City, Ono's book Grapefruit and other Lennon-Ono projects.
He also went back to Abbey Road to photograph McCartney and his sheepdog on the crossing to patch in for the cover the Paul is Live album.
He died in 2006.
And it is his simple yet effective cover for the Abbey Road album he is remembered by.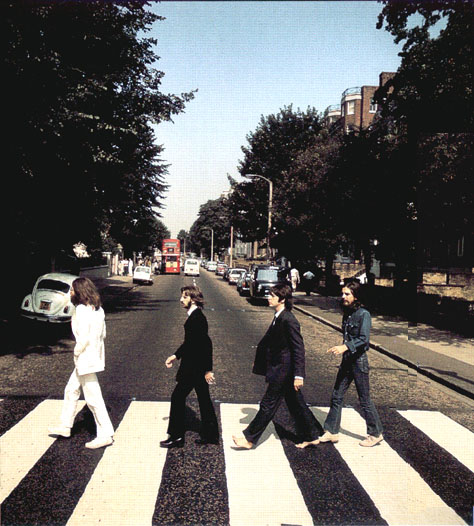 He joins a long list of photograhers who helped create the Beatles visual imagery: Astrid Kirchherr and Jurgen Volmer in Hamburg; Dezo Hoffmann, Angus McBean, Mike McCartney, Robert Freeman, Michael Ward, David Refern and Terry O'Neill in Britain, Bob Whitaker (Shea Stadium, the infamous "butcher's sleeve"), Jim Marshall (their final concert at Candlestick Park) and more.
And EMI Studios renamed itself Abbey Road Studios . . .
For your amusement here follows a series of "Abbey Road" photos from Iain Macmillan's shoot . . . and then some others. You can search online here for thousands of others!
.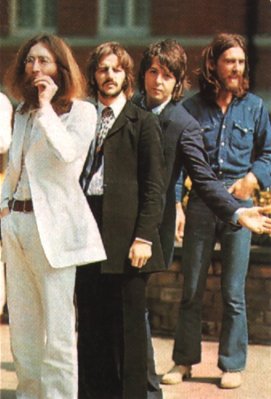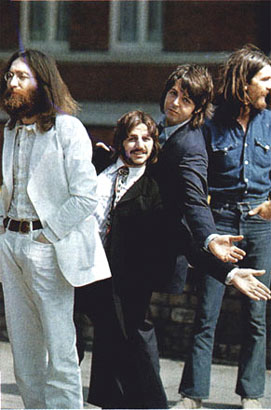 .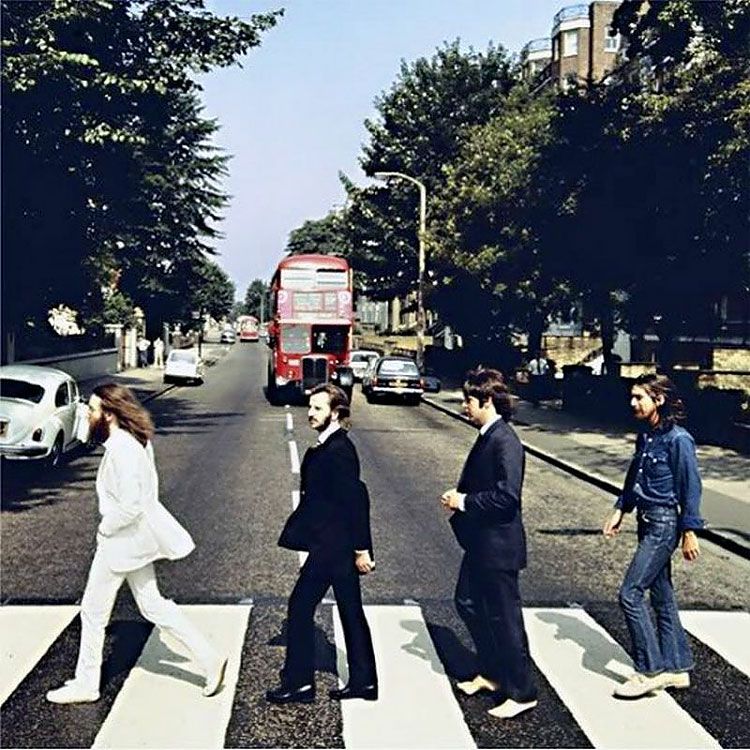 .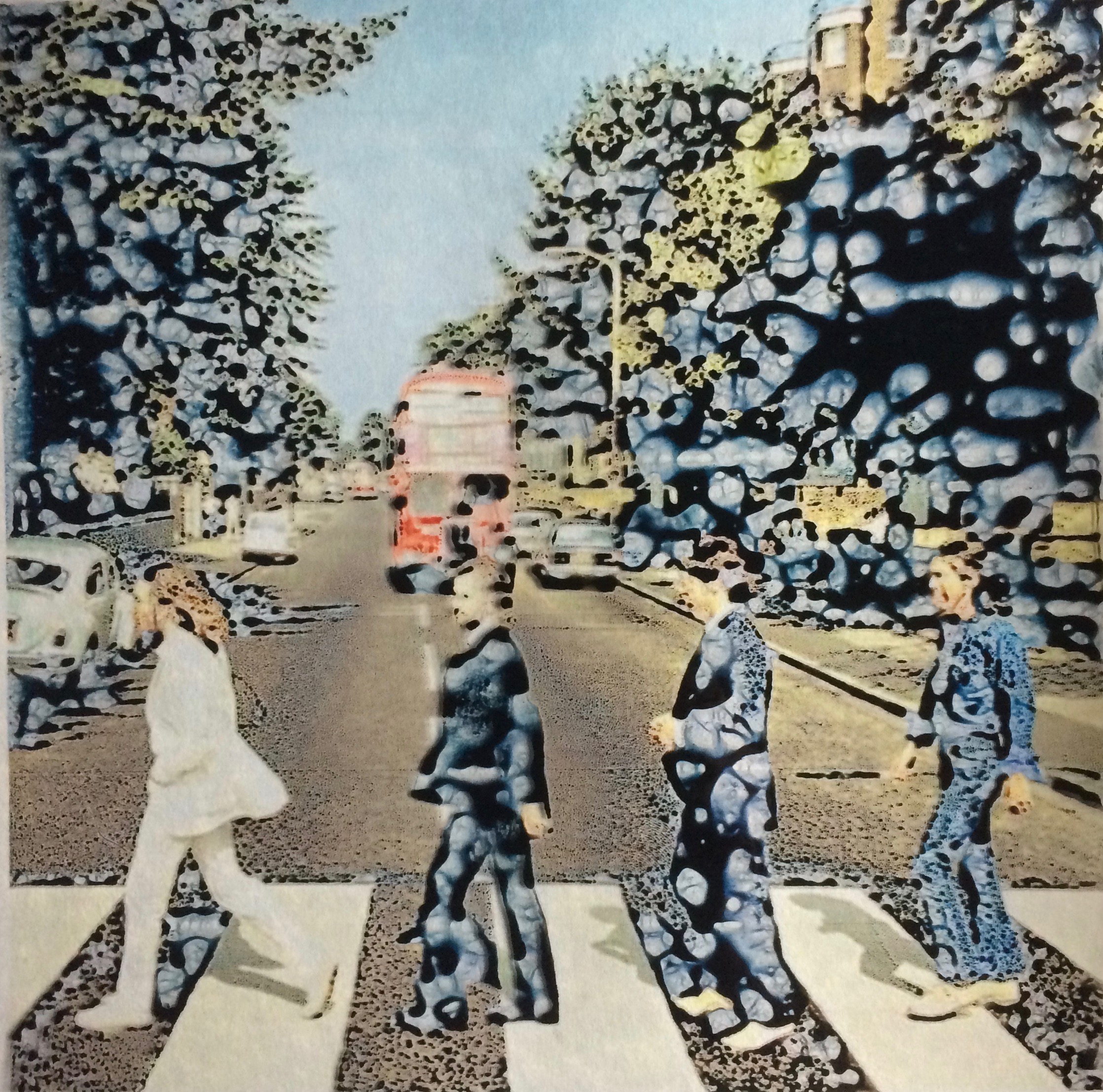 .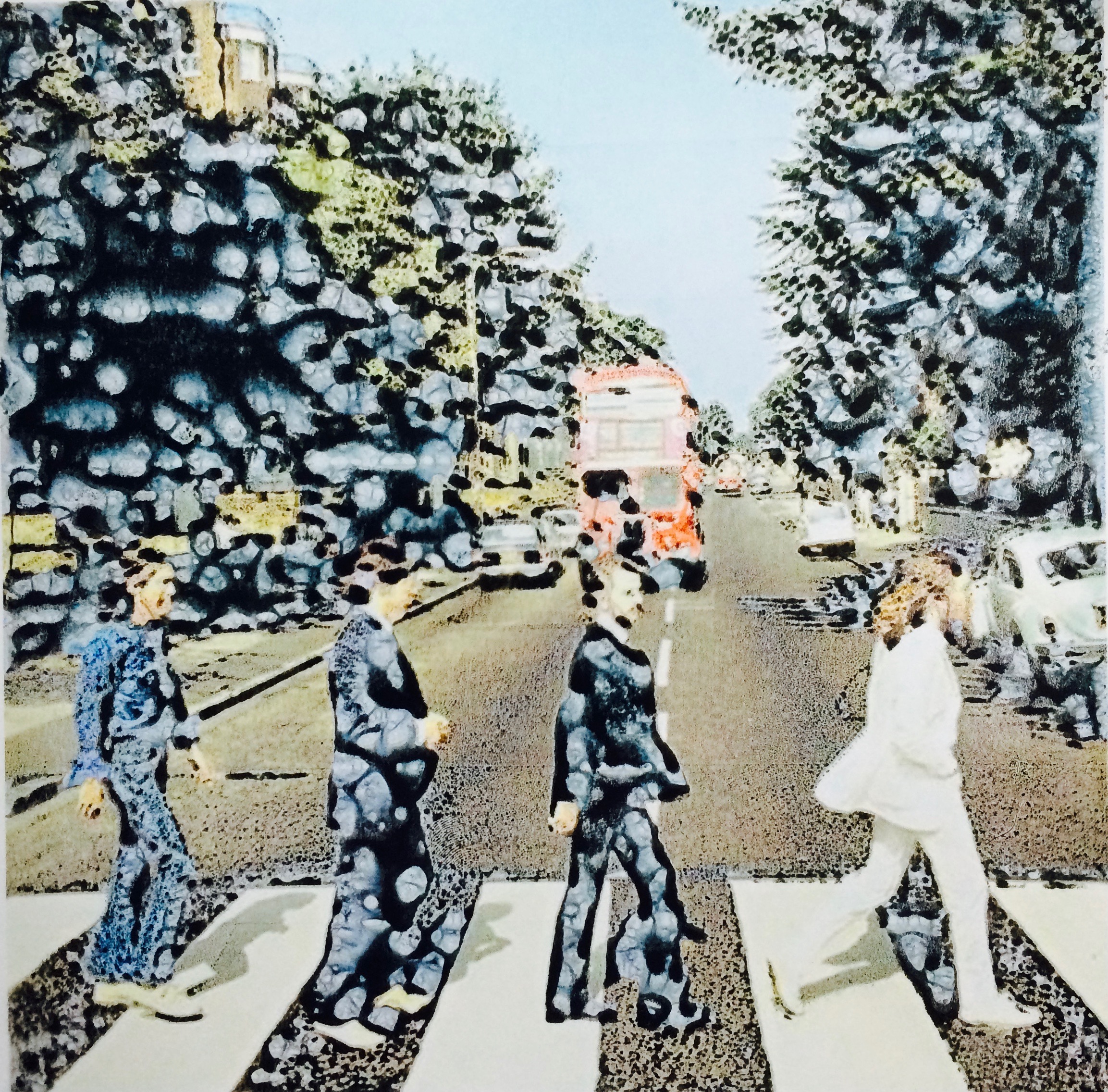 .
and this by Chris Knox, a 2019 commission for a friend who asked him to do an Abbey Road cover! Go on, commission a Beatle work from him. Contact him here.
.