Graham Reid | | 4 min read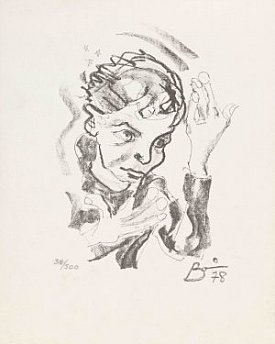 A decade ago the international touring exhibition
David Bowie Is
posited that Bowie displayed many aspects: David Bowie Is dance, fashion, music, art . . .
He was a human palimpsest, repeatedly wiping clean for another image to be written on himself.
Bowie's capacity for change – Ziggy Stardust and Thin White Duke to the Goblin King in Labyrinth and appearing as a nasty version of himself on Ricky Gervais' Extras – reflected not just a restless, artistically curious spirit but someone constantly escaping from previous selves.
From Beat-pop and folksy hippie to music hall songs and glam-rock (in just five years), he then explored Zen, Kabuki and Noh theatre, American soul, austere German electronic sounds, reverted to dance-pop and . . .
Few would deny Bowie was the most interesting and innovative artist of his generation. But since his death in January 2016 at 69 -- two days after the release of his challenging Blackstar album – we can add another imprimatur: David Bowie Is business.
Reissues (on coloured vinyl to seduce collectors), compilations and live albums, previously unreleased albums The Ghouster (remastered and alternative versions of some key songs from the 70s) and Toy recorded in 2000 (mostly re-visits to earlier material) . . .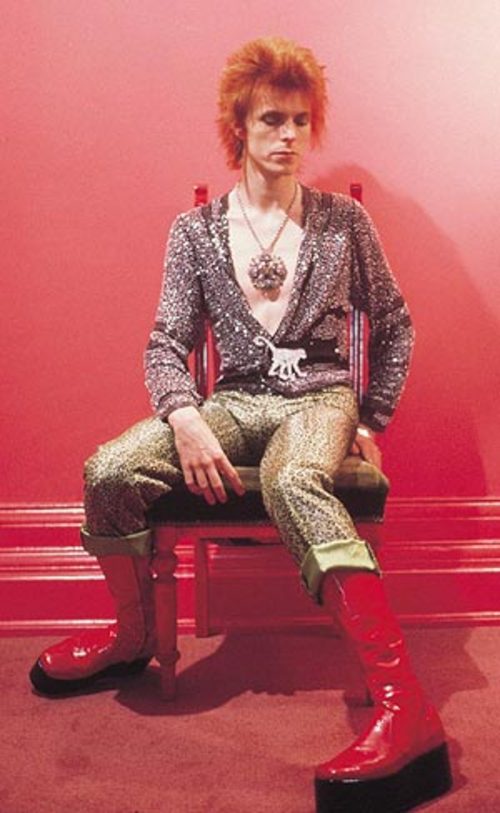 It seems endless and the Bowie industry expands in the absence of the artist himself.
We've had biographies and books explaining or analysing, notably John O'Connell's Bowie's Bookshelf; The Hundred Books That Changed David Bowie's Life.
The cynic might recall the 1920s song I've Danced With A Man, Who's Danced With A Girl, Who's Danced With The Prince of Wales.
Let's dance with Bowie, or someone who danced with someone who . .
If the artist is being lost in the fog of Bowie Incorporated, then welcome filmmaker Brett Morgen. His CV includes docos on Kurt Cobain, the Rolling Stones and Hollywood producer Robert Evans (Montage of Heck, Crossfire Hurricane and The Kid Stays in the Picture respectively) and he now repositions Bowie centre-frame in his swirling, immersively psychedelic Moonage Daydream.
Morgen's style isn't traditional in the manner of Behind the Music documentaries or biographical features like Francis Whately's informative if doggedly thorough Bowie trilogy Five Years (2013), The Last Five Years (17) and Finding Fame (19). Morgen's visual language is more akin to the excitement of rock'n'roll with sudden shifts of pace and focus.
Moonage Daydream is a trip through the life and thoughts of Bowie which – although loosely chronological -- throws together images from sci-fi and horror films, the glam-rock Ziggy in concert, silent era German Expressionists, Friedrich Murnau (Nosferatu), and Spanish surrealist Luis Buñuel (Un Chien Andelou) with glamourous women and louche rock culture.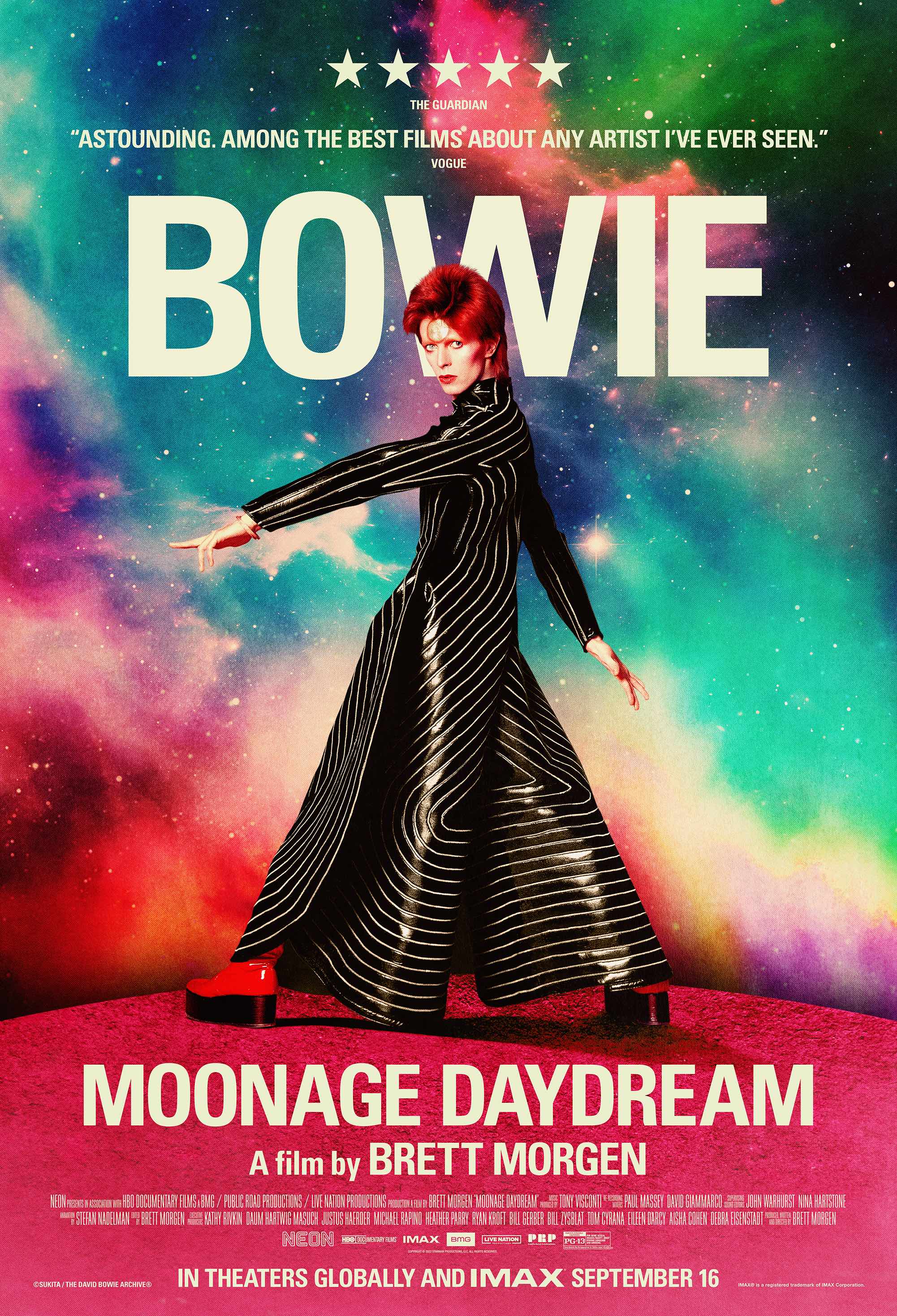 Bowie's various worlds collide and coincide to a great soundtrack by Bowie's longtime producer Tony Visconti.
So here's self-described "generalist" Bowie willfully roaming through rock'n'roll, art'n'culture, flappers'n'freaks, Nietzsche'n'Shakespeare, sleazy bars in Thailand and offering his own extraordinarily penetrating acrylic portraits in Berlin.
All of a piece in a life without fear, and art without frontiers.
What director/writer Morgen – with rare access to the David Bowie Estate – adeptly avoids is embedding Bowie in the populist accoutrements of his age: no recording Fame with John Lennon; no dancing in the street with Mick Jagger (pity, it's howlingly camp and absurd); no hanging with Lou Reed, Andy Warhol, Iggy Pop, Marc Bolan or Queen; no Little Drummer Boy with Bing Crosby . . .
There's a snippet in the Berlin studio with Brian Eno and later another with Tina Turner for Modern Love in the Pepsi ad of the big-hair 80s, the start of his revulsion and rejection of mainstream attention he sought with Let's Dance and radio hits.
But these share brief and equal time with footage from his films Labyrinth, Merry Christmas Mr. Lawrence and The Hunger, and paintings by Jean-Michel Basquiat, Jackson Pollock and Francis Bacon.
Morgen's cut-up, post-modern approach telescopes sound and vision into a wild ride in the company of the witty, articulate, thoughtful and increasingly contradictory artist.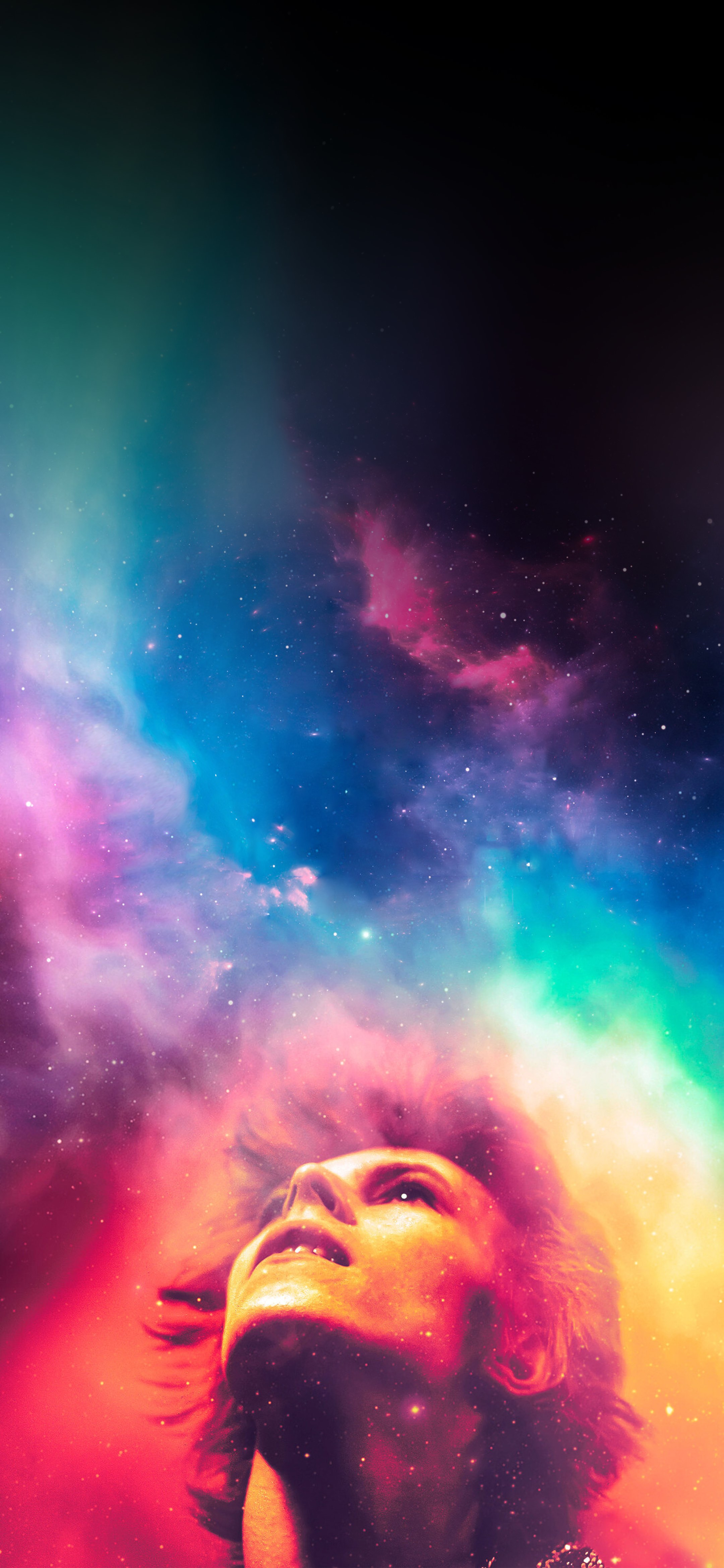 Couldn't see himself settling down? Then enter Iman who he married in 1992 (seen briefly, first wife Angie and other paramours not at all), the man who would later say he was always a closet heterosexual is seen in his Ziggy-era ambiguously sexual, but being very funny about it.
Overdubbed talk and television interviews are thought-provoking as Bowie speaks earnestly of his personal discoveries but he's also witty and ironic, as only a detached, English pop-culture figure can be.
Aside from the whirlpool of kinetic images, the soundtrack races through segments of hits (just enough to establish aural imprints), the live footage is exciting and some passages are cut across by sonic effects, distortion and disembodied voices.
It's loud, never oppressively bewildering despite the information overload, and the most compelling voice is always Bowie, an artist and a man constantly searching for meaning and purpose in his creative life.
Director Morgen restores the magic and mystique in the face of Bowie Inc.
Some consider Bowie a chameleon, but chameleons change to fit in.
He changed to stand out.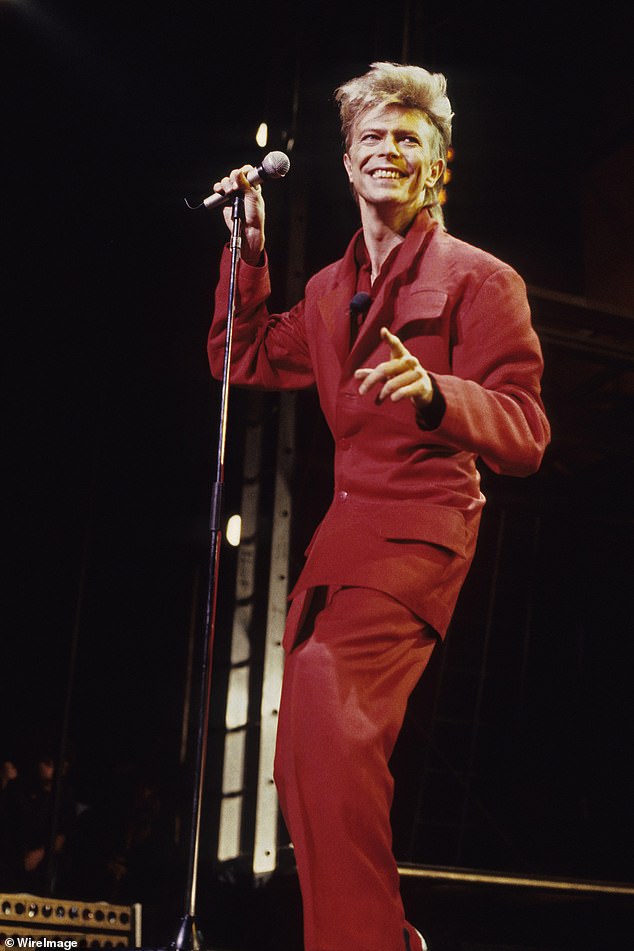 Moonage Daydream – engaging and arguably too short, even at a whopping 140 minutes – confirms Bowie not only stood out but Brett Morgen, as much a starman here, reminds us that David Bowie was outstanding.
.
For another view of Moonage Daydream check out this piece by guest writer and Bowie researcher Lisa Perrott who also wrote this for Elsewhere about Bowie on gender transgression and drag.
.
There are numerous album reviews and articles about David Bowie at Elsewhere starting here, and there you will also find two interviews with Bowie.
.
You can hear Tony Visconti's cut-up soundtrack to Moonage Daydream at Spotify here