Graham Reid | | 3 min read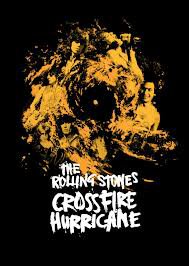 In a voice-over at the end of the new, officially sanctioned but nonetheless ragged and candid Rolling Stones bio-pic Crossfire Hurricane, Mick Jagger says in a voice between amusement and disbelief that where once they were hated, now they were loved.
On the screen is the largest stage ever built for a live concert and a crowd of breathtaking dimensions – it's an outdoor show on their 1981 US tour – and Jagger strutting like a parody of himself.
And that's where the film ends, as if conceding the following three decades became business as usual: tours which could claim record breaking gate-takes, millions of dollars of merchandising, more albums . . . The Stones became the emblem of what English writer George Melly called "revolt into style", or perhaps more correctly "stylisation".
But the two decades previous are the pivot of this two-hour film told through voice-overs, previously unseen footage showing the mayhem of their early tours, the hate-filled response by the British tabloids and American critics, and a time when they truly were in revolt, and often willfully revolting.
After opening scenes with US television host Dick Cavett as the Stones play a huge show in 72 and pull longhairs, the drug-addled, misfits and loyalists, the story folds back to them as a young and aspiring blues band, posited by their 19-year old manager Andrew Loog Oldham as the anti-Beatles.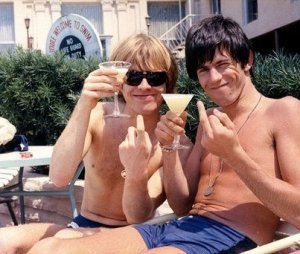 As Keith Richards gleefully notes, in movies if someone wore the white hat (good guys, the sheriff, the Beatles) someone had to wear the black (bad guys, the outlaw, the Stones). Later Richards notes with that distinctively hoarse laugh, in this movie the baddies didn't die.
Well, only founder member Brian Jones (pictured, left) about whom Richards is more charitable than in his recent memoir Life where he called Jones "a rotting attachment" and worse.
Jones' death in '69 marked the end of that first phase – the drug era follows with 20-year old replacement guitarist Mick Taylor, then Ronnie Wood and the Stones stylisation – and that footage is compelling.
From this distance – Jagger knighted, Richards the senior statesman of drug survivors – we forget how extraordinary that period from 1965 was in the crossfire hurricane.
Astonishing footage of stage invasions, Jagger noting male fans in Europe would turn up just to fight the police (visual evidence provided), riots and water cannons, the band fleeing across a railway line, running for their lives from fans . . . When it came to violence, social disruption and rabble rousing, the Stones had the Sex Pistols beaten on all counts.
Young Jagger – articulate, mostly poised – says their music attracted people dissatisfied with the generation controlling them. When asked what he's dissatisfied about he offers the same reason.
After that period told through newsreels, live and studio footage, the arc follows the death of Jones, the Hyde Park concert two days after his funeral, that terrifying crucible of violence, Hell's Angels and serious drugs which was Altamont, their flight to the south of France to record Exile on Main Street (cue footage of seriously addled people), rot-teeth Richards' trafficking bust in Toronto and that rehabilitation in stadium shows at the dawn of the 80s.
There is better and superior quality footage of much of this in the DVDs Stones in the Park, Gimme Shelter, Rock and Roll Circus, Charlie is My Darling and Stones in Exile, but the blurry images, cheap stock and bleached home movies have a queasy and suitably off-kilter feel. And there's music too.
We see Jagger and Richards learning to write songs (picking their way through Tell Me), Jones in one last effort playing hypnotic slide on No Expectations "to pass through here again"), the weave of guitars between Richards and Taylor, Bill Wyman stone-faced playing fundamental bass, drummer Charlie Watts furiously pounding in way he hasn't for decades, Wood as Richards' comedic twin . . .
The music is the appeal, says Watts early on, not the shock-horror headlines.
That music is collected on the three CD collection Grrr! which closes with one terrific new song Doom and Gloom and the lesser One More Shot. It scoops up 50 songs from half a century and it's telling two thirds of them cover just the first 15 years when the Stones were loved and hated in equal measure.
And were a band which signified social change driven by outlaws in black hats.