Graham Reid | | 3 min read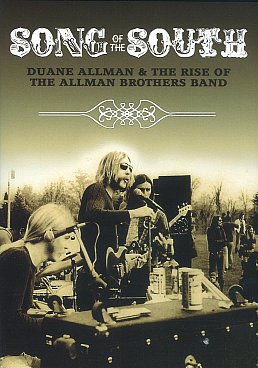 As with Jimi Hendrix, the great Duane Allman -- dead at 24 after a motorcycle accident in 1971 -- wasn't with us for a long time. But what a mark he made in just those four years from when he first became known.
He had only played guitar for 10 years and only in the last three of his short life had started playing slide guitar to create the sound he is synonymous with.
It was a short and remarkable career, not the least for the Allman Brothers Band or even the sessions with Eric Clapton for the Layla album.
There was more to Duane Allman than that: his time in Muscle Shoals' FAME studio before and even during the Allman band era found him bringing a white blues style to black Southern soul, and the band he founded with brother Gregg kicked off a Southern rock genre.
He set the template for a Southern style of blues-rock playing -- after the Allmans often with dueling guitarists and played bottleneck and jamming -- and we can credit him for the emergence of Lynyrd Skynyrd and the Charlie Daniels Band.
Without the Allmans there could never have been Tom Petty either.
Before the Allman Brothers Band the music scene in the South was marginalised and had only ever had negative press because of the racial divide between North and South. The Southland was characterised as divided within itself and the Northern -- and specifically New York -- folk protest movement steered by Bob Dylan and Joan Baez (both of whom later came around: Dylan recording in Nashville, Baez singing The Night They Drove Old Dixie Down) etched an image of the South as a Confederate place of lynchings, the Klan and racial segregation.
But Duane Allman -- who crossed the tracks to learn from and play with black musicians when he was a teenager in Daytona Beach, Florida -- saw no colour, but heard the soul and heartbeat of Southern music.
This insightful and generously timed doco written and directed by Tom O'Dell (who did this equally good NYC punk doco from scratch) -- two hours long and with extra features -- is subtitled "Duane Allman and the Rise of the Allman Brothers Band" might not have the participation of any surviving band members, but it does include in-depth interviews with musicians who were there when the Allman brothers were finding their musical feet.
And also with their gentle and humorous manager Willie Perkins who jokes about how no one -- booking agents especially -- could understand their Southern accents or would even take seriously a band which had a blond haired soul-inspired lead singer sitting behind an organ (Gregg), two drummers and two guitarists . . . and one of the drummers was black.
Just that line-up alone meant it was always going to be a difficult road. Perkins -- lifted from his short-haired bank clerk job to get a large and dope-smoking band on the road -- notes just getting a table in a roadside restaurant for that many people, let alone carrying that much equipment, was always going to be a problem.
In the fascinating extra features he speaks candidly about Duane's accidental overdose in Memphis, and particularly about the band being drug-busted by Southern cops in rural Alabama in March '71: "It was Easy Rider, they were not liking what they saw, they pretty much had us locked up in that town . . . they were parading everybody from the mayor to the police chief's wife, everyone coming down to look at the hippies they had pinned up down there".
Duane was killed before the court case came up.
This is an extraordinary story of a man, a band and a music that even today is stepped in soul.
As many commentators note -- among them are Allman biographers, producers, critics such as Robert Christgau, Muscle Shoals FAME studio players and more -- Duane Allman's vision was singular, rare and it changed culture as much as it repositioned the coordinates of rock.
Duane Allman was never a showman and when he played there was nothng to see, but there was always plenty to hear.
The turning point in Duane's career is singled out because it was so unexpected and therefore typical: while in FAME studio laying down some guitar parts for Wilson Pickett he suggested -- while everyone else was out of the room -- the singer cover the Beatles' Hey Jude.
Not only was this crazy (the Beatles' version was still on the charts) but it was also inspired.
Pickett found at the heart of McCartney's song a piece of deeply soulful music and delivered it that way . . . but then in that coda Duane Allman unleashed some guitar playing which brought him to the attention of anyone who heard it.
Check it out here and wait until Allman comes in. It is unforgettable as you hear white rock guitar in a soul song.
Hey Jude: Wilson Pickett and Duane Allman
Among those who heard this was Atlantic Records' Jerry Wexler who immediately signed Duane -- a guitarist not a singer, a musician without a band at that time -- to a recording contract. Duane would work with Aretha Franklin, Laura Nyro, Percy Sledge, Boz Scaggs . . .
That's the kind of player Duane Allman was: you heard him, you never forgot him. And musicians of all soulful persuasions -- black or white -- wanted him.
But he had his own idea -- a band of "brothers" for a boy who lost his dad when he was just a child -- to attend to those needs and his vision of a music beyond boundaries, where soul and rock and jazz improv could co-exist.
And this engrossing doco, which only slightly sidesteps the drugs in the main feature -- pays great tribute to a musician who was the equal of his peers Hendrix, Clapton et al.
And at the end, when the soundtrack plays his only solo composition, the lovely acoustic Little Martha (posted here) you may well weep for what was lost.
Utterly engrossing, and full of moving and exhilarating music.
Terrible DVD cover but essential viewing.