Graham Reid | | 4 min read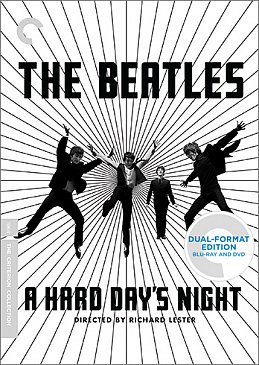 At the same time as the Beatles were filming their first feature A Hard Day's Night, the once-great Elvis Presley was cranking out mindless Hollywood movies such as Fun in Acapulco and Kissin' Cousins.
The King of Rock'n'Roll had gone soft and although his films were still successful at the box office, few would acclaim them as high art.
His British counterpart Cliff Richard – who'd delivered a classic rock'n'roll single Move It in '58 and played an ambitious and self-serving pop singer on screen in Expresso Bongo the following year – had a career also going flaccid.
His hits were increasingly vacuous and while Beatlemania roared around the globe Richard's pleasantly non-threatening film Summer Holiday -- in cinemas when the Beatles debut film was being planned, even before they'd played the famous Ed Sullivan Show breakthrough -- looked like it belonged to an earlier era.
When A Hard Day's Night opened in cinemas 50 years ago it was a revelation.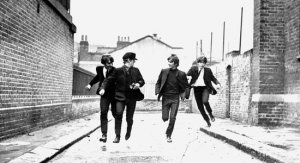 Unlike other pop films – notably in the Elvis-by-numbers screen-fillers – the Beatles' songs were cleverly woven into a narrative, their characters seemed more fully rounded and even cynical (Harrison's excellent sequence with the manipulative advertising man), and as a faux-doco about the inside of Beatlemania mayhem it looked like being a Beatle was as much of a drag as it was fun.
The Beatles played some version of themselves and improvised a little around a smart script by Alun Owen (Welsh-born then living in Ireland and who wrote about Liverpool where he grew up), they drank and smoked and tried to pick up girls, they were mischievous and bored, and the rapidly cut editing conveyed excitement.
A Hard Day's Night is a classic, and American director Dick Lester (who had worked with Spike Milligan and others and would later go on to the Superman franchise) delivered sequences – running around a field to Can't Buy Me Love – which set the template for the Monkees television show and a thousand similar video clips down the decades.
Lord knows how the Americans understood the Liverpudlian accents -- "Come 'ead" is said frequently, street slang for "let's go" -- but the fun was infectious and half a century later remains so. Because the film was planned even before they broke through in America the director and writer were given a free hand, and the Beatles were clear they didn't want to do a Cliff/Elvis movie.
The irony is that for years the film has not been readily available in New Zealand (the 2009 Blu-ray and DVD have been available through websites) but the 50th anniversary sees a re-presentation of this essential film, digitally remastered, with mono and stereo remixes of the sound by Giles (son of Sir George) Martin, and with many extra features (a deleted scene, Lester's influential work which preceded the movie etc with the Blu-ray).
You you certainly opt to play it in mono otherwise there can be an aural disconnect between the songs and the dialogue.
A Hard Day's Night changed pop music films and although Elvis and Cliff (and others like Herman's Hermits and the Dave Clark Five) carried on for a while with escapist pop fantasies, a new "realism" entered the scene, as witnessed by the black'n'white Ferry Cross the Mersey the following year – currently unavailable – which featured Gerry and the Pacemakers, Cilla Black and others filmed in and around grimy Liverpool and at the Cavern.
But the Beatles, as always, moved on and their second feature Help! (mid 65) was a high-coloured romp closer to a Bond parody (with music) than a pop film.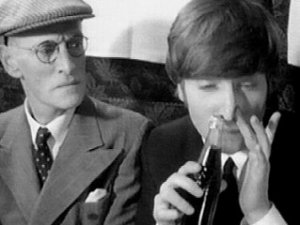 If they played a real-life version of themselves in A Hard Day's Night, for Help! they stepped further away into caricature, and the influence of marijuana is evident in some scenes.
But for sheer innocent fun with some barbed edges, exciting editing, memorable sequences (Starr by the canal with the kid wagging school), great songs weaving through and humour which is perhaps impenetrable to today's audience (the running joke about Paul's "grandfather" played by Wilfred Brambell, above, as "very clean" required knowledge of Steptoe and Son), A Hard Day's Night stands as pinnacle of pop movies.
AND AFTERWARDS?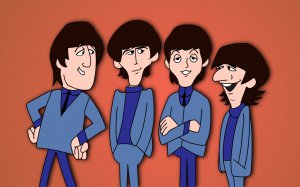 In late 65 -- after the appearance of Help! -- a US animation company launched a television series with the Beatles as cartoon characters which ran until 1969.
The Beatles had nothing to do with it (other than their songs being featured and banking the cheques) . . . but later in life both Lennon and Harrison confessed to liking the shows.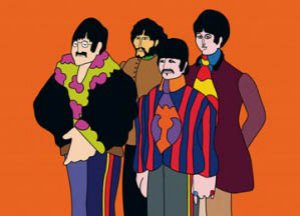 Perhaps because with Yellow Submarine (68) they'd also been animated characters outside of themselves.
By the time of that feature however they'd retreated to the recording studio and into separate lives, and had doubtless been burned by the disastrous Magical Mystery Tour. Prompted by McCartney after the death of their manager Brian Epstein in mid 67, the Beatles and an array of oddball characters and pals, boarded a bus and let the cameras roll. It was more mystery than magical.
Magical Mystery Tour isn't quite as bad as the reception it received at the time – the colourful film was screened in black'n'white initially so that hardly helped – and McCartney's defence is it's the only time you see them singing (miming actually) I Am the Walrus.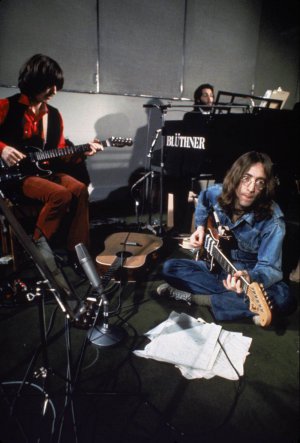 Exciting though it is to have all these films readily available – Help!, Magical Mystery Tour and Yellow Submarine have already been re-presented on DVD/Blu-ray – the film Beatle fans are still waiting for is the Let It Be doco ('69) which showed a band of four individuals (and Yoko Ono) pulling itself apart.
It is a natural coda to a story which began with the unabashed enthusiasm of four young men seen in A Hard Day's Night now matured, weary, jaded and increasingly going their separate ways while feeling the trap of expectation and the bonds they forged before fame even struck.
An expanded and remastered Let It Be remains a tantalising prospect, although no one is holding their breath.
But for now just sit down with the newly polished A Hard Day's Night – DVD or Blu-ray – and watch Beatle magic and mania play out to a great soundtrack.
A splendid time is guaranteed for all.