Graham Reid | | 1 min read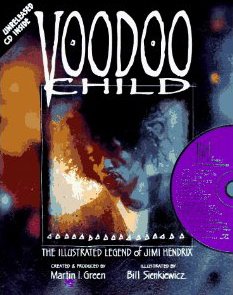 Because of the sheer number of his recordings out there, you'd be forgiven for thinking that when he wasn't playing a gig (and being recorded), having sex or sleeping, the great Jimi Hendrix was in a recording studio jamming, putting down demos or just simply noodling around.
Which seems to have been true.
The man only saw the release of four albums in his lifetime, but since his death the number of bootlegs -- and, increasingly, officially sanctioned releases -- has been climbing well over . . . 100? Maybe north of a few hundred.
When the Hendrix estate got control of his legacy it started to manage more carefully releases and so you got albums like Blues, South Saturn Delta, live collections, the reconstructed First Rays of a New Rising Sun (the album he was allegedly working on at the time of his death) and most recently Valleys of Neptune.
Prior to that had been a four CD box set of previously unreleased recordings (although many were known to collectors of bootlegs).
In November 2010 yet another box set (of mostly unreleased recordings) was scheduled: the exceptional West Coast Seattle Boy traces his career from playing r'n'b with the Isley Brothers and Little Richard to the Experience and beyond.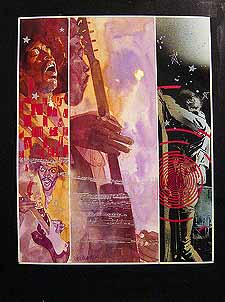 At the time of this writing I'm wondering if the "previously unreleased" version of 1983 will actually be this one, which appeared on a disc with the graphic biography Voodoo Child which appeared in '95.
Illustrated by Bill (Elektra Assassin, Stray Toasters etc) Sienkiewicz, this colourful and imaginative hardback came with a disc which also included unreleased versions of Angel, Cherokee Jam, 90s seconds of Hear My Train A Comin', a 10 minute Voodoo Chile/Cherokee Mist and Gypsy Eyes.
Just Jimi by himself on guitar.
Maybe this track From the Vaults is of only marginal interest -- but the on-going release schedule from Experience Hendrix and Sony suggests that even four decades after his death, Jimi Hendrix remains a marketable quantity.
You'd be forgiven for thinking he was still in a studio somewhere . . .
For more one-offs, oddities and songs with an interesting backstory see From the Vaults.