Graham Reid | | 1 min read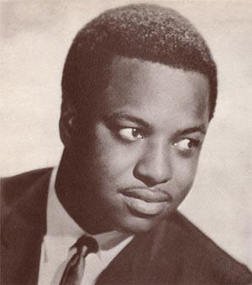 When the Beatles and the Stones covered songs by black American artists on their early albums and championed Motown soul (Beatles) and Chicago blues singers (Stones) they undoubtedly drew attention to the genius which many locals had overlooked.
The Stones' early shows and albums were stacked with songs by Chuck Berry (Come On, their first single, and Down the Apiece, Around and Around, Carol, Route 66 and You Can't Catch Me), Howlin' Wolf (Little Red Rooster), Muddy Waters (I Just Want to Make Love to You, I Got My Mojo Working, Hoochie Coochie Man) and Bo Diddley (Roadrunner, Cops and Robbers, Mona).
And there were some even more obscure names for American and British audiences -- like Alvin Robinson, a New Orleans singer-songwriter and session guitarist whose Down Home Girl the Stones covered.
Keith Richards later said, "Back in the Five By Five [EP] days when we were recording at Chess in Chicago and RCA in Hollywood we used to go down to the local record stores, buy up a whole bunch of soul singles, sit down by the record player and learn 'em: things like Oh Baby We Got a Good Thing Goin', Down Home Girl and lots of old Otis Redding stuff, and then record 'em as quickly as possible."
Unfortuntaly their championing of these black artists didn't really help Robinson whose Down Home Girl sounded like it was filled with the coded language of New Orleans which was unfamiliar to many in the Stones audence: What did it mean "every time I kiss you girl, it tastes like pork and beans"? Is that a good thing?
And "Don't you know that dress you wear was made out of fibre glass"?
Or "I'm gonna watch you do the second line with an umbrella in your hand"?
When you were 14 or 15 this was strange stuff. Would even be to kids of that age today.
Robinson's lyrics however ooze sensuality which was universal ("Every time you move like that I got to go to Sunday Mass", Oh I get that.)
Oddly enough Down Home Girl was on the b-side of Robinson's Fever single and in the UK later that was his preferred song in clubs. But Alvin "Shine" Robinson was never destined to be more than an interesting footnote in the Stones' acknowledgement of black artists, although he made a living as a guitarist and was on Dr John's Gumbo album.
There is an excellent and on-going reassessment of Robinson here, a man Jerry Lieber put alongside Ray Charles and James Brown.
And the Stones did a pretty good version of Down Home Girl which appeared on this album in New Zealand. I guess Jagger knew what a "second line" was.
He certainly seemed to understand "gonna watch the water roll on, down your velvet skin".
For more oddities, one-offs or songs with an interesting backstory use the RSS feed for daily updates, and check the massive back-catalogue at From the Vaults.