Graham Reid | | 1 min read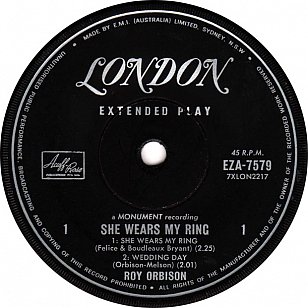 If anyone could have the operatic reach for She Wears My Ring it was the big-voiced Solomon King who scored a hit with it in 1968. Trained as a cantor, King was a balladeer of the old style (although his Happy Again is hilarious, you could imagine Groucho Marx dancing along like a demented puppet).
Elvis also covered the song in '73.
Neither were the first to undertake it, and in fact nor was Australian rocker Johnny O'Keefe who covered it in '64 . . . or Roy Orbison who got to it two years before him.
The first version had been cut by Jimmy Bell in '60 . . . but we have to also concede that in a way even he wasn't the first.
The lyrics by Nashville songwriters Felice and Boudleaux Bryant – who wrote Love Hurts, Bye Bye Love, Wake Up Little Susie, Raining in My Heart and dozens of other country-rock classics – had been added to a melody written a full century before Orbison by a Mexican physician Narcisco Serradell Sevilla when he was living in exile in France.
Back then the song was La Golondrina/The Swallow and was an aching lament adopted by Mexicans who had fled or were run out of their homeland. The lyrics then sang of the swallow migrating back home.
It has been sung by dozens of Mexican and Spanish artists like Placido Domingo (also Nat King Cole) but when the Bryants' heard the melody they grabbed onto its plaintive tone and penned new lyrics.
Oddly enough while their lyrics are optimistic Roy Orbison typically finds a degree of sadness which he brings to his interpretation.
Orbison's version can be found on a collection we essayed previously, Classical Gassers: Pop Gems Inspired by the Great Composers.
For more one-off, oddities or songs with an interesting backstory check the daily postings at From the Vaults.