Graham Reid | | 1 min read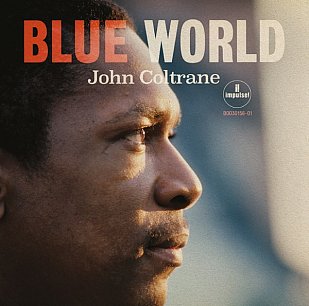 The past couple of years have been busy times for great jazz musicians no longer with us: out of the vaults recently has emerged Miles Davis' previously unreleased Rubberband (not that great unfortunately), the Stan Getz Quartet live at the Village Gate in '61 (fascinating, Getz at a kind of crossroad), radio recordings of Charles Mingus live in Detroit in '73 (recommended) and pianist Errol Garner in Amsterdam in '64 (certainly, if you are a fan).
The biggest and perhaps most important one however was John Coltrane's The Lost Album: Both Directions at Once, a studio session recorded in March '63 which lay undiscovered for five decades.
That album is essential listening for followers of Coltrane, not the least because it was the saxophonist with his "classic quartet" of pianist McCoy Tyner, bassist Jimmy Garrison and drummer Elvin Jones, the group which would create his career-defining A Love Supreme released in early '65.
And now, against the odds, comes yet another long lost recording by that classic quartet, this a run-through of previously recorded material (two takes of Naima and three of Village Blues among the eight cuts) in June '64.
As a favour to Garrison's friend, the Canadian filmmaker Gilles Group, Coltrane and the group assembled in Rudy Van Gelder's famous studio and in three hours delivered these pieces for Groulx's 75 minute movie Le chat dans le sac/The Cat in The Bag.
In Coltrane's discography the 36 minute album sits between Crescent and A Love Supreme,
The standout is the title track (which he'd recorded two years previous) where Coltrane gives the clearest hints in the yearning tone and taut energy (and drummer Jones in commanding mode towards the end) at what would come in six months when he recorded A Love Supreme.
You sense that Coltrane – who didn't tell Impulse! about the session – was mostly just providing Groulx with material the choose from for his soundtrack (only about 10 minutes were used, you can see the film at the link below), witness Garrison's bass solo which takes up fully a third of the seven and half minute take of Traneing In.
And the snippet of Like Sonny – just 2.45 – sounds like a warm-up for all except perhaps Tyner.
Naima is of course always a delight to hear and both takes here are lovely, and Village Blues finds the group at their ease on all three takes.
Blue World isn't as essential or of as much abiding interest at The Lost Album: Both Directions at Once . . . but for those Coltrane followers who want to hear them charting a path towards A Love Supreme it is instructive, albeit brief.
And it is the classic quartet.
You can hear Blue World at Spotify here.
You can see the film here.