Graham Reid | | 1 min read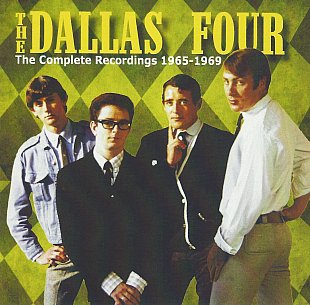 Forming in early '64 at the peak of the Beat-era and, after many line-up changes, morphing into Karma at the end of the decade, the Dallas Four were enormously popular with an Australian tour, residencies at Auckland's Platterack and Monaco, appearances on C'mon and numerous recordings.
In the typically excellent booklet accompanying this Frenzy compilation – 30 tracks, some previously unreleased – the Auckland Star entertainment writer John Berry hailed them having "a tight harmony vocal style". (The heading read Novelty: They Sing In Tune!)
That style set them up for a career of covers which included a close facsimile of the Byrds on Bells of Rhymney, the Hollies-like Thou Shalt Not Steal, the Beach Boys on their Don't Worry Baby . . .
Stronger on the ballads and jangle pop than rocking out (the Louie Louie b-side suffers in a comparison with the ballsy original), the Dallas Four ran into a common problem of the era: the lack of a songwriter.
So they plundered pop's back-catalogue (the old calypso hit Shame and Scandal) and more recent material (Just Like Romeo and Juliet, the Tremeloes' Silence is Golden, the Beach Boys' Hawaii, a pop treatment of the soul classic Dancing in the Street, Joe South's Hush, the Four Seasons' Tell It to the Rain and Rag Doll, Tommy James and the Shondells' Crimson and Clover).
And a beat-styled White Christmas.
They – whoever was in the line-up – could certainly play and toughened up after '67 with material like Who Do You Think You Are (a bass part referencing the Beatles' Taxman) and Hush.
But their forte was most often an accurate replication of other people's harmony pop hits (Crimson and Clover, the Turtles' Elenore) so this collection plays out like a Swinging (and sometimes soulful) Sixties compilation.
At a time when CD sales are declining, Frenzy knows its market (the Sixties, those of a "certain age" who still buy CDs) and it is admirable the added value it offers with unreleased material liner notes, photos and track details.