Graham Reid | | 1 min read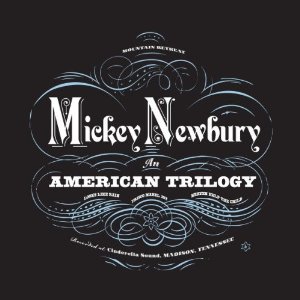 Not many people know about Texan Mickey Newbury, who died almost a decade ago, age 62. Maybe it's enough Elvis (who made Newbury's medley An American Trilogy a cornerstone of his latter performances) did. And that Mickey's songs were covered by Johnny Cash, Roy Orbison, Willie Nelson, Joan Baez and dozens of others.

Often spoken of in the same sentence as Kris Kristofferson (whose Me and Bobby McGee he passed to Roger Miller, the first to cover it), Townes Van Zandt, Rodney Crowell and Guy Clark (whose careers he also promoted), Newbury was a quiet figure in country music. His literate style told stories but also evoked moods through fascinating imagery. He also didn't shy away from orchestration.

His debut album for Mercury in '69, Looks Like Rain, featured atmospheric sounds like rain, thunder and train whistles. With its weave of integrated songs it sounds closer in conception to Marvin Gaye's What's Going On or Van Morrison's Astral Weeks than anything in country. 33rd of August/When the Baby in My Lady Gets the Blues eases out to nine hypnotic minutes.

Newbury sang like a less booze-battered Kristofferson and although he sometimes had a sentimental streak (putting him close to MOR artists like Bobby Goldsboro) he was in tune with the times. He wrote the trippy Just Dropped in To See What Condition My Condition Was In which Kenny Rogers and the First Edition took to the charts.
A touch of gentle Dylan, and Neil Diamond at his very best, simplicity in the melodies and a vocal ease which seduces by virtue of its warmth and slow delivery.
Nice stuff.
Three of Newbury's late Sixties/early Seventies albums – including that remarkable Looks Like Rain – plus a disc of rarities have been boxed up in An American Trilogy.
It gives you a chance to understand why Will Oldham, Steve Earle ("his voice blows my mind") and Kristofferson ("I learned more about songwriting from him than any other writer") are such fans.

Mickey Newbury – waiting to be discovered.
And to do so, you can download a four track sampler from the label's excellent website here.
Like the sound of this? Then check out this.