Graham Reid | | 1 min read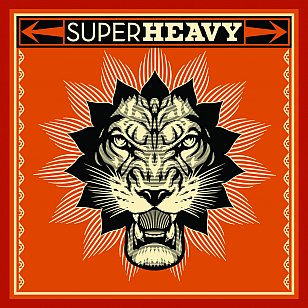 There are few bona fide bands worthy of the appellation "supergroup" (these people, or these?) but it's fair to say anything with Mick Jagger, former Eurythmic Dave Stewart, Bollywood megastar A.H. Rahman, hip-hop reggae-rocker Damian Marley and soul singer Joss Stone would unquestionably qualify.
Yet given the melange of cultures there it's hardly surprising this self-titled debut album – which opens with the proclamation "we superheavy" – is more like the meltdown of world music and rock you might expect from someone like Robert Plant.
Marley brings the gruff Jamaican dancehall toasting, Stone frequently soars with urgent backing vocals which at times recall Merry Clayton on Gimme Shelter, Rahman takes care of the exotic rhythms which shift from North Africa to the swirling exoticism of rock'n'roll India and Jagger brings sassy strut and those archetypal vocal mannerisms which won't alienate too many Stones fans even though this exists on a parallel plane. (Although he is at his most annoyingly vowel-dragging on the reggae of Beautiful People.)
The pity is that Marley's toasting is often facile and sometimes goes no further than acclaiming how great this is/they are (the opener, Miracle Worker), and that at times they throw every genre into the mix for excitement, which is no substitute for focus (Satyameva Jayathe).
Of more interest is when they come over techno-driven (the industrial strength Energy with Jagger going rapper, blues harp and Stone as Clayton-on-helium in the chorus), or pause for a country-blues breath (Jagger stepping up for the lyrically clumsy Never Gonna Change which might have been left off Goats Head Soup).
Throughout there is a restless desire for excitement and an almost anxious desire to please by being energetic, and of course when you have this much diverse talent on hand most songs get that split where everyone gets a cameo. (Like Tina Turner having that saxophonist on stage, gotta use him.)
You also wish a little more lyrical editing and sonic reduction had been applied to material like the political I Can't Take It No More which comes at you like a skyscraper-sized sledgehammer with none of that sharpness Jagger once brought to Street Fighting Man and Sympathy for the Devil.
While there are enough interesting songs and stylistic collisions here to get this past being a vanity project – and no doubt a splendid time was had by all – you do wonder if their busy separate lives meant haste and enthusiasm to get it done lead to no one stepping back and asking, "But what if we didn't . . ."
Like the sound of this? Then check out this.