Graham Reid | | 3 min read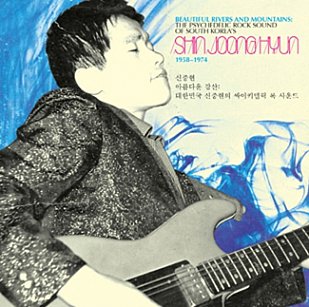 Because hipper-than-thou DJs, compilers and archivists have been trawling the secondhand bins and record collections of the global village for the two decades or so, we have been introduced to the rare delights of local pop from unexpected places such as Kinshasa and Colombia, Soweto and tropicalia-infused Brazil.
Because there has been such a drift net trawl through Africa (and lesserly so but still relentless, South America), it was inevitable eyes would turn to Asia. And so we have been introduced to psychedelic rock from Cambodia (courtesy of Dengue Fever, who are perhaps less psychedelicised on record than many claim), Shanghai lounge singers and Thailand's pop from the Sixties and early Seventies.
Anyone with open ears who travels through various parts of Asia cannot help but be taken by what they hear away from the tourist bars playing Phil Collins and old Eric Clapton.
I always return home with a dozen or so CDs (previously it was a suitcase of cassettes) which can cover anything from thrilling Bollywood soundtracks (see here) and odd local folk to hardcore punk (most recently like this, from Bali).
The economically and artistically thrusting South Korea (a favourite destination) has its legendary musicians (gayageum master Byungki Hwang, interviewed here), the fusion-gugak style (sort of jazz-pop and traditional crossover), rapid tongue-twisting rap and disposable but enjoyable K-pop which had made serious in-roads right across the region and more recently into the US.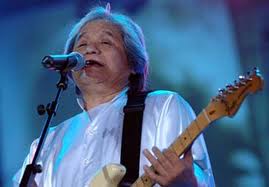 But 73-year old Shin Joong Hyun stands beyond easy categorization.
Considered the godfather of Korean rock and psychedelic pop of the late Sixties, he also worked as a producer, studio musician and band leader.
Think of him as like a Joe Meek added to Hank Marvin from the Shadows who had smoked a toke or two.
He began in the Fifties playing in pop bands in US service bars, by the Sixties was a renown songwriter and producer (this collection pulls together numerous tracks credited to others although his spirit, production and guitar hang heavily) and then by the late Sixties he was getting psychedelic.
In the early Seventies his music was banned after he wrote a piece in praise of Korea's beauty (the title track here) rather than hailing the president and the ruling party, and in '75 was arrested for possession of marijuana. His punishment in rigid Korea was torture, a week in a mental hospital, then four months in a detention centre.
It effectively ended his high-profile career although he always kept playing and recording.
His work on this exceptionally well-annotated but slightly annoyingly non-chronological collection opens with a slice of jazz-cum-surf rock in the late Fifties (Moon Watching) but leaps over his Beatle-era pop years in favor of his spacey psychedelic guitar (often for other singers. It's a pity Please Don't Bother Me Anymore with the Golden Grapes (from '72) fades just as the wah-wah kicks in.
His playing can be out there, check the seven minute-plus, organ-coloured trip of The Man Who Must Leave for singer Kim Sun.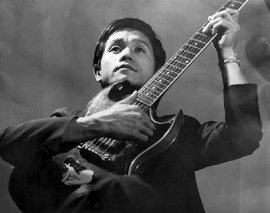 The Sun is a lovely, six minute pastoral ballad with strings (for the breathy Kim Jung Mi) and I Don't Like recorded in '70 - although written earlier -- is girl group pop (for the slightly soulful Lee Jung Hwa) . . . but at the other end of the spectrum is J Blues 72, a 15 minute acid rock studio improv with the Golden Grapes.
There are flat spots -- Spring Rain by Park In Soo -- but Tomorrow by Lee Jung Hwa (overlooked at the time) is a delightful, quiet slice of seductive MOR pop.
So if you can imagine pre-Dark Side Pink Floyd, a Phil Spector session or the Electric Prunes fronted by Korean singers, this could be a voyage of discovery. Shin's fascinating story is told in the handsome booklet, so set your controls for the heart of highly conservative Seoul for a surprise.
Two years ago Fender honoured him with a custom-made tribute guitar for his services to music, only the sixth person to be accorded such an honour after the likes of Clapton, Jeff Beck and others.
Yep, he's that good.
This single CD with booklet also comes as a handsome double vinyl edition in a gatefold sleeve, and that's the way to go. Request it here.