Graham Reid | | <1 min read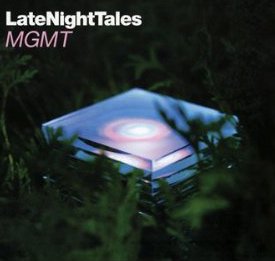 Despite how pleasing it is to see the Chills' Pink Frost here alongside Velvet Underground's Ocean, Spacemen 3's Lord Can You Hear Me? and the largely overlooked country act Charlie Feathers (with Mound of Clay), this selection by MGMT doesn't have quite the same frisson of discovery and atmosphere as a recent LNTales predecessor, the compilation by Midlake.
Nice to see The Great Society! here (Grace Slick's band before Jefferson Airplane) but it's hardly a winning choice (the wimp-folk of Love You Girl sung by David Miner), although it leads neatly into the more tense lo-fi electronics of Cheree by Suicide.
For guys who delivered odd psychedelic-influenced pop on their debut album Oracular Spectacular (and strained a bit to please on the follow-up Congratulations), Benjamin Goldwasser and Andrew VanWyngarden are certainly more introvert late night at night (Felt, Julian Cope etc) but if this has the effect of introducting artists and songs to their audience -- or giving them more cred by virtue of their selection -- then that is fine too.
And anyone who like the Durutti Column is probably pretty okay too.
Just that some of those -- like Trentemoller -- who have been offered this chance have come up aces all the way.