Graham Reid | | 1 min read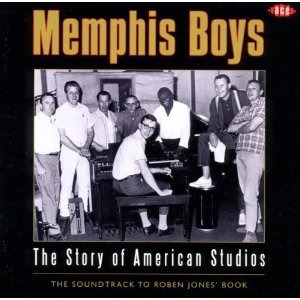 American Studios in Memphis -- founded by producer/musician Chips Moman -- might not be written as large in the popular imagination as the Sun and Stax studios in the same city, but a wealth of music came out of it.
As this 24 song collection testifies . . . and sometimes really testifies at calls down the Southern soul spirit.
The studio was (sometimes briefly) home to great names like songwriter Dann Penn who produced the Box Tops' The Letter in '67 giving the studio its first big hit, and Penn's writing partner Spooner Oldham. And of course singers such as Wilson Pickett, James and Bobby Purify, Sandy Posey (who was the receptionist), Solomon Burke, Joe Tex and Elvis Presley in '69 for marathon sesions on the back of his famous '68 comeback special on television.
Elvis was comitted to re-orienting his career and knew Memphis -- and American -- was the place to do it. It was here he did In the Ghetto, Suspicious Minds and dozens of other great songs which trickled out over subsequent albums. The collection of those songs, The Memphis Record, is an Essential Elsewhere album.
Less happy at the American Studio was Dusty Springfield who came down for what became her classic Dusty in Memphis album, although only her vocal on Son of a Preacher Man on the album remained after sessions where she didn't feel comfortable.
But from throat-aching soul (James Carr's You've Got My Mind Messed Up) through country (Posey's Born a Woman), dance hits (the Purify's Shake a Tail Feather, the Gentry's Keep on Dancing which was so short Moman at les than a minute simply repeated it to make a single) to off-beat country-funk (Joe Tex with Skinny Legs and All), American Studios recorded classic music of its era, which ended in the early Seventies.
You can't argue with songs like Suspicious Minds (here its writer by Mark James), Moman and Penn's Dark End of the Street (by the Glories here) or Good Time Charlie's Got the Blues (Danny O'Keefe). Or most everything here.
This album is the soundtrack to the recently pubished biography of the studio of the same name by Roben Jones. But if a whole book by her about a small recording studio is too much for you, then the extensive liner notes here -- including an essay by Jones -- cover much of the necessary ground.
Ace Records really does justice these subjects (see also The FAME Studio Story here) and although many of these songs would be in any sensible record collection, here the focus is on the songmakers and the environment in which they worked.
This is the sound of the House That Chips Built.