Graham Reid | | <1 min read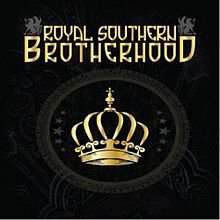 Although Aaron Neville gets the most attention for his angelic voice, other Neville brothers are just as interesting, not the least singer/drummer Cyril who was a member of the Meters and more recently worked with the edgy Galactic who pull from rock and hip hop as much as the New Orleans tradition.
Cyril is here alongside guitarist Devon Allman (son of Gregg), singer/guitarist Mike Zito, Yonrico Scott from Derek Trucks' band and bassist Charlie Woolton.
From that implosion of New Orleans traditions and the Allman Brothers' southern rock (Zito and Devon both play parallel lead) you can guess that this one isn't easy to pigeonhole, especially when Wooton throws some fluid jazz shapes at the bottom (the brooding voodoo of Fired Up).
There is however, as expected, more of the blues rock end of their spectrum here (Moonlight Over the Mississippi, the metal-edged Gotta Keep Rockin' and Petty/Allman rooted Hurts My Heart) than New Orleans/Meters-like funk (Brotherhood with it's African/Graceland sensibility-meets-Santana sustain).
They head to the backporch overlooking the gospel church at the side of the swamp for Left My Heart in Memphis, and deliver some smoldering blues on Ways About You.
As a debut this is an impressive statement but is let down by some weak songs (Fire on the Mountain, Sweet Jelly Donut, All Around the World) which seem mere vehicles for those guitars.
But if the reference points of Allman and Neville names interest you it is worth investigating.
Like the sound of this? Then check out this.