Graham Reid | | 2 min read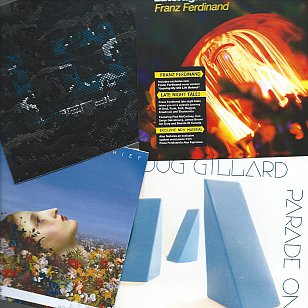 With so many CDs commanding and demanding attention Elsewhere will run this occasional column which scoops up international artists, in much the same way as our SHORT CUTS column picks up New Zealand artists.
Comments will be brief.
The Pineapple Tree; Magnolia (Kscope/Southbound): Prog-rocker Bruce Soord (who essentially is Pineapple Thief) has appeared at Elsewhere previously with Jonas Renkse on the album Wisdom of Crowds, but here keeps things more simple and pop-inclined in 12 songs over 47 minutes which explore various states of angst and anxiety. Things can get explosive in a Radiohead way (Simple As That, Alone At Sea), there are some fine string arrangements, and keyboard player Steve Kitch is one of the pleasures here. But while it is undeniably well crafted and even very interesting in places, it's easy to let it drift by as little more than a collection of decent if sometimes unexceptional songs. The title track and The One You Left To Die are very good though and Soord is a fine singer who can wring emotion. More interesting than essential.
Doug Gillard; Parade On (NMR/Southbound): On the evidence of the opener here you'd think we were eavesdropping on a lost session between George Harrison (during the My Sweet Lord recording), Paul McCartney (the poppiness) and Roger McGuinn (the guitar solo). It's kinda fun but you might be asking, "Where's Doug?" Gillard is a graduate of Guided by Voices and Death of Samantha (the latter named after a Yoko Ono song), and a few years ago joined Nada Surf . . . so the boy has form. His solo album from a decade ago, Salamander, was on the Pink Frost label, and yes . . . you can hear some of the Chills' soaring melodic smarts here too. So if some or any of those references connect with you, then Doug has a nicely crafted folk-rock, jange-cum-power pop album for you. Here be 11 repeat play songs for summer (with just enough lyrical darkness to ground it).
Various Artists, Late Night Tales; Franz Ferdinand (LNT/Southbound): The concept continues and as always interest alights on the obscurities as much as the taste of the compilers. Here the brains are of British rock band Franz Ferdinand who pull together material by the West Coast Pop Art Experimental Band (the lovely pastoral pop of Eighteen is Over the Hill), Sandy Nelson (Let There Be Drums, of course), Can (the brief Connection), Ian Dury (Reasons to be Cheerful), Serge Gainsbourg (Requiem Pour Un Con), Lee Scratch Perry (Disco Devil) and James Brown (King Heroin). If that sounds like a weird mishmash you'd be right (some of it hardly for late night listening) . . . now add in a faithful cover of Lennon's I'm Only Sleeping by R. Steve Morse, McCartney and Wings with Nineteen Hundred and Eighty Five, the Disco Dub Band (who do what it says on the box), Boards of Canada with Reach for the Dead . . . Mix'n'match and patchy of course. See here for other (and some better) Late Night Tales albums.
Various Artists; Hyperdub 10.2 (hyperdub/Southbound): Britain's Hyperdub label specialises in grime, 2-step and some fairly menacing sounds . . . but this compilation of 14 tracks came out in the northern summer and was intended to shine a light on the more breezy end of their spectrum. Hmmm. It still sounds rather bleak in places but as a sampler it is pretty fine and a very useful introduction to the likes of Burial, DVA (two tracks, one being Solid featuring South African soul singer Zaki Abraham), Jessy Lanza and other names which might have flitted across your sightlines. There's also a rare dub track by Morgan Zarate, Sticks and Stones which features Ghostface Killah from Wu Tang Clan and the lovely soulful stylings of Eska. Good stuff start to finish, and some real late night tales.