Graham Reid | | 1 min read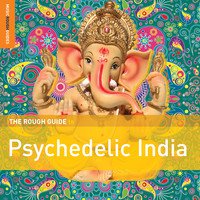 The on-going Rough Guide psychedelic series certainly throws up some fascinating – if not always strictly psychedelic – music from many corners of the globe.
Elsewhere unequivocally recommends The Rough Guide to Psychedelic Bollywood and The Rough Guide to Psychedelic Cambodia (both of which come with a bonus disc) for their sheer mind-bending sounds which are exotic, strange, sometimes quite poppy and most often very far out.
This collection (no bonus disc) is slightly more patchy on the "psychedelic" front although still sometimes challengingly bizarre as it draws from vintage and contemporary recordings alike.
The most psychedelic piece comes from with guitarist Simon Thacker's Vara-Kanti ensemble with their six minute-plus Rakshasa, a strange flamenco dreamscape. Elsewhere was onto Thacker some while back and there is an interview with him here.
In the opening overs of this collection we are far from tripped-out psychedelic music, unless your idea of dropping a tab means hitting the dancefloor for some fire'n'fury/irritatingly kitsch Austin Powers theme-song stuff.
However after those two upbeat intros (an old Bollywood piece and Ananda Shankar's Dancing Drums) we are in the world of horizontal trance with Sunday Driver from Britain whose Satyam Shivam Sundaram is hypnotically late Sixties.
Two pieces by Tiger Blossom and Asha Bhosle at the midpoint bring home the Indo-pop end of the spectrum, Paban Das Baul (from the album Music of the Honey Gatherers) add a more mystical element and there is sinuous Indo-jazz on Chamber of Dreams from Jazz Thali.
For the full-on loss of focus and head nodding experience the final two pieces are perfect: the Ray Spiegel Ensemble's Moksha is an eight minute-plus mid-tempo journey (sitar, veena, tabla drums) and the closer is the great slide guitarist Debashish Bhattacharya with John McLaughlin on the 16-minute In a Mystical Morning from his highly recommended Beyond the Ragasphere.
So a slightly uneven collection compiled by DJ Ritu in that sometimes it propels you wide awake to dance and at others induces a lovely psych-dreamscape.
.